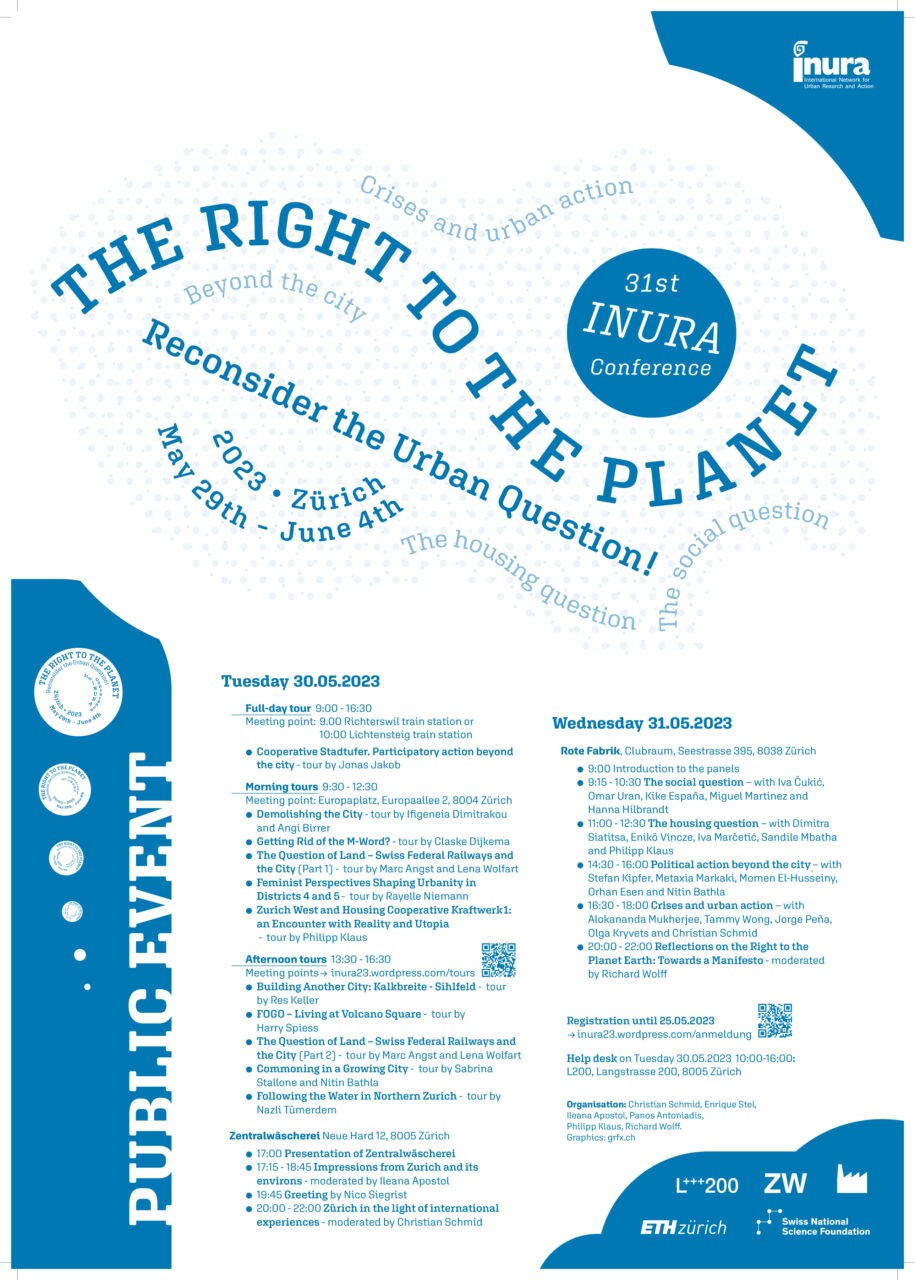 29-31 May 2023 | ETH Zürich.
Since 1991 the INURA conference has been combining urban research and action using a very successful format: A few days in a city guided by local groups, when the INURA conference creates opportunities for local and international exchanges, and a few days in the countryside reflecting on what has been experienced in the city, on further projects, and how the whole network can contribute to address urgent local issues with global relevance.
The 31st INURA Conference will return to Zurich from May 29 to May 31, and to Salecina from June 1 to June 4, 2023, where the retreat of the first INURA conference took place in 1991.
Guests from India, China, Australia, African, Latin and North American countries, and from various European countries will be joined by local activists and scholars, to explore critical topics related to housing and the social question, to developments beyond the inner city, and to current crises and urban actions.
The overall frame under which the city part's tours and panel discussions will be held is The Right to the Planet – Reconsider the Urban Question! See https://inura23.wordpress.com/city/
The retreat typically follows a self-organized way to refine the agenda based on the city experience. See https://inura23.wordpress.com/retreat/
You are kindly invited to register for one or both parts of the conference at: https://inura23.wordpress.com/registration/
Please note that the conference fees include transport, food and accommodation expenses at the Youth Hostel Richterswil, and at Salecina. More practical info: https://inura23.wordpress.com/contact-info/
Until now the conference registrations are very diverse, participants coming from: Amsterdam, Athens, Barcelona, Basel, Belgrade, Berlin, Bern, Brussels, Bucharest, Cairo, Chicago, Cluj-Napoca, Durban, Durham, Florence, Hamburg, Havana, Hong Kong, Istanbul, Kharkiv, Kolkata, Laramie, Leipzig, London, Luxembourg, Malaga, Medellin, Melbourne, Münster, Naples, Oxford, Paris, Prague, Stanford, Stuttgart, Tallinn, Tampere, Toronto, Uppsala, Warsaw, Würzburg, Zagreb, Zurich and the list is growing.
More info about the INURA network: inura.org
#inura23zurich
Organisation
Dr. Ileana Apostol, Dr. Nitin Bathla
Lectureship Sociology, Prof. Dr. Christian Schmid
Leggi anche