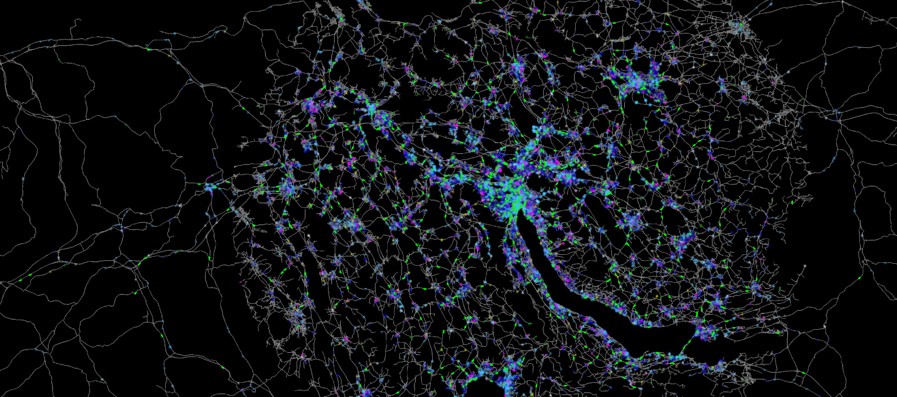 The proliferation of GPS technology and high speed mobile networks presents exciting opportunities for new insights into travel behaviour. With funding from the SNSF NFP75 on Big Data, a European research team headed by the Institute for Transport Planning and Systems is exploring new avenues for the integration of transport microsimulation frameworks and large scale geo-located data in the form of mobile traces and GPS data. With project partners based in Switzerland, Germany, and Austria, effective collaboration is key. Additionally, secure data protection and sharing as well as privacy regulations must continually be kept in mind.
Big data has been prophesized to change the way research is conducted, with some commentators going so far as to hail the «end of theory», predicting a move from hypothesis driven research to data driven research. Transportation research has not escaped this revolution zeal. In particular, for the study of travel behaviour, new technologies have fundamentally changed the scale of data collection that is possible. It is now possible to collect geo-located data for thousands of consenting participants and gain insights into travel behaviour that are not possible with traditional surveys. Additionally, such data can be collected over longer periods with less burden on both participants and researchers than with traditional methods.
International Geo-located Data from Mobile Phones
From the range of big data with relevance to transportation science, cellular mobile phone records hold the most promise. The modern 'always connected' society generates thousands of mobile phone location points per day per person, with a spatial accuracy of ranging from 100m to 1km. However, the collection and use of such data presents important ethical challenges. In particular, the recently introduced GDPR (General Data Protection Regulation) places strict controls on how such data can be collected and shared, even for research purposes.
In this context, a research project supported by the SNSF NRP75 is exploring ways of 'upgrading' the state of the art transport modelling methods to handle large scale geo-located data. The research team consists of four European institutes; from ETH Zurich the project is represented by the Institute for Transport Planning and Systems (IVT) and the Learning and Adaptive Systems Group (LAS). Internationally, the transportation institutes at TU Berlin and TU Graz bring their respective expertise to the project.
Early results from this four year project (2017–2019) show that even well performed travel diary surveys under-report the number of trips by up to 50% when compared to trip counts from mobile phone traces, highlighting the importance of updating transport models to work with location based data. With models built on geo-located big data we aim to better understand how people travel and design the transport systems of the future to meet their needs.
Joseph Molloy is a Research Assistant and Doctoral Candidate at the Institute for Transport Planning and Systems, ETH Zurich. He holds degrees in both Software Engineering and Transportation Systems, and is focusing is research on integrating big data and transportation microsimulation modelling, with applications to road pricing.