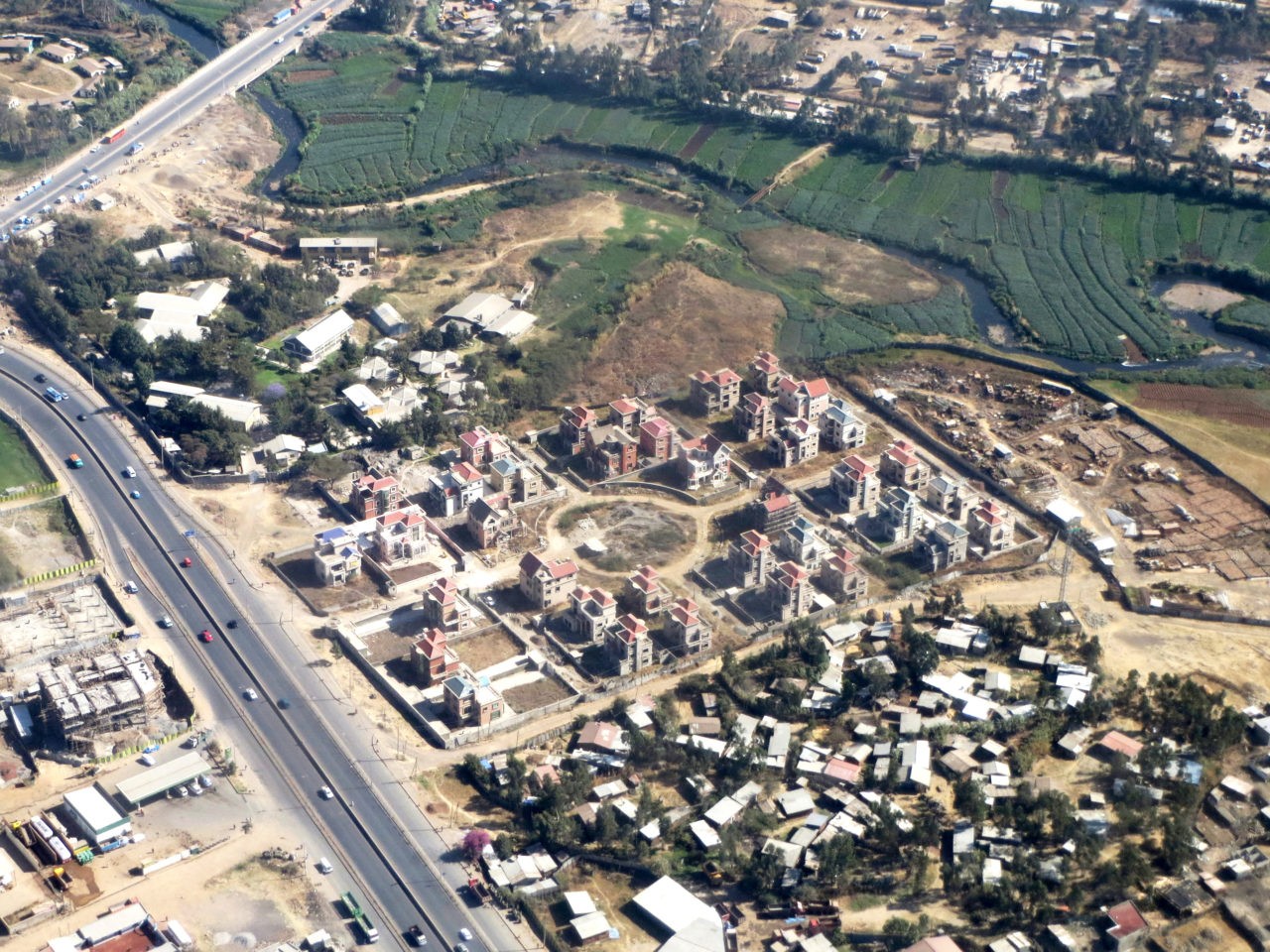 Urban and Rural Transformations, Addis Ababa, 2016. © Sascha Delz
The Doctoral Programme at the ETH Zurich Department of Architecture's Institute of Landscape and Urban Studies (LUS) offers two fellowship positions starting on 1 October 2022.
100%, Zurich-based, fixed-term.
The LUS Doctoral Programme
The Doctoral Programme at the Institute of Landscape and Urban Studies (LUS), ETH Zurich D-ARCH, focuses on contemporary issues of urban and environmental transformation within their broader socio-cultural, political-economic, and theoretical contexts. The programme seeks to promote a critical discourse and to cultivate independent, inventive, and proactive research addressing urgent social and ecological challenges.
The LUS tackles the production of landscape, territory, and human settlements across a range of scales and diverse geographies. Research areas currently in the foreground include studies around landscape and designed ecologies, energy transition, agroecology, hydrology, and regenerative agriculture, adaptive infrastructures, public health planning, and socio-economic development engaging with urban inequalities, mostly within Switzerland, EU, at the European borders, and across the global South.
The LUS Institute and its Doctoral Programme bring together the disciplines of architecture, landscape architecture, urban and territorial design and planning, and social sciences. Inter- and transdisciplinary research is thus at the core of the LUS, practiced in different fields and through a diverse set of methodological approaches, both qualitative and quantitative, ranging from ethnographic research and critical cartography to design-based action research, systems research and urban theory.
Your Profile
We are seeking researchers with a background in architecture, landscape architecture, urban and territorial design and planning, and social sciences, with a strong research or design experience that can benefit from the inter- and transdisciplinary engagements of the institute.
Suitable candidates must hold a university diploma or master's degree acquired at university level (equivalent to the FHEQ-Level 7) in architecture, landscape architecture, urban design, urban planning, and social science, or related fields acquired before the submission deadline. The candidates must additionally demonstrate excellent research and writing skills.
The participants must not be employed at the LUS Institute or affiliated organisations at the time of application to avoid possible conflicts of interest.
Application
Applications must be addressed to the Institute of Landscape and Urban Studies rather than to individual professors. Applicants must note that the application will be solely evaluated for their content and the applicants are thus requested to not contact individual professors before applying.
Submission deadline: 15 March 2022, 23:59 CET
We look forward to receiving your online application with the following documents:
Letter of motivation (1 page).
Outline of the proposed research project (max. 4 pages + max. 3 illustrations + bibliography and project timeline).
Curriculum vitae (including publications, portfolio, and work samples, max. 10 pages).
Published essay if available (1 text, max. 15 pages)
1-2 letters of recommendation
Letters of recommendation may alternatively be submitted to lus@arch.ethz.ch by either the referees or the candidates concurrently with the application deadline.
Please note that applications missing one of the above listed elements indicated as mandatory, and/or exceeding the given page numbers, will not be considered. The programme exclusively accepts application documents submitted through the ETH online application portal. Applications submitted via email or postal services will not be considered.
Further Information About the Programme, the Participating Faculty and the Application Process
Application Timeline
DEADLINE EXTENDED to 22 March 2022, 23:59 CET in solidarity with students facing war and conflict situations across the world.
Middle of April 2022: Notification to shortlisted candidates.
End of April 2022: Interviews with shortlisted candidates.
Beginning of May 2022: Notification to successful applicants.
1 October 2022: Start of programme.
About the Programme
The language of instruction is English. With over 25 participants currently enrolled, the LUS Doctoral Programme cultivates both individual research and collective exchange within the doctoral community. These modes of exchange include the LUS methods seminar, institute-wide colloquia, workshops, and doctoral reviews. The LUS Doctoral Programme is part of a larger, highly stimulating environment of doctoral education offered within the ETH Zurich Department of Architecture. A close collaboration with the Doctoral Programme in History and Theory of Architecture offered by the gta Institute has been established.
Participating Chairs at the LUS
Chair of History and Theory of Urban Design, Prof. Dr. Tom Avermaete
Chair of Landscape Architecture, Prof. Dr. Teresa Galí-Izard
Chair of Landscape Architecture, Prof. Christophe Girot
Chair of Architecture and Urban Design, Prof. Hubert Klumpner
Chair of Architecture and Urban Transformation, Prof. Freek Persyn
Chair of Sociology, Prof. Dr. Christian Schmid
Chair of Architecture and Territorial Planning, Prof. Milica Topalovic
Chair of Landscape Architecture, Prof. Günther Vogt
While an overall alignment between the research proposed by the candidates and individual and collective research agendas of the participating chairs at the LUS Institute is desirable, candidates are encouraged to apply with an independent research topic.
Employment, Residence & Funding
The programme offers funding for only up to three years. Successful applicants will receive full employment (100% Pensum), based on the ETH Zurich doctoral student contract, with monthly salaries according to the 'standard rate'. For a detailed calculation of salaries please refer here.
Successful candidates are required to take up residency in Zurich during the period of the scholarship.
Further Information
Applicants are requested to refer to the Frequently Asked Questions (FAQs) before approaching the programme coordinators. Only for questions that cannot be addressed through the FAQs contact Nitin Bathla or Seppe De Blust at lus@arch.ethz.ch. Requests sent to any other email will not be considered.