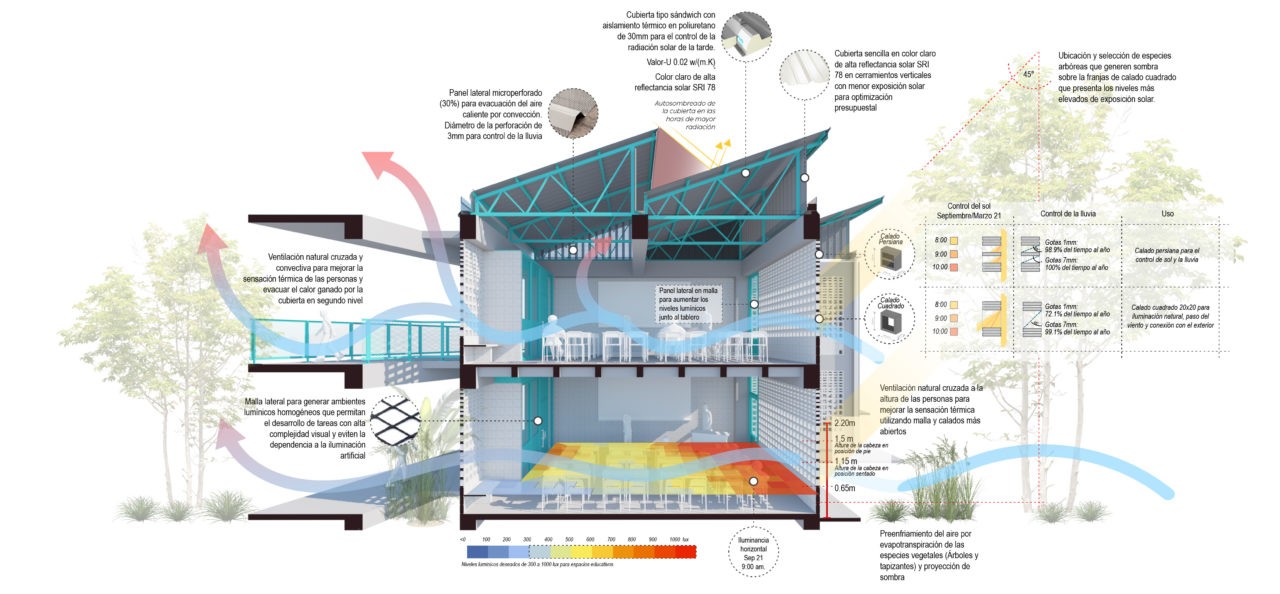 Colombia has suffered an armed conflict for over 50 years. As a result, more than 1 million children lack access to education with a deficit of 3'000 schools and more than 8 Million civilians displaced from their homes. Growing Schools Prototype is a strategic up-scaling concept for replicating schools adapting to different climates and consolidating and growing communities into legitimate neighbourhoods.

In 1929, Le Corbusier claimed to have sketched the urban design for Rio Janeiro from an airplane. Le Corbusier's aerial discovery of South America from a faraway above gave rise to a design with superimposing infrastructures over the existing landscape and social fabric.
How can Current Urbanization Challenges in the Global South be Addressed from a Socio-Ecological Contextual Framework?
Invited by the city of Cartagena, we have developed a strategy to re-design and re-urbanize a 4 km2 area in Ciudad Bicentenario: the new biggest project of social housing in Colombia, which, over the next decade will transform into a city for up to 50'000 citizens. Ciudad Bicentenario has welcomed so far 16'000 migrants, 50% of them children of school age and deprived of education access. An urgent lack of 3'000 schools in the country requires building prototypes for schools providing learning spaces and contributing, at the same time, to create a new sense of community. In the context of our stakeholder group, we have co-designed a school that pushes the limits of its typology becoming a broader integrated social infrastructure. How can we make available a learning facility after its daily schedule? Our Growing Schools Prototype provides a framework for community programmes such as sports, culture, work, health, and agriculture and a network of integrated ecological infrastructures for mobility and public space. We aim to curate a culture that looks at the broader benefits of the space, rather than focusing on individual activities. Utilizing a similar material palette to the one used generically in the rapid building of schools by construction companies, we re-design prototypical details that embrace the challenge of staying below the maximum temperature of 28°C inside the classrooms.
Avoiding Flood Risks
As most of the city of Cartagena is at risk of flooding due to the reforesting mangrove forests around La Virgen lagoon, and the negative effects of rising sea levels, entire informal settlements are being destroyed. As a response, new developments like Ciudad Bicentenario, 8 meters above sea level, are essential. We are re-imagining ecologic urbanizations around the lagoon instead of cities along the coast. In the effort to reconstruct and recuperate the lagoon, a radial water canal stretches into the surrounding urbanizing landscape and creates a public space along the main façade of the Growing School Prototype.
After 50 years of armed conflict in Colombia, it is key to translate the peace process into a physical process of reconstruction and integration for re-building the society. Transforming lives through education and growing schools into a model for ecological urbanization through architecture.
Blanca García Gardelegui is conducting research at the Chair of Architecture and Urban Design from Prof. Hubert Klumpner.
Growing Schools Project is part of the Urban Transformation Program Colombia (UTPC), a collaboration of the State Secretariat for Economic Cooperation and Development (SECO), and the Inter-American Development Bank (IDB), led by the Chair of Architecture and Urban Design of the Federal Institute of Technology Zurich (ETH Zurich), Chair of Architecture and Urban Design, Prof. Klumpner, Diego Ceresuela Wiesmann (A. Brillembourg 2014- 2019); UNIVERSIDAD DEL NORTE OF BARRANQUILLA (UN), Prof. Manuel Moreno, Prof. Sergio Chirivella; UNIVERSIDAD PONTIFICIA BOLIVARIANA OF MEDELLIN (UPB), Prof. Dr. Alejandro Restrepo Montoya. Together with local municipalities and NGOs, we design and build prototypical architectural projects to promote urban transformation. In the support of local culture and capacity building, we empower the peace process and the inclusion of vulnerable communities.
Sources:
https://www.unidadvictimas.gov.co/es/registro-unico-de-victimas-ruv/37394
https://ec.europa.eu/echo/where/latin-america-caribbean/colombia_en