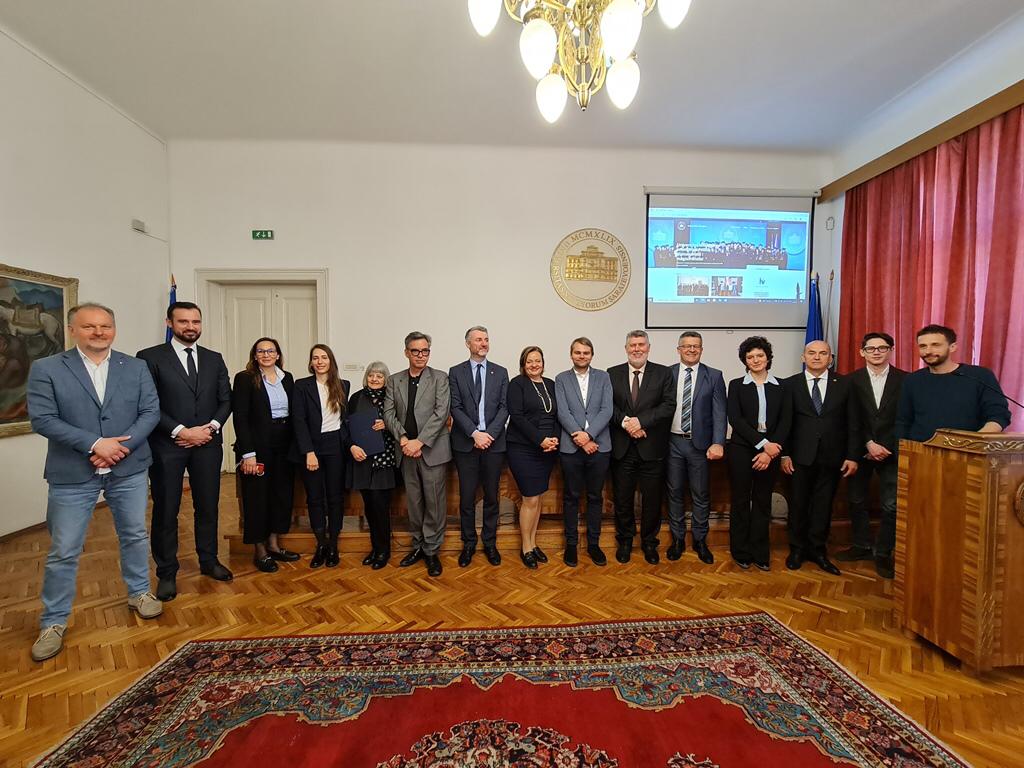 The agreement was signed by Prof. Hubert Klumpner from the Swiss Institute of Technology in Zurich (ETH Zurich), Prof. Dr. Rifat Škrijelj, Rector of the University of Sarajevo (UNSA), Prof. Dr. Adnan Pašić from the Faculty of Architecture, University of Sarajevo (UNSA) and Faruk Muharemović, Director of the Sarajevo Canton Development Planning Institute (IPDCS). The signing was attended by representatives of the Swiss Embassy in Sarajevo, SECO, the Government of Sarajevo Canton, the Ministry of Physical Planning, Construction and Environmental Protection of Sarajevo Canton, and the Ministry of Science, Higher Education and Youth of Sarajevo Canton.'
Read the full article (Bosnian) here: nap.ba/news/92411
Details from the text:
Prof. Hubert Klumpner from the Swiss Institute of Technology in Zurich (ETH Zurich) explained that the term urban transformation implies infrastructure, energy and mobility, but also much more.
"This is absolutely about the quality of life. However, that may sound a bit abstract. The goal of everything is to keep the young, and at the same time not to neglect the elderly ", he states, and adds that this is also a public space. "It should be both green and blue, so an open and lively space, not cluttered with vehicles. And finally, this is about equal opportunities for all. Because we are working on the safety of all citizens of Sarajevo ", concluded Professor Klumpner.
He pointed out that all of the above is not an easy task, but that their work will begin with sketching the terrain, planning and preparing tools, and that the final result will only and exclusively benefit the citizens.
The agreement focuses on the following components of the project:
Scientific and evidence-based support from ETH Zurich and UNSA to the Sarajevo Canton Planning Institute for the development and testing of the Urban Plan, including the development of the UP Digital Tool for Sarajevo, which is used to analyze the baseline, and simulate and visualize future scenarios for Sarajevo.
Development of urban prototypes and small-scale interventions as a catalyst for the urban transformation of Sarajevo. These project components and activities are complemented by the Institutionalization component aimed at capacity building and policy dialogue coordinated by the Consortium of Consultants (Urbaplan, Helvetas and ENOVA).
The signing of the Agreement was accompanied by the opening of the exhibition "Climate Corridors Sarajevo", which shows integrated urban strategies and design of prototype architectural projects for Sarajevo. Transformable visions were developed during the joint design study of UNSA and ETH Zurich by undergraduate and postgraduate students from Bosnia and Herzegovina and Switzerland. The opening of the exhibition was held on April 11 in "Urban Design Studio Sarajevo", the working and presentation space of the project which acts as a symbiosis of design and imagination with the Sarajevo public and all interested parties during the UTPS. The Night of Architecture "Urban Transformation" will be held on April 12 in "Urban Design Studio Sarajevo".