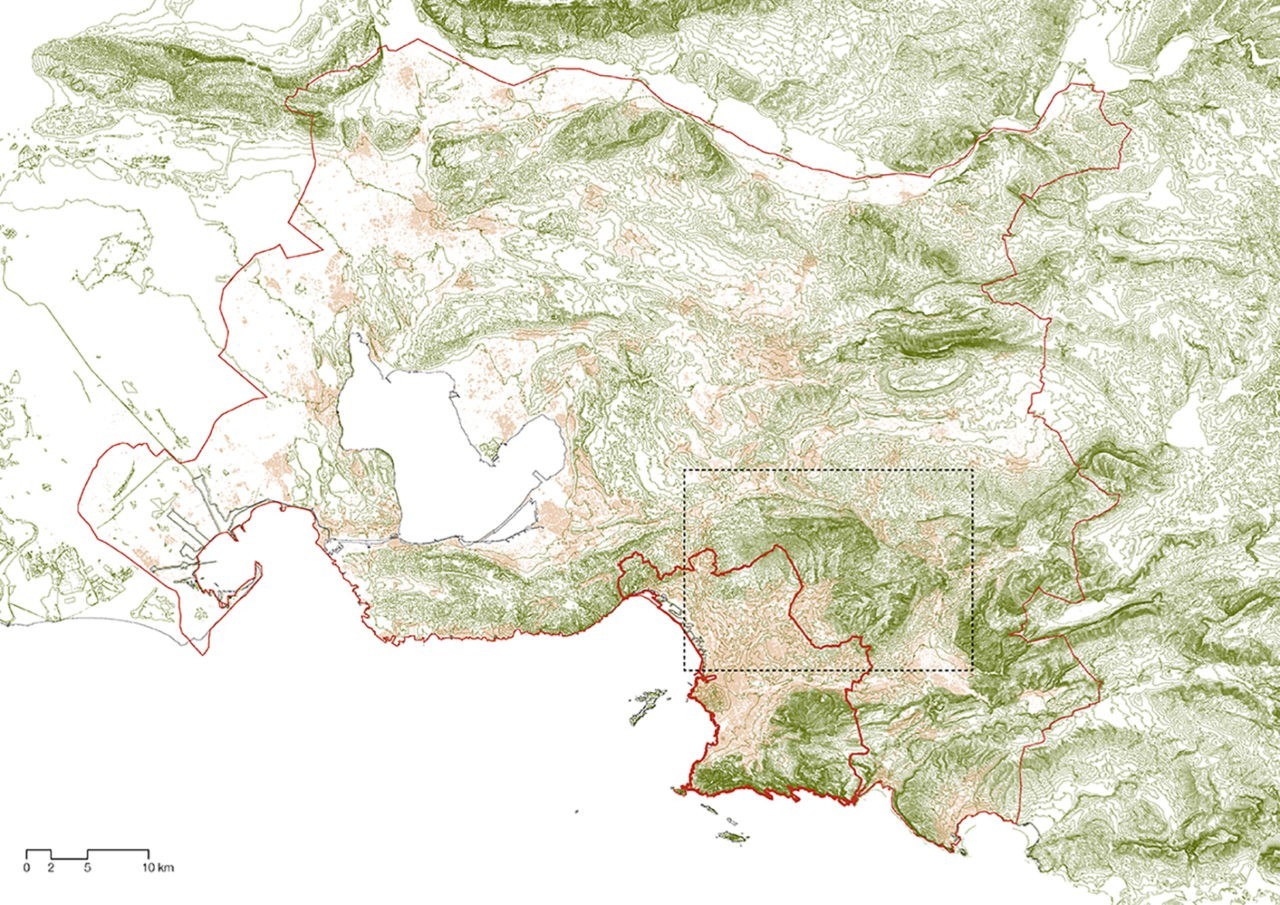 The elective course «Territory of the city» focused on Marseille and Naples, two cities enduring long-term economic and social crises. Like other Mediterranean port cities, they are directly affected by global warming and face increasing threats of natural hazards. The recent creation of the «Métropole Aix-Marseille-Provence» (2016) and the «Città Metropolitana di Napoli» (2014) represent an opportunity to address some of these issues at a larger scale.
Marseille: Alpine and Maritime Territory
Marseille, the second largest city in France, looks back on a history marked by rise and fall, growth and crisis. Its strategic location on the Mediterranean Sea allowed the port city to flourish in the 19th century and to become a melting pot of cultures. With the end of colonialism and the withdrawal of the port industry, Marseille became a 'ville en crise' in the 20th century, impacted by poverty, crime and decay. The city's socio-spatial segregation – wealthier neighbourhoods to the south and social housing blocks to the north – dates from this period and continues to this day.
In the spring semester 2019, our study perimeter was the Massif de l'Étoile, a striking, barren limestone mountain range forming the natural topographical boundary north of the city body. Consisting mainly of bush and heathland, it is currently hardly used except for a few telecommunications facilities, hydroelectric power plants and hiking trails. As a central landscape area of the new metropolitan region «Aix-Marseille-Provence», however, it has the potential to structure future urbanization and to take on various urban functions: a new type of metropolitan park, for which new approaches and strategies must be developed.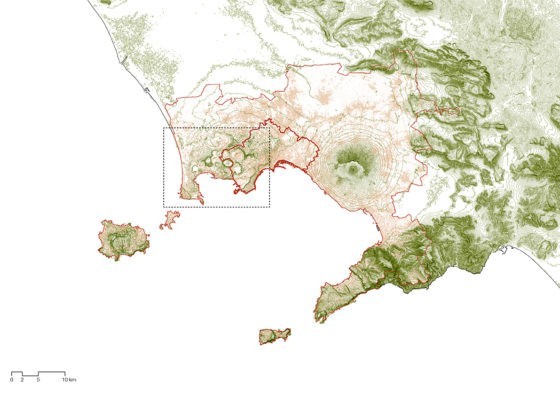 Naples: Land of Fire
Located in-between two volcanic areas, the urbanization of Naples' territory has been continuously shaped by this very specific topography. To the east is the famous Vesuvius, whose iconic shape embodies the city's identification symbol. To the west, several eruptions thousands of years ago resulted in the formation of a large caldera known as Campi Flegrei – the «burning fields». Today, the area is characterized by a complex topography and scattered uses: agricultural land, illegally built settlements, isolated archaeological remains, industrial wastelands, abandoned mining areas and protected landscapes overlap and contrast in a discontinuous palimpsest. In a city affected by the risk of eruption, crime and corruption, recession and permanent deindustrialization processes, the newly created «Citta Metropolitana di Napoli» produces a shift of perspective and particularly offers the opportunity to reassess and rethink this metropolitan landscape.
Amalia Bonsack studied architecture at EPF Lausanne, UP Valencia and ETH Zürich. As a scientific assistant at the chair of Prof. Dr. h.c. Günther Vogt, she teaches the elective course «Territory of the City», dealing with the development of multi-scale design strategies in European metropolitan landscapes.