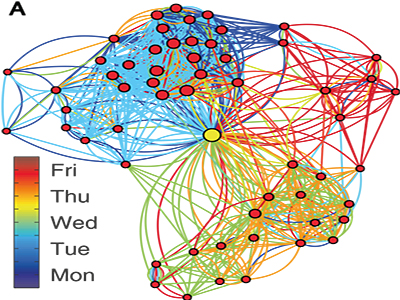 Everyone who has taken public transport on a regular basis has experienced the sense of being familiar with somebody even without knowing his or her name or having spoken to them. Lijun Sun and the team from Mobility and Transport Planning research module at the Future Cities Laboratory in Singapore investigate this phenomena of the Familiar Stranger.
Using the smart card (EZ-Link/CEPAS) data used by the Singaporean bus service, the team analysed the passive interactions on more than 20 million bus trips taken by three million residents on Singapore's bus networks.
The result is a compelling understanding and insight into this hidden network and the effects it has on the population. «This is the first time that anyone has attempted to study and analyse such a large network of encounters,» says Mr Sun.
The team made several revelations, including the fact that out of all the trips they analysed, there were 18 million pairs «in-vehicle encounters», in which two people were on the same bus at the same time, which was repeated at the same time everyday.
They also found out that 85% of these repeated encounters occurred in the morning, rather than in the afternoon. The team explains that people generally leave the houses at the same time everyday but don't necessarily return home at the same time everyday.
The team hopes that this study can impact research on the accurate mapping and simulations of how individuals move and behave in space and time. That will in turn impact the studies on the spread of infectious diseases through cities and communities. More interestingly, this may also suggest how people form social networks.
«If you see the same face everyday, chances are you are more likely to start a conversation with them and they become part of your social network,» says Mr Sun. «This is a fascinating insight into how communities form and can be strengthened.»
Lijun Sun, Mobility and Transport Planning, Singapore