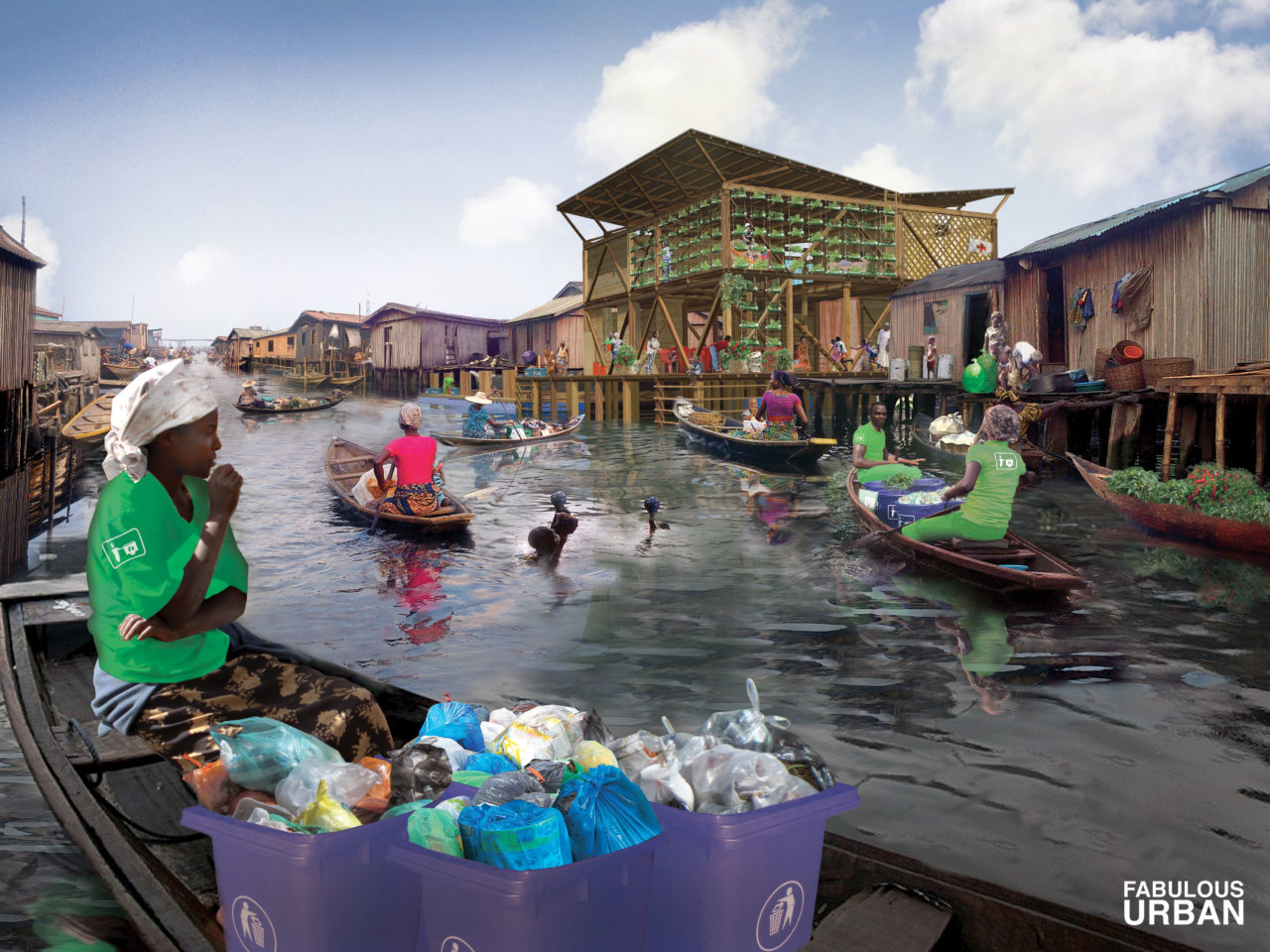 In Makoko, a poor part of the Nigerian city Lagos, Fabulous Urban is developing a strategy for the transformation of the area's massive waste problem into a new economic engine, in collaboration with local partners, including the local university and a human rights organization.
Organic waste and human excreta are no longer discharged into the lagoon, but processed into biogas for charging batteries that can provide a household with two full days' worth of electricity. The byproduct, manure, can be used in the cultivation of tomatoes and peppers. The production of biogas is technologically straightforward: the waste goes into rubber sacks, which are then placed in the blazing sun. Synthetic waste like plastic is collected and recycled into new products or sold for reuse, for example to companies like Coca-Cola. The collection centers for plastic and the biogas plants – also called Neighborhood Hotspots – do not only serve as community centers that combine clean bathrooms, educational facilities for women and girls, a manure outlet, and battery charging facilities; they are also business incubators, introducing a new local waste economy.
The Neighborhood Hotspots are part of the Makoko Regeneration Plan, an initiative of Urban Space Innovation, Fabulous Urban and the Heinrich Böll Foundation Nigeria. The local population – between 50,000 and 100,000 residents, numbers vary – wanted to develop an alternative masterplan to the existing plan by the government, which foresees the eviction of the area. An extensive stakeholder process, resulting in a vast network of key and local actors has helped to shape the Makoko Regeneration Plan. The Embassy of Switzerland in Abuja to Nigeria on behalf of the Federal Department of Foreign Affairs has agreed to finance the implementation of a pilot Neighborhood Hotspot. The project group is currently waiting for the building permit.
Fabienne Hoelzel is scientific assistant at the Institute of Urban Design at the ETH Zürich. In 2013, she founded FABULOUS URBAN, an urban design and planning practice based in Geneva.