Design Research Studios (DRS) are an education format directed to Bachelor and Master students in Architecture at ETH Zurich that integrate studies conducted by post-graduate researchers on complex issues like flood and urban heat. They offer an opportunity to develop landscape designs connecting people and their environment with the goal to strengthen societal and ecological resilience. The DRS in Madagascar is the last of a series of DRS led by Prof. Christophe Girot in collaboration with Prof. Adrienne Grêt-Regamey within Future Cities Lab (FCL) research programmes. Previous DRS dealt with urban cooling in Singapore and urban floods in Jakarta.
Digital Models to Reimagine Analogue Space
The Design Research Studio titled «Madagascar Hand-Made» spanned over 14 weeks from September to December 2022. The participating students learned to master the tools and methods developed at the Large-scale Virtualization and Modeling Lab (LVML), such as the geometric documentation with photogrammetry and laser scanning, scientific visualisation of landscape features, point cloud modelling for landscape design, and dynamic simulation of pluvial flood.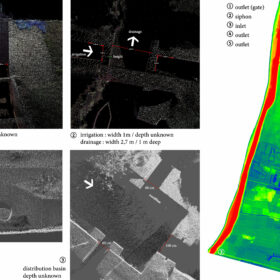 The students applied these digital practices to craft digital models that draw from centimetre-precise laser-scanning surveys to shape topographic transformations. Beyond producing proposals for the peri-urban landscape of Antananarivo, the DRS aimed at educating students in architecture about environmental topics at large scale, such as topography, soil, water, agriculture, and ecology. The education required a custom-made balance between theoretical and technical inputs, amalgamating landscape theory with design exercises, site survey with topographic modelling, topological design thinking with flood simulations in a laboratory.
A fundamental step for landscape designers is also to understand the context, not only through a flow of information and training, but also through a first-hand experience of the site, the culture, and the people. A seminar week thus was a compulsory part and brought ETH Zurich students together with local students from the Institute of Technology of Antananarivo (IST) and the School of Agronomy of the University of Antananarivo (ESSA) in October 2022. The seminar enabled the discussion of ideas and the exchange methods, carefully prepared with preparatory remote instruction to bring all parties on a similar technical level.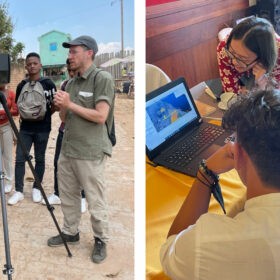 Co-creating Resilient Urban Landscapes
The proposals designed by students were consolidated through the guidance of an inter-disciplinary team of scientists working in Madagascar, Switzerland, and Singapore. This team gave inputs about hydrology, ecology, agronomy, and sociology of Antananarivo. Additionally, the DRS were supported by established collaborations with the French Agricultural Research Centre for International Development (CIRAD), ESSA, and the Ministry of Land Management and Services (MATSF).
This co-creative approach also involves local stakeholders from state to municipality levels through repeated iterations that allow for calibrating common goals, requesting data and permits, and discussing possibilities of implementing new ideas. Finally, the best designs from this process were presented and discussed during the Tana Design week and in a series of workshops within Antananarivo. The research project is currently featured within the Future Cities Lab Global exhibition at the European Cultural Centre in Venice.
Dr. Philipp Urech is head of the Large-scale Virtualization and Modeling Lab (LVML) at the ETH Zurich and founder of the design practice TOPOSTUDIO GmbH. He coordinated the studio «Madagascar Hand-Made» at the Chair of Prof. Christophe Girot and conducts research on Resilient Blue-Green Infrastructures at the Chair of Prof. Adrienne Grêt-Regamey.