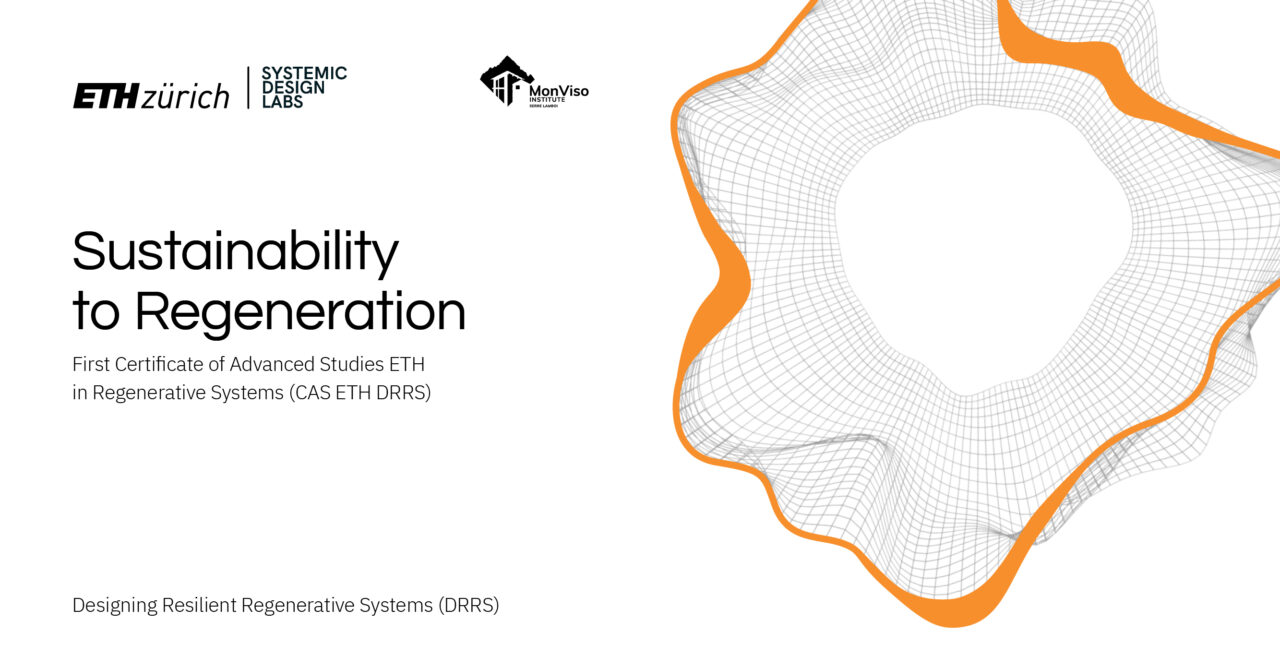 Crises hold chances. We are finding ourselves in times of deep, nested, and accelerating ecological, social, cultural, political, economic, and personal crises. This dynamic situation is highly complex and uncertain, unpredictable, and even chaotic. Yet within chaos is creativity, and creativity leads to chances for renewal.
This first CAS ETH in Regenerative Systems as part of the Designing Resilient Regenerative Systems (DRRS) programme is about creating positive impact in complex systems as part of learning communities.
Exciting live illustrations take participants to partnering real-world labs and bio-regional learning centres, i.e. Ostana Italy, Hemsedal Norway, Annecy France, Mallorca Spain, and Venice Italy – embodying complex systems from governance scales of material supply chains to products, buildings, communities and their services, to landscapes, bio-regions, and transnational cooperation. This offers a relational understanding of communities and regions undergoing sustainability transitions across different contexts, cultures, climates, and geographies.
Some of the prominent methods participants will learn are systemic design and systems-oriented design, social network analysis, resilience assessment, life cycle and footprint analysis, circularity mapping, visual dialogue, cross-scale design, «View from Above» perspectives, design as nature, transdisciplinary research, real-world elaboration, personal inner development, and more. A main innovation is that such diverse methods, practices, tools, cultures, are taught and learnt in synergies, in relation, challenge based, to form new cultures of "dancing with systems", of dealing with complexity, science-based and designerly with direct practical impact.
This CAS is the first out of a planned series of three CAS, leading to the planned MAS Master of Advanced Studies ETH in Regenerative Systems.
A Hybrid Course Setup
This CAS with its introducing MOOC is a hybrid programme that can be studied virtually from wherever one lives, in a pace that one can combine with professional and private life. The distinctive physical, in-person component adds the real-world facets with all their unmatched qualities to the flexible virtual part and makes it hybrid. The course modules and themes are as follows:
Introduction to the programme, the learning cohort, your QUEST, the field design trip
Module 1: Global crises to local interventions
Navigating nested crises; societal and individual root causes; solutions or interventions; transformation and transition
Module 2: Sustainability to Regeneration
Sustainability origins and mental models; sustainability science; regeneration across contexts and scales; from cells to ecosystems to societal to personal regeneration; regenerative AI
Module 3: Worldviews
Different ways of knowing and reasoning; science; warm data; design; free topic.
Module 4: Reframing complexity
Complexity, simplicity, reframing; weaving
Module 5: Design as nature
Ecosystems functions; deep ecology; we are nature; biomimicry; bio-infused communication; nature finance
Module 6: Mind and movement
Flow experiences; self-compassion; meditative nature practice; self-agency; mountaineering metaphors; regenerative leadership; organic emergence; systemic cycles
Duration and Graduation
The course starts on 4 September 2023 and extends over three months. DRRS MOOC#1 needs to be taken prior to CAS#1 start. After an initial introduction week there will be a block field design trip where the entire group meets physically in a partnering real-world lab and engages physically, intensively for 10 days. For the successful completion of each CAS, 12 ECTS credits are awarded. The course language is English.
The application window is now open until 31 May 2023.
For whom is this course?
The CAS addresses thought leaders and decision makers from a variety of fields who want to embrace uncertainty and co-design across governance scales, cultures and thought schools for a better, more resilient, and regenerative future. The inclusiveness of this unique programme allows participants to expand on their fields by learning and co-creating with synergistic stimulation and exchange.
Admission
Admission to the CAS programme is open to students who hold a master's degree acknowledged by ETH or equivalent educational qualifications. In addition, applicants must have successfully completed MOOC#1 Sustainability to Regeneration and submit a motivation letter.
For more information about the course setup and the application process please refer to the programme website which also entails a downloadable educational programme magazine.