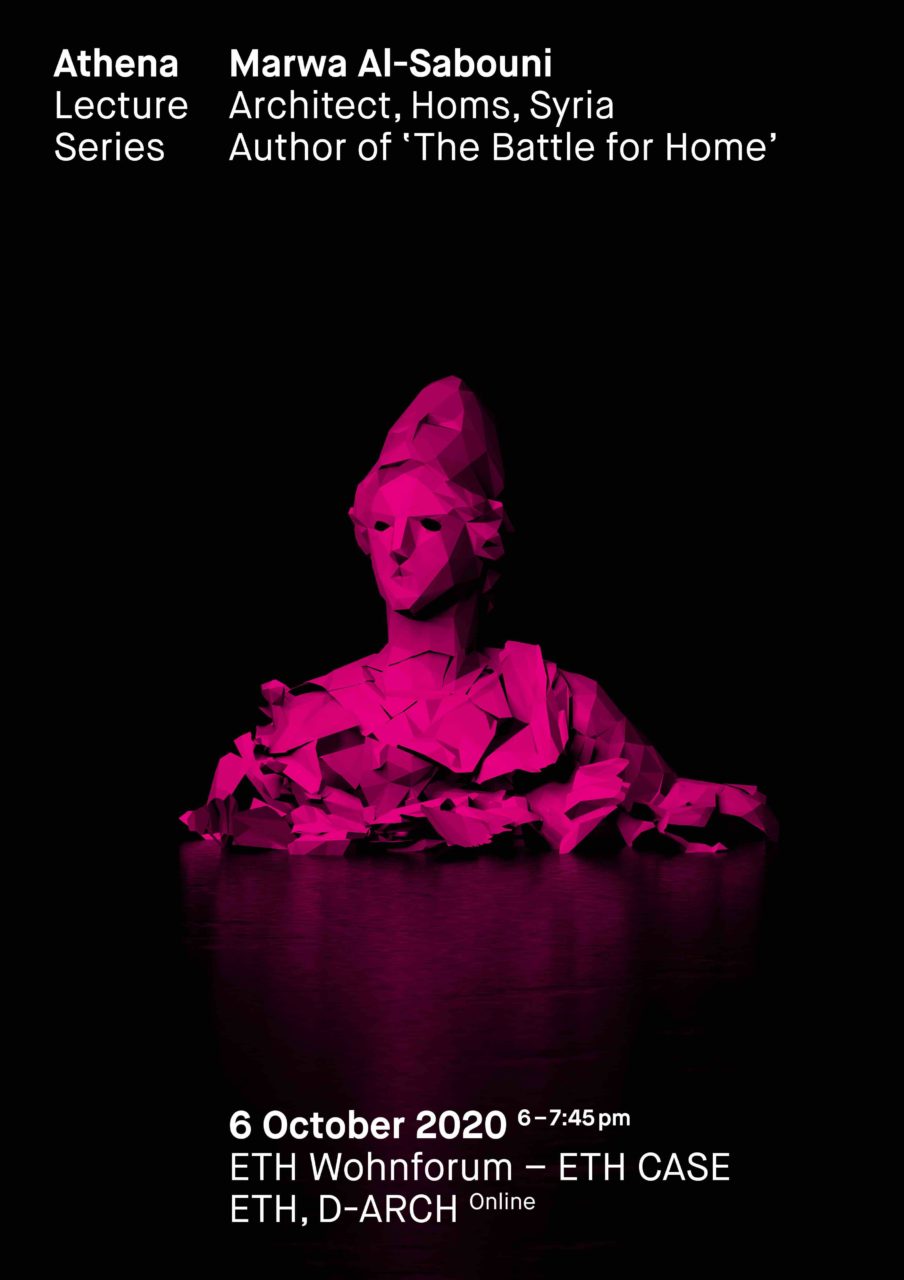 6. Oktober 2020, 18 Uhr | ETH Zentrum, online
Marwa Al-Sabouni ist eine syrische Architektin und Autorin. Sie gilt als Expertin für den Wiederaufbau Syriens, führt zusammen mit ihrem Partner ein Architekturstudio in Homs und ist Mitbegründerin von www.arch-news.net, der weltweit ersten und einzigen Plattform, die Architektur-News in arabischer Sprache veröffentlicht. Ihre 2016 erschienene Publikation The Battle for Home wurde vom Guardian als eines der besten Architekturbücher ausgewählt.
Die internationale Athena Lecture Series wird organisiert von ETH Wohnforum – ETH CASE in Zusammenarbeit mit der Parity- and Diversity Group des D-ARCH und ist eine Vortragsreihe international anerkannter Designerinnen und Wissenschaftlerinnen aus den Bereichen Urban Studies, Architektur, Städtebau, Stadtplanung und Landschaftsarchitektur.
Der Vortrag ist öffentlich. Teilnehmenden bietet sich so die Möglichkeit, international führende und einflussreiche Persönlichkeiten kennenzulernen. Es soll zum Nachdenken anregen, Gespräche initiieren und Ideen fördern.
Live-Streaming
Programme
ZOOM-Link
18:00 Welcome by the Parity Group, Introduction by Marie Glaser
18:30 Evening keynote lecture by Marwa Al-Sabouni
19:15 Q&A with Marie Glaser & Marc Angélil
Organisation
ETH Wohnforum – ETH CASE organisiert gemeinsam mit D-ARCH und seiner Parity- and Diversity-Kommission eine umfangreiche Vortragsreihe mit international anerkannten Wissenschaftlerinnen aus den Bereichen Stadtwissenschaften, Architektur, Städtebau, Stadt- und Stadtplanung sowie Landschaftsarchitektur. Diese internationale Vorlesungsreihe mit dem Titel Athena Lecture Series lädt in den Jahren 2020–2021 acht Wissenschaftlerinnen und Architektinnen von Weltrang auf den ETH-Campus Hönggerberg ein. Neben den Vorlesungen sind Aktivitäten geplant, die den Studierenden und Gästen die Möglichkeit geben, sich mit den Gastdozentinnen weiter auszutauschen. Weitere Informationen