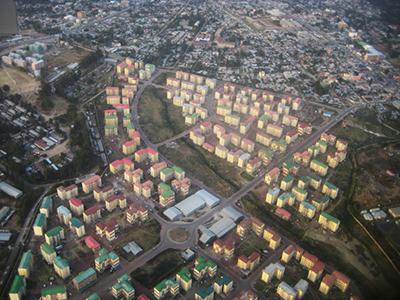 Exploring the political-economic mechanisms underlying the production of affordable housing has been a recurring research theme at the chair of Prof. Marc Angélil. While also addressing the more familiar settings of the United States and central Europe, the main focus has been on rapidly growing urban territories of the southern hemisphere, investigating contexts such as Brazil, Egypt, India, or Ethiopia. Focusing on Ethiopia, this article briefly depicts the ambitious 'Integrated Housing Development Program', which has triggered a variety of unforeseen challenges within the spatial, social and economic structures of Addis Ababa.
The recently finished dissertation Development Cooperation at all Costs – How Global Actors and Concepts Influence Rural and Urban Transformation: Case Studies from Ethiopia addresses the spatial outcomes of three different international cooperation schemes within and around Ethiopia's capital Addis Ababa, home to approximately 4 million inhabitants. One of the case studies investigates the largest social housing program launched in Ethiopia to date, which was developed in collaboration with the German Technical Cooperation (GTZ) – now German International Cooperation (GIZ). Relying on two key conceptual pillars, namely individual home-ownership through mortgages and standardized housing blocks, the 'Integrated Housing Development Program' aspired to alleviate an accumulated housing backlog of 233'000 units and provide adequate housing possibilities for low-income citizens.
Although falling short of initial targets – from the planned 150'000 to 200'000 units only approximately 80'000 were constructed in Addis Ababa between 2004 and 2010 – the program has built housing quantities unseen in the country's history. However, the program has also revealed substantial challenges on spatial and socio-economic levels: strongly linked to both the installed mortgage scheme and the applied design approach, the program has failed to provide wide-spread affordable housing to the targeted low-income groups; has generated spatial and social segregation; has fostered dependency on imported materials; lacks design features and spaces that reflect local lifestyles and daily needs; and has accelerated the peripheral expansion of the city.
Flexible, Versatile, and Inclusive Concepts for Design Processes and Funding Schemes
Therefore, when searching for viable and adequate alternatives for affordable housing in Ethiopia and Addis Ababa – and for other contexts with similar issues for that matter – a key task is to develop more flexible, versatile, and inclusive concepts for design processes and funding schemes, as well as for the directly related technological applications and organizational approaches. Within the context of international cooperation this additionally means to depart from usual off-the-shelf solutions, and to propose contextually based frames of references for affordable housing. Within the recently started research project Cooperative Production of Low-Cost Housing – Socio-Technological Innovation for the Provision of Housing for Low-Income Populations, both the chair's and the author's current research efforts are directly linked to the above-stated aspirations.
For further information on the different research contexts see: United States, Brazil, Egypt, India, Ethiopia.
Sascha Delz holds a Doctor of Sciences and a Master degree in Architecture from ETH Zurich. He has worked as design instructor and researcher at the Department of Architecture of ETH Zurich, and the Future Cities Laboratory in Singapore. Having finished his PhD in 2015, he is currently a postdoc researcher at the Institute for Urban Design.