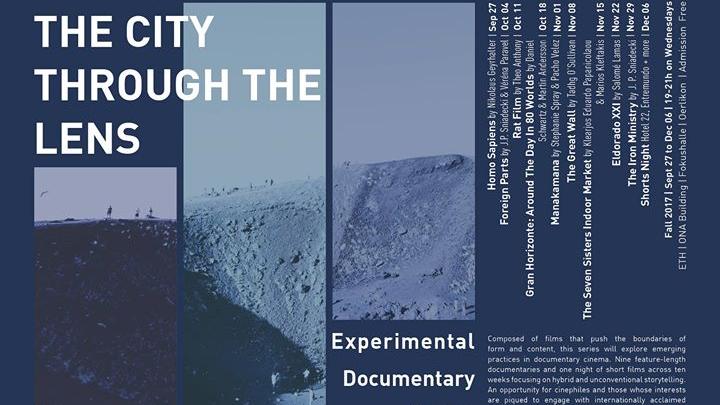 On Wednesdays from 27 September to 6 December | NEW 19:00h
Place: Fokushalle ONA E7, Neunbrunnenstrasse 50, Zurich Oerlikon.
Composed of films that push the boundaries of form and content, this series will explore emerging practices in documentary cinema. Nine feature-length documentaries and a night of short films across ten weeks focusing on hybrid and unconventional storytelling. An opportunity for cinephiles and those whose interests are piqued to engage with internationally acclaimed documentaries and filmmakers operating at the intersection of art, sociology, anthropology, and urbanism.
This event series is connected to the elective ACTION! On the Real City: Observe, Record, Edit: Oerlikon, but is open to all students and members of the public.
Programme
Sep 27 | Homo Sapiens (2016, 1hr 34mn) by Nikolaus Geyrhalter | followed by drinks reception
Oct 04 | Foreign Parts (2010, 1hr 22mn) by J.P. Sniadecki
Oct 11 | Rat Film (2016, 1hr 22mn) by Theo Anthony | followed by Q&A w/director
Oct 18 | Gran Horizonte (2013, 45mn) by Daniel Schwartz & Martin Andersson | followed by Q&A w/director
Nov 01 | Manakamana (2013, 2h 00mn) by Stephanie Spray & Pacho Velez | followed by Q&A w/director
Nov 08 | The Great Wall (2015, 1hr 14mn) by Tadgh O'Sullivan | followed by Q&A w/director
Nov 15 | The Seven Sisters Indoor Market (2016, 1h 35mn) by Klearjos Eduardo Papanicolaou & Marios Kleftakis | followed by Q&A w/director
Nov 22 | Eldorado XXI (2016, 2h05mn) by Salomé Lamas | followed by Q&A w/director
Nov 29 | The Iron Ministry (2014, 1hr 13mn) by J.P. Sniadecki
Dec 06 | Shorts Night: Hotel 22, Entremundo + Student Shorts | followed by drinks reception
 
Organisation
Urban-Think Tank
Chair of Architecture and Urban Design
Prof. Brillembourg & Prof. Klumpner
Contact: Clearhos Eduardo Papanicolaou
Facebook event page