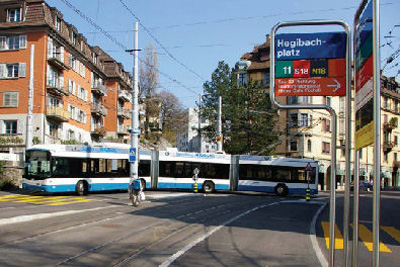 High quality public transport systems are characterized not only by their large capacity and high operational speeds, they must also provide a reliable service. This is important because reliability has an effect in both the users and the service providers. An ongoing project uses new data to look at causes for bus delays and makes recommendations for improvement.
Reliability is important for passengers because it influences waiting times, comfort, customer satisfaction and ultimately ridership and service patronage. For service providers, more reliable services can be translated into more productive vehicles, cost reduction and image improvement.
In the framework of the COST project, «Buses with High Level of Service» the Institute for Transport Planning and Systems IVT will make use of new operational data, gathered by automatic vehicle location systems (AVLS), to assess reliability metrics in operational processes of current bus services in Zurich. Interviews will provide an insight into the planning practices of the service provider. The goal is to increase our understanding of the causes for delay in operations, the extent of their influence in a quantitative scale and the potential for optimizing operational planning practices. Recommendations for improvement of reliability measures will be proposed at a planning and operational level, followed by a cost-benefit analysis of these measures.
Zurich is well known for its excellent public transport. This project aims at providing elements to improve the quality of an already outstanding service from the perspective of reliability.
Project Presentation
Website COST
Contact
Prof. Ulrich Weidmann
Nelson Carrasco