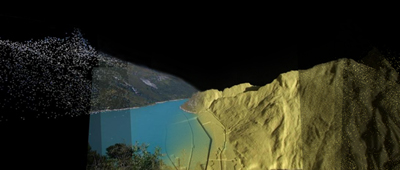 Das neu gegründete departementsübergreifende Landscape Visualization and Modeling Lab ist durch den Einsatz aktueller Technologien im Bereich der Landschaftsvisualisierung und -modellierung ein Kompetenzzentrum für Forschungsprojekte und Anwendungen innerhalb der Lehre. Das computergestützte Lab ist das erste in Europa, das die Verarbeitung von GIS Informationen mit modernen 3D Visualisierungs- und CNC-Modellierungstechniken verknüpft. Es versteht sich als Weiterentwicklung des in den 80er Jahren vom Institut für Orts-, Regional- und Landesplanung (ORL-ETH) in Zusammenarbeit von D-BAUG und D-ARCH initiierten state-of-the-art Visualisierungslab.
Spitzenforschung, hochstehende Feldarbeit und exzellente Ausbildungskurse erfordern, dass die ETH Schritt hält mit den rasanten technischen Entwicklungen in Landschaftsvisualisierung und –modellierung. Deshalb wurde die Infrastruktur zur GIS-basierten 3D Visualisierung und Modellierung der Lehrstühle Prof. Christophe Girot am Institut für Landschaftsarchitektur (ILA) sowie Prof. Adrienne Grêt-Regamey, Planning of Landscape and Urban Systems (PLUS), am Institut für Raum- und Landschaftsentwicklung (IRL) neu konzipiert und das Lab wird mit 16 real-time Workstations und neuer Software ausgestattet.
Die sich schnell entwickelnde Computertechnologie erlaubt heute die Produktion von immer ausgereifteren und realistisch aussehenden virtuellen 3D Landschaften, in denen man sich zunehmend auch bewegen kann. Das Lab ist darauf ausgerichtet, sehr hohe und präzise Designanforderungen in Bezug auf die räumliche Struktur, interaktive Animation und fotorealistische Renderings zu erfüllen. Ein 3D Landschaftsscanner mit 2 km Reichweite erlaubt die Generierung von detaillierten Höhenmodellen, die als Basis für realistische 3D Visualisierungen, akkurate Geländemodellierungen und CNC Fräsbearbeitung zur Ausgabe physischer Modelle dienen.
Durch den Einsatz derselben Technologie in den Fachbereichen Landschaftsplanung und Landschaftsarchitektur werden innovative Ansätze geschaffen. Die aktuellen Einsatzmöglichkeiten am PLUS reichen von der Bewertung optimaler Landnutzungsentwicklungen anhand realistischer 3D Visualisierungen von Ökosystemleistungen bis hin zur Visualisierung generischer Modellierungen neuer urbaner Entwicklungsmuster. Ein besonderer Schwerpunkt liegt auf dem Einsatz der Instrumente zur Einbindung aller relevanten Akteure in den Planungsprozess. Zudem bieten wir seit dem Frühjahrssemester 2010 im Masterstudium einen Trainingskurs für 3D Visualisierungen zur partizipativen Planung an.
Sowohl der entwurfsunterstützende Gebrauch der CAD/CAM Technologie als auch die Implementierung neuer Visualisierungstechnologien stehen innerhalb der Professur für Landschaftsarchitektur seit einigen Jahren im Vordergrund experimenteller Forschung. Durch das neu gegründete Lab können diese Forschungsschwerpunkte professionell weiter entwickelt und akzentuiert werden. Die Technologien des Labs stellen im Bereich des regulären Designsemesters und im Aufbaustudiengang Landschaftsarchitektur eine innovative Ergänzung zur theoretischen und praktischen Auseinandersetzung mit dem öffentlichen Raum der zeitgenössischen Stadt und grossmassstäblicher Landschaftsarchitektur dar.
Forschung und Lehre im LVML werden einen massgeblichen Beitrag zu einer nachhaltigen Entwicklung unserer Umwelt leisten, indem sozio-ökonomische, energetische, ökologische und ästhetische Aspekte bei Landschaftsprojekten gleichermassen in Analyse-, Bewertungs- und Entscheidungsprozesse mit einbezogen werden.
Weitere Informationen zum Lab sind auf den Webseiten der Professuren Girot und Grêt-Regamey zu finden.
Bild: 3D-Panoptikum bestehend aus Fotografien, Videos und Point Clouds / Professur Girot.
Institut für Landschaftsarchitektur ILA (D-ARCH):
Christophe Girot, Professor für Landschaftsarchitektur,
Pia Fricker,
Alexandre Kapellos,
James Melsom,
Pascal Werner.
Institut für Raum- und Landschaftsentwicklung IRL (D-BAUG):
Adrienne Grêt-Regamey, Professorin für Landschafts- und Umweltplanung PLUS,
Ulrike Wissen Hayek.