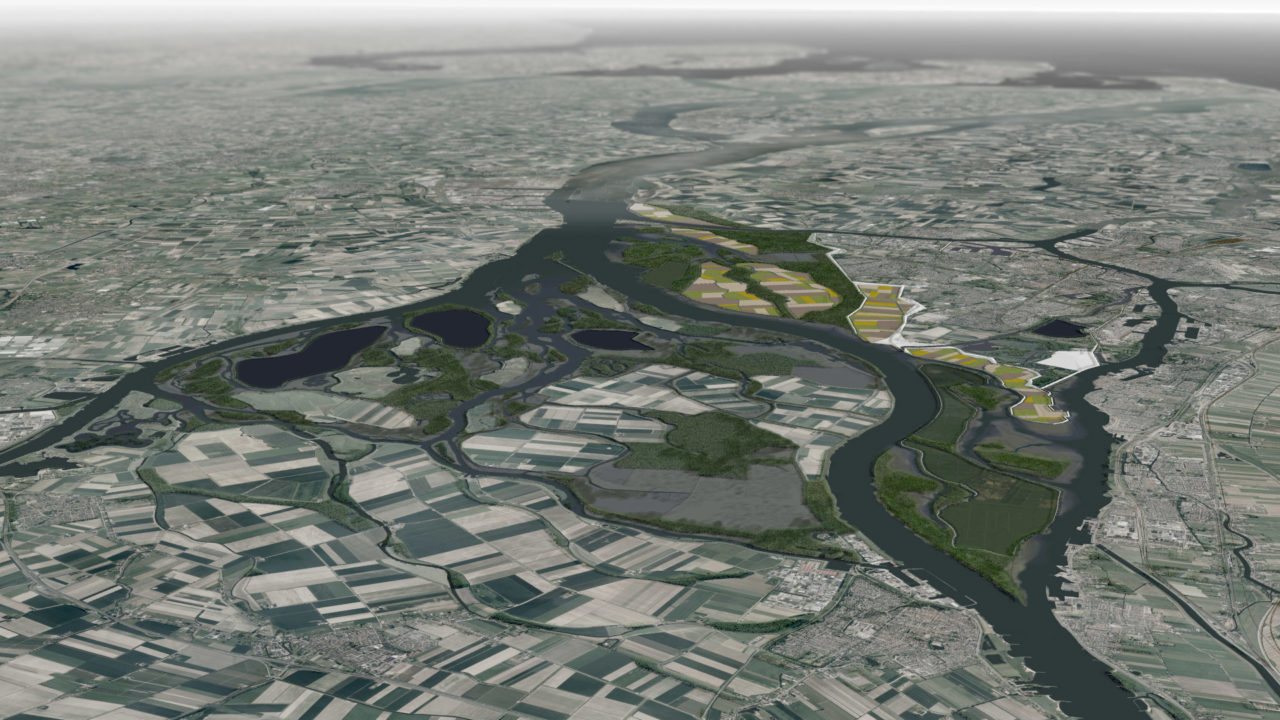 The «Waterscape experiment» is an ongoing research into the growing problems faced by waterside urban settlements, due to climate change and raising flood risks. The current year-long research project involves teams of Architecture students in design scenarios for the evolving water landscape of the city-island of Dordrecht, the Netherlands. In close collaboration with the local authorities, the studios integrate comprehensive socio-environmental factors with design methodologies developed at the Chair of Christophe Girot, Institute of Landscape Architecture, ETH Zurich. The proposals reconfigure the Rhine-Meuse Delta landscape, redefining the interface between the urban area of Dordrecht and the Biesbosch national park.
In the complex setting of water engineering and land management in the Dutch landscape, the students of the Design Studio 2011 were asked to elaborate scenarios that include existing regional proposals such as the alteration to the Delta Works, or ongoing studies like the Delta Program and the Noordwaard Depoldering Project. The projects respond to multiple goals set by the Dutch authorities, merging the local design of human dimensions with regional planning. Multiple scales of the site are combined with temporal variables that range from the daily tides to the long-term sedimentation processes, to the expected rise of sea-level and increasing extreme river discharge. The engineering aspects of the projects are translated into solutions that enable a sustainable and dynamic spatial development of the area, establishing a synergy between the city of Dordrecht and the Biesbosch, and also ensuring sustainable agriculture and economic opportunities.
The studio began in the spring semester 2011 and opened with a workshop on site that gave the students the opportunity to experience the terrain and its challenges in first person. Subsequently, they elaborated a global strategy through an evolving landscape design, that incorporates the dynamics of water systems with topography, vegetation and human activities. A hybrid approach combines analog tools (sketch, section, model, plan) and digital tools (CNC modeling, 3D visualization) in order to test and develop different proposals at various stages and scales. During the semester, skills in CAAD-CAM technologies are gained in order to familiarize students with the design of large-scale topographical interventions. In addition the Dordrecht studio introduced high-resolution airborne laserscan data into the design process, allowing access to detailed landscape and water surface data at an unprecedented scale. This studio concluded in mid 2011, with a presentation involving representatives of the city and the region. The semester work is currently exhibited in the Southeast University of Nanjing.
The results of the design studio are currently undergoing further revision during an elective course that investigates and combines a variety of key sites located on the edge between city and landscape. The results of the design studio semester and elective course shall be publicized in an exhibition in Dordrecht and a publication, projected for Spring 2012.
Teaching team: Prof. Christophe Girot; Frédéric Rossano; James Melsom; Philipp RW Urech