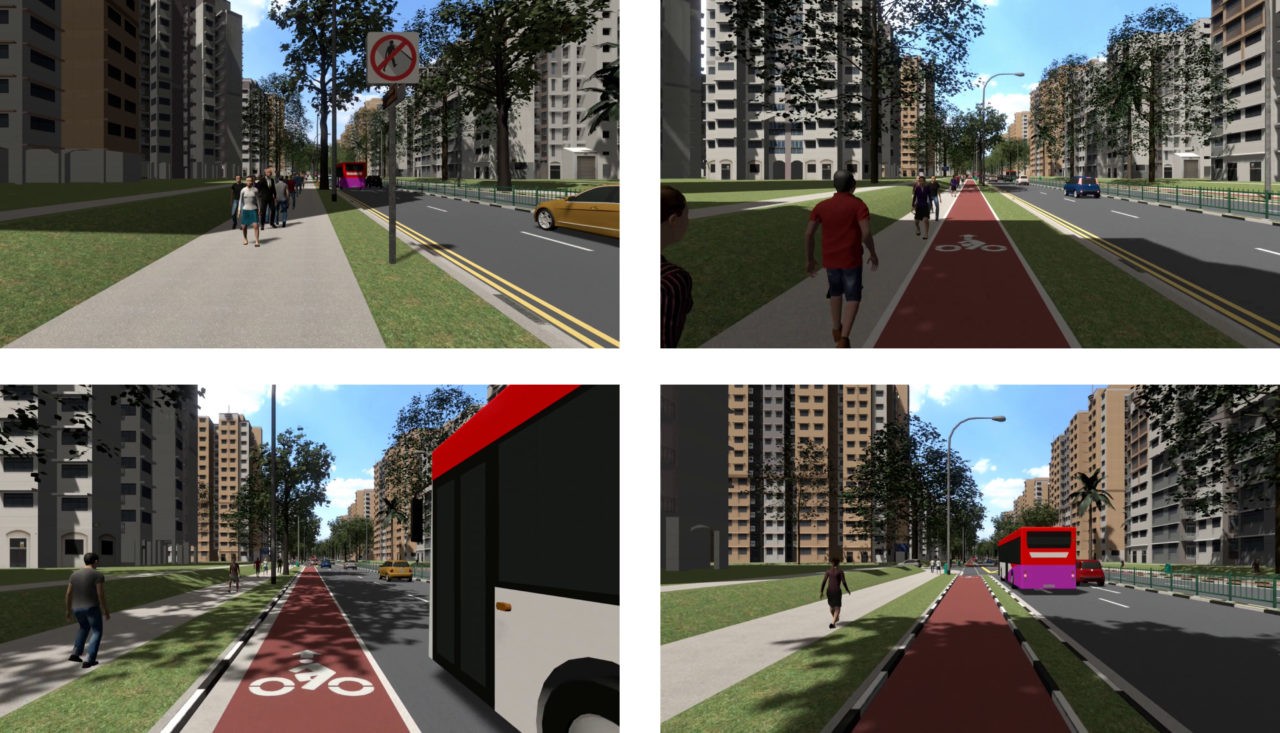 Researchers at the Future Cities Laboratory are using virtual reality (VR) in cycling experiments to reveal users' cycling behaviour and preferences in different environments. These insights can help planners understand and quantify the impact of infrastructure improvements in setting guidelines and prioritization of new infrastructure.
Different survey methods have been used to study travel behaviour, experiences and preferences, ranging from text-, image- and video-based methods to field experiments. More recently, Virtual Reality (VR) allows respondents to be immersed in realistic, but controlled situations, such that researchers may actively elicit response and passively collect physiological data from these experiments.
Cyclists' preferences are commonly measured through their perceived safety, comfort, arousal levels and willingness-to-bicycle along different types of cycling facilities. Leading guidelines for cycling infrastructure accordingly make a distinction in the type of infrastructure required based on the volume of vehicular traffic, the volume of pedestrians and the speed of passing cars.
By combining VR with a cycling simulator, allowing for steering, braking and pedalling, it is possible to gauge individuals' preferences along a variety of infrastructure Also, it is possible to assess individuals' perception of speed and distance, cycling speed and head movement.
In the experiment 'Bike to the Future II', we modelled virtual environments in Singapore with parametric 3D models and infrastructure that may or may not already exist, and introduced realistic crowds and traffic. Impressions of the experiment can be seen in the accompanying figures; videos are available online.
Segregated Bicycle Paths Favoured
Participants were able to recognize speed differences of up to 20 km/h in virtual reality and lane width differences of up to 60 centimetres. Differences of respectively 10 km/h and 30 centimetres were not noticeable by the majority of the participants. These findings are valuable information for the set-up of future VR studies.
When cycling in VR, participants choose their speed based on the type of infrastructure, cycling faster on the segregated bike path and slower while cycling on the footpath. Prior to the intersection they consistently turned their head to check for upcoming traffic.
Results of the experiment show that proximity to vehicular traffic and pedestrians are key factors affecting the perception of safety when cycling on the footpath or on the road. The willingness-to-cycle was highest on a segregated bicycle path. These findings are in line with previous studies conducted in real-life settings.
The results show that Virtual Reality has the potential to better understand and quantify the impacts of infrastructure improvements, and combined with spatial analysis can support policy makers in the guidelines for and the prioritization of new infrastructure.
Michael van Eggermond is senior researcher at the University of Applied Science Northwest Switzerland (FHNW) and is interested in novel survey methods, the measurement of the built environment and its relationship with travel behaviour.
Mohsen Nazemi is PhD researcher at the Future Cities Laboratory of the Singapore-ETH Centre. His PhD focuses on the usage of virtual reality to estimate cyclists' perceived safety.