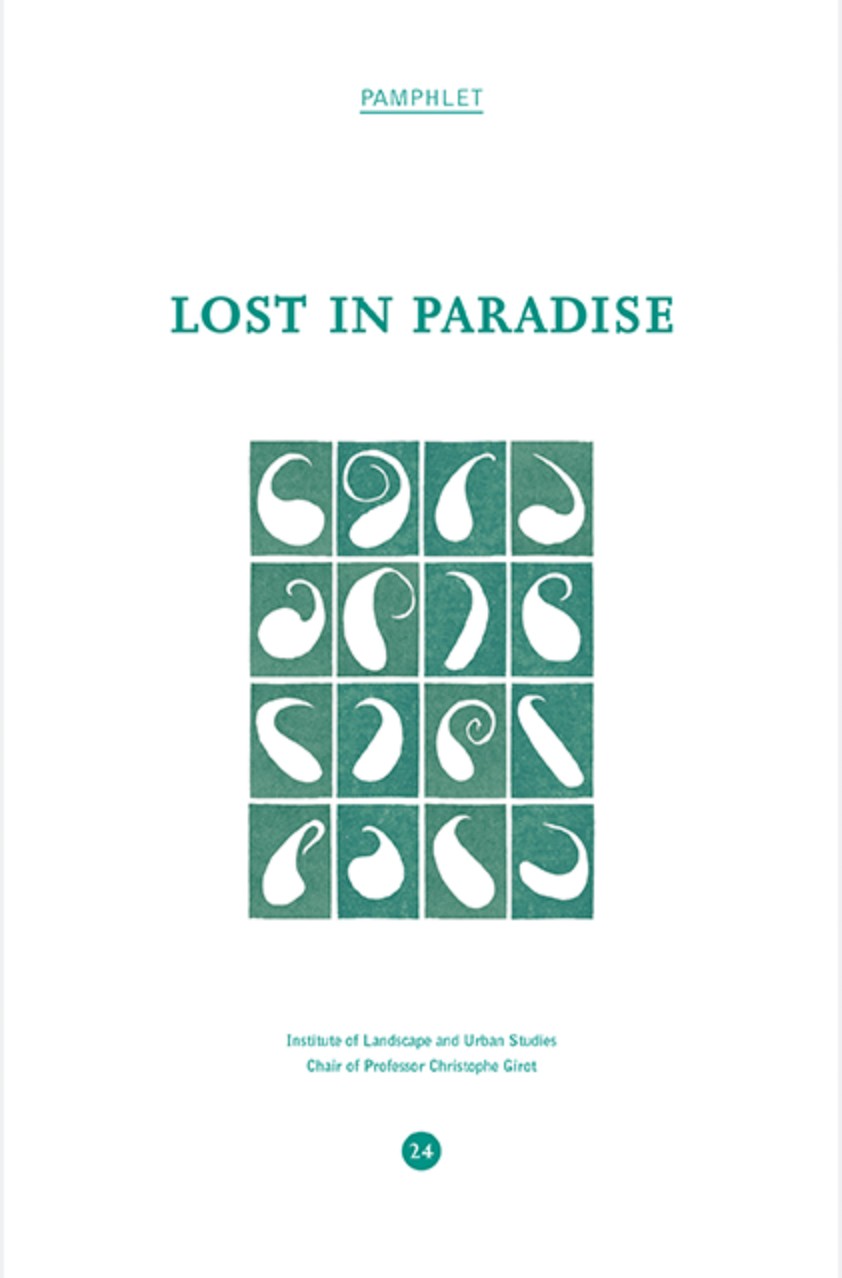 Siamak Anvari, Annemarie Bucher, Fujan Fahmi, Janic Fotsch, Christophe Girot, Javad Hoseinzadeh, Azadeh Arjomand Kermani, Reihane Khorramrouei, Amin Mahan, Ali Mousavi, Mahroo Movahedi, Dunja Richter, Shirana Shahbazi, Myriam Uzor, Saskia de Wit
2020


Gärten haben im Laufe der Geschichte eine schwer zu fassende Faszination hervorgerufen. Mystische Schönheit und ein poetisches Gefühl für ewige Sehnsucht sind der langen Tradition des Persischen Gartens zu eigen. Lost in Paradise bietet verschiedene Interpretationen des ummauerten Gartens und zielt darauf ab, zeitgenössische Ereignisse mit dem rätselhaften Begriff des Paradieses in Einklang zu bringen.
Diese Werte bildeten die Grundlage für die Gärten der westlichen Welt und gaben uns sogar das Wort «Paradies», den Rahmen für den biblischen Garten Eden. Ausgehend von der zoroastrischen Kultur bedeutet das avestanische Wort pairidaēza einfach «ummauert». Nach aussen hin ist das Bild des Iran heute von politischer und kultureller Ambiguität geprägt. Doch gerade in den Gärten dieses trockenen Landes kann man sein persisches Erbe am anschaulichsten erleben. Einsam und fast unberührt von der Zeit in der kargen Landschaft zwischen Kaspischem Meer und Persischem Golf liegend, dienen die Gärten noch heute als Orte der stillen Besinnung.
Throughout history, gardens have elicited intangible fascination. Mystical beauty and a poetic sense for eternal yearning are intrinsic to the long Persian Garden tradition. These values formed the foundation for Western gardens that followed, even giving us the word 'paradise', the setting for the biblical Garden of Eden. The Avestan word pairidaēza, derived from Zoroastrian culture, simply means 'walled around'. Looking in from outside, Iran's image today is often marked by political and cultural ambiguity. Yet one can experience its Persian heritage most vividly in the arid country's gardens. In the sparse landscape between the Caspian Sea and the Persian Gulf, the gardens lie solitary and almost untouched by time, still serving as places for quiet contemplation. Lost in Paradise offers different interpretations of the walled garden and aims to reconcile contemporary events with the enigmatic notion of paradise.
Book Launch
June 2020 | More information about the exact day / hour / place as soon as available.
Organization
Institute of Landscape and Urban Studies
Landscape Architecture, Prof. Christophe Girot
Announcement, Pamphlet Series