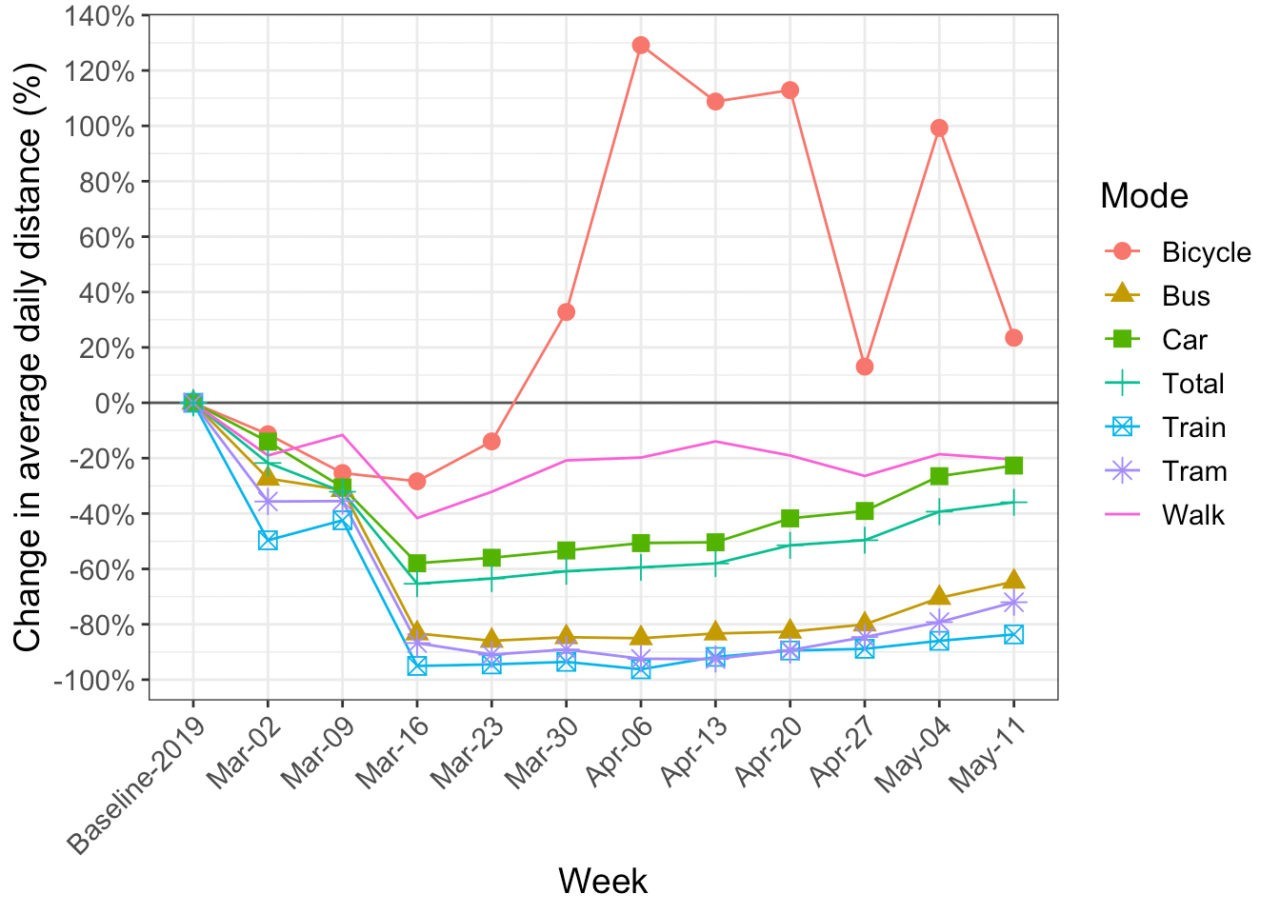 To slow down the spread of the coronavirus, the population has been instructed to stay at home if possible. This measure consequently has a major impact on our daily mobility behaviour. But who is being affected, and how?
The MOBIS:COVID-19 research project, an initiative of ETH Zurich and the University of Basel, is a continuation of the original MOBIS study. The aim of the project is to get a picture of how the crisis is affecting mobility and everyday life in Switzerland. All participants from the original MOBIS study are of great help to us, regardless of whether they are in quarantine, working from home or commuting.
On 16th March 2020, 3700 participants who completed the MOBIS study between September 2019 and Janurary 2020 were invited to reinstall the GPS Logger and Travel Diary App 'Catch-My-Day', developed by MotionTag, to record their mobility behaviour during the period of special measures implemented to control the spread of the Corona Virus. The first 4 weeks of mobility data from the original MOBIS Study is taken for each participant as a baseline against which to compare current mobility patterns. These 4 weeks start place anywhere between 1st September and 15th November, depending on the participant. Only trips in Switzerland are currently considered, although data on cross border travel is available.
Number of Participants
A running panel of around 250 participants were already tracking before the sample was reinvited. This allows results for the weeks before the MOBIS:COVID-19 study was officially started, although the sample size is a lot smaller, and hence the results. In the MOBIS study, participants were only eligible if they used a car at least 3 days a week – which skews the sample away from the Swiss general population.
The number of tracking participants each day used to calculate the average daily values includes all participants who recorded tracks before or after that date. This allows the consideration of those who stay at home while still allowing for survey dropouts.
The GPS Travel diary used, Catch-My-Day (for iOS and Android) can have a 2-3 day delay before the tracks are available for analysis. The scaling by active participants accomodates for this, but the results of previous reports may change when the report is updated.
Participation in the study is possible by e-mail invitation of former participants of the MOBIS study.
Project team: ETH Zurich, Institute for Transport Planning and Systems: Joseph Molloy, Thomas Schatzmann, Christopher Tchervenkov, Prof. Dr. Kay W. Axhausen; University of Basel, Faculty of Business and Economics: Beaumont Schoeman, Prof. Dr. Beat Hintermann