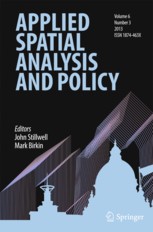 Wissen Hayek, Ulrike; Jaeger, Jochen A.G.; Schwick, Christian; Jarne, Alain; Schuler, Martin
2010


Applied Spatial Analysis and Policy, DOI 10.1007/s12061-010-9055-3.  Mehr
Is it possible to find indications of which regions are prone to urban sprawl in order to curtail undesired future settlement developments in time? To answer this question we used settlement development scenarios for Switzerland, and analysed their spatial implications using a set of four metrics, which allow for comparing the degree of urban sprawl in different regions.