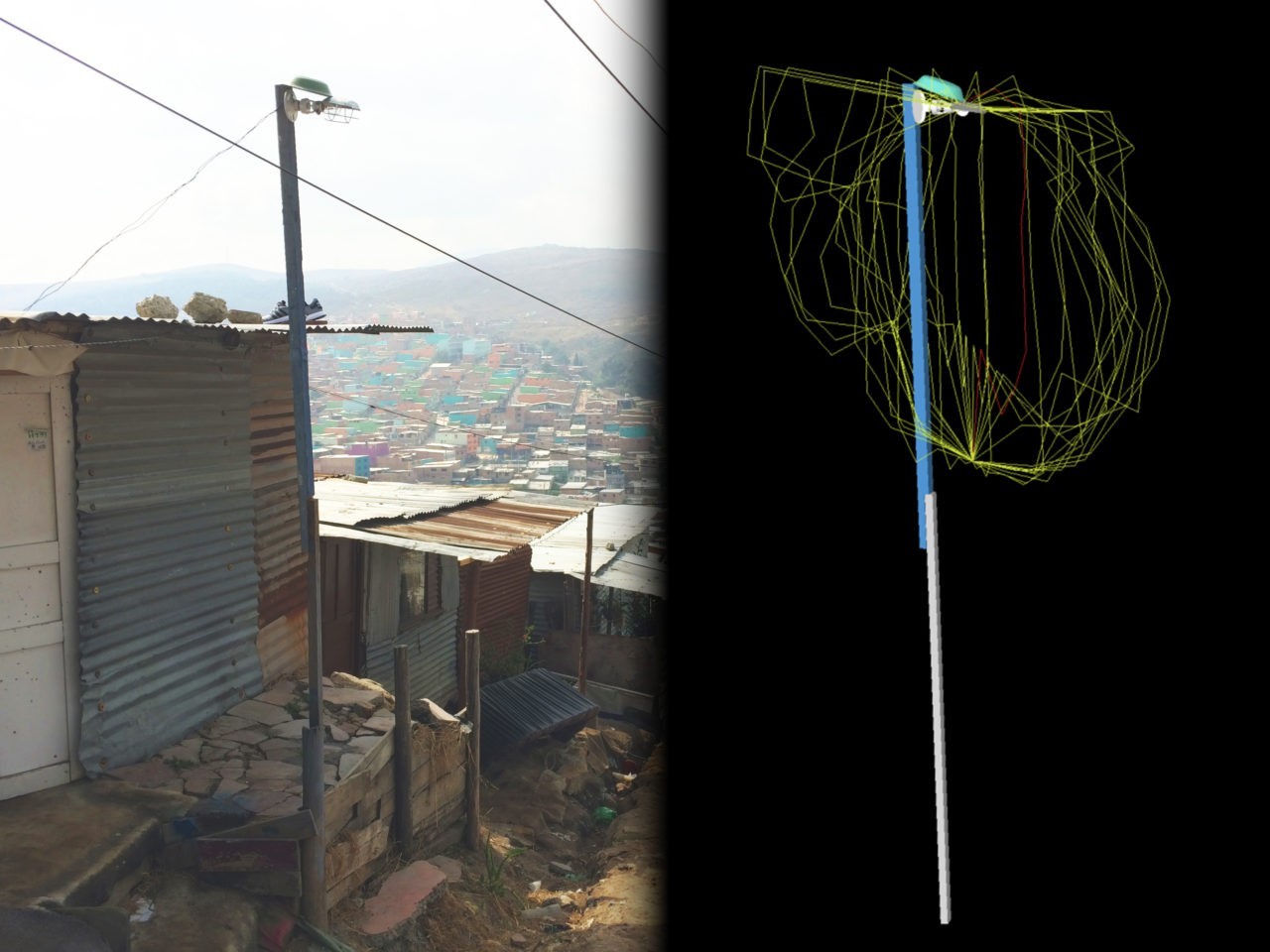 The transdisciplinary research project «Virtual Environments as a Decision-making Tool for Public Lighting in Bogotá» focuses on lighting technology and its performance in Bogotá's densifying urban environments. New lighting approaches are co-created together with informal settlement dwellers and tested with Colombian policy-makers through a Virtual Environment.
Many self-built luminaires are installed in informal settlements by residents when no ´formal´ public lighting is provided by the authorities. The aims of this study are to analyse such existing 'informal' lighting technology, to co-develop alternative lighting approaches based on this analysis, and to empirically evaluate these approaches using novel visualisation techniques with policy-makers. Through this, informal settlement-specific lighting technology will be developed that on the one hand incorporates promising design solutions from the current 'informal' luminaires, and on the other overcomes shortcomings in existing lighting approaches.
To investigate informal lighting systems, an ethnographic multi-method case-study was conducted in an 183 m long pedestrian street in Bogotá's settlement Caracolí. This included night-time street observations, walkthroughs, resident interviews, a dwelling construction survey, a lighting audit and illuminance measurements.
Creating a 4D Digital Twin for Lighting Technology and Policy Evaluation
Since informal settlements are characterised by permanent physical transformation, spatial measurements were conducted through a drone, a 360° camera, a measuring wheel, a laser distance meter and a measuring tape in order to document and archive the neighborhood in form of a digital twin. Both formal and 'informal' self-built luminaires were documented digitally with their geometrical and lighting characteristics.
The informal luminaire owners explained the lighting technology and design decisions, as well as existing shortcomings. Moreover, one informal luminaire was shipped to Europe for further laboratory tests regarding its photometry and its degree of electric safety.
The photometric data gained through the goniophotometer measurements and the spatial analysis were combined in the digital twin to allow for lighting calculations and the creation of a night-time 4D Virtual Environment. Within this VE, several lighting technology and lighting design alternatives will be tested with lighting policy-makers. The time component (4th dimension) in the digital environment is twofold: On the one hand, it includes the historic and projected data of the housing units' densification process, and on the other hand it includes the pedestrian footfall documentation and visualisation. In this way, insights on how lighting solutions are applicable in constantly horizontally and vertically densifying environments are gathered.
The VE-based lighting design evaluation with its exposure to Bogotá's lighting authorities through the inhouse-developed EnerPol virtual reality interface was initially planned for March 2020 in Colombia. Due to the current COVID 19-travel restrictions the evaluation process will now be conducted online, which illustrates a strength of VE-based research.
Michael Walczak and David M. Kretzer are both doctoral students, conducting research at the Chair of Architecture and Urban Design from Prof. Hubert Klumpner, the Laboratory for Energy Conversion from Prof. Reza Abhari as well as at the Urban Research Incubator of the Institute of Science, Technology and Policy.