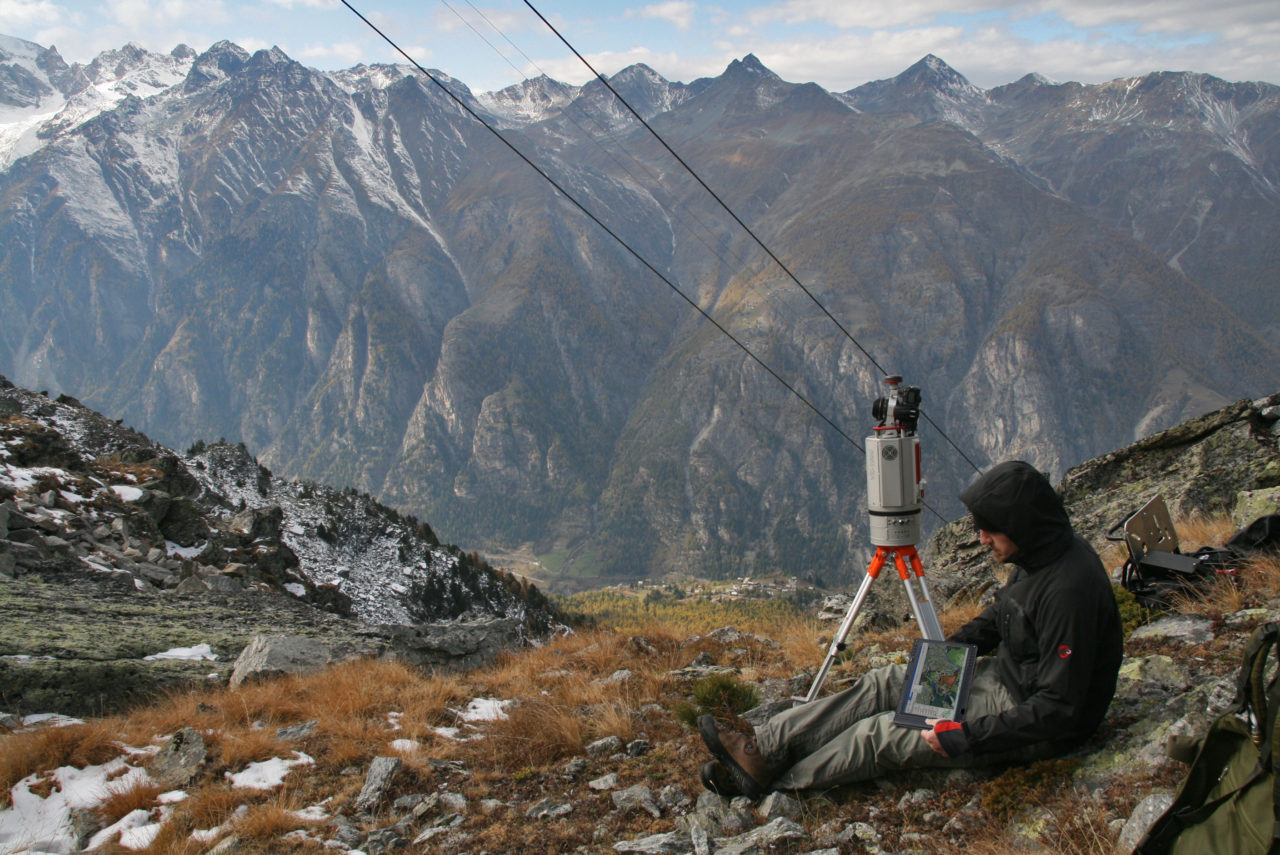 Das Landscape Visualization und Modeling Lab (LVML) erstellt seit seiner Gründung 3D Landschaftsaufnahmen mittels «terrestrischem Laserscanning» (TLS). Die Vermessung der Landschaft mit solchen Systemen ermöglicht u.a. die Generierung von detaillierten Höhenmodellen, die als Basis für realistische 3D Visualisierungen, akkurate Geländemodellierungen und CNC Fräsbearbeitungen zur Ausgabe physischer Modelle dient.
Das universell einsetzbare Messverfahren TLS hat sich in den letzten Jahren dank relativ geringer Anschaffungskosten und Geräte-Dimensionen in vielen Wissenschaftszweigen etablieren können: in der Architektur und Landschaftsarchitektur (Vorfabrikation von Bauteilen oder Beobachtung und Visualisierung von Landschaftsentwicklungen), der Geographie (Bestimmung von Prozessraten bei Massenverlagerungen), der Archäologie (Aufnahme von Grabungsstätten), dem Bergbau (Bestimmung des Abbauvolumens), der Geologie (Erkennen grossräumiger Streichrichtungen) sowie der Geodäsie (autonome Navigation), um nur einige Fachbereiche zu nennen.
Der Einsatz eines terrestrischen Laserscanners stellt hohe Anforderungen an die AnwenderInnen sowie an die eingesetzte Hard- und Software. Neben den erforderlichen Fachkenntnissen zum Beispiel über Reflektionseigenschaften des Lasers am Objekt, müssen entsprechend Entfernung, Auflösung und Standpunkt passend zum Untersuchungsschwerpunkt gewählt werden. Der Schnelligkeit dieser Art der Vermessung steht die Herausforderung an die Hard- und Software bei der Verarbeitung der grossen Datenmengen zu Flächen- und Volumenmodellen gegenüber.
Beim TLS wird in der Regel von einem fixen Standort aus gemessen, wobei der Laserstrahl von Spiegeln (Vertikalablenkung) und durch die Rotation der Laser-Messeinheit (Horizontalablenkung) über die Umgebung gelenkt und diese dadurch abgetastet wird. Durch dieses Abtasten der Oberfläche (Scannen) entsteht eine hochpräzise, dreidimensionale Punktwolke (Point Cloud) in einem vom Scanner vorgegebenen Bezugskoordinatensystem. Das nachträgliche Zusammenfügen der von verschiedenen Positionen aufgenommenen Punktwolken ermöglicht eine flächendeckende bzw. objektumfassende Datenerfassung. In Kombination mit einer auf den TLS montierten Kamera lassen sich Punktwolken anhand der aufgenommenen Fotos kolorieren und Objekte entsprechend texturieren. Weiterhin ermöglicht eine GPS-/GNSS-Lokalisierung des TLS-Standortes eine exakte Positionsbestimmung jedes Punktes innerhalb des gescannten Umfelds.
Das departementsübergreifende Landscape Visualization and Modeling Lab (LVML) der Professur Christophe Girot am Institut für Landschaftsarchitektur (ILA) sowie der Professur Adrienne Grêt-Regamey, Planning of Landscape and Urban Systems (PLUS) am Institut für Raum- und Landschaftsentwicklung (IRL), setzt diese neue Technologie erfolgreich in Forschung und Lehre ein.