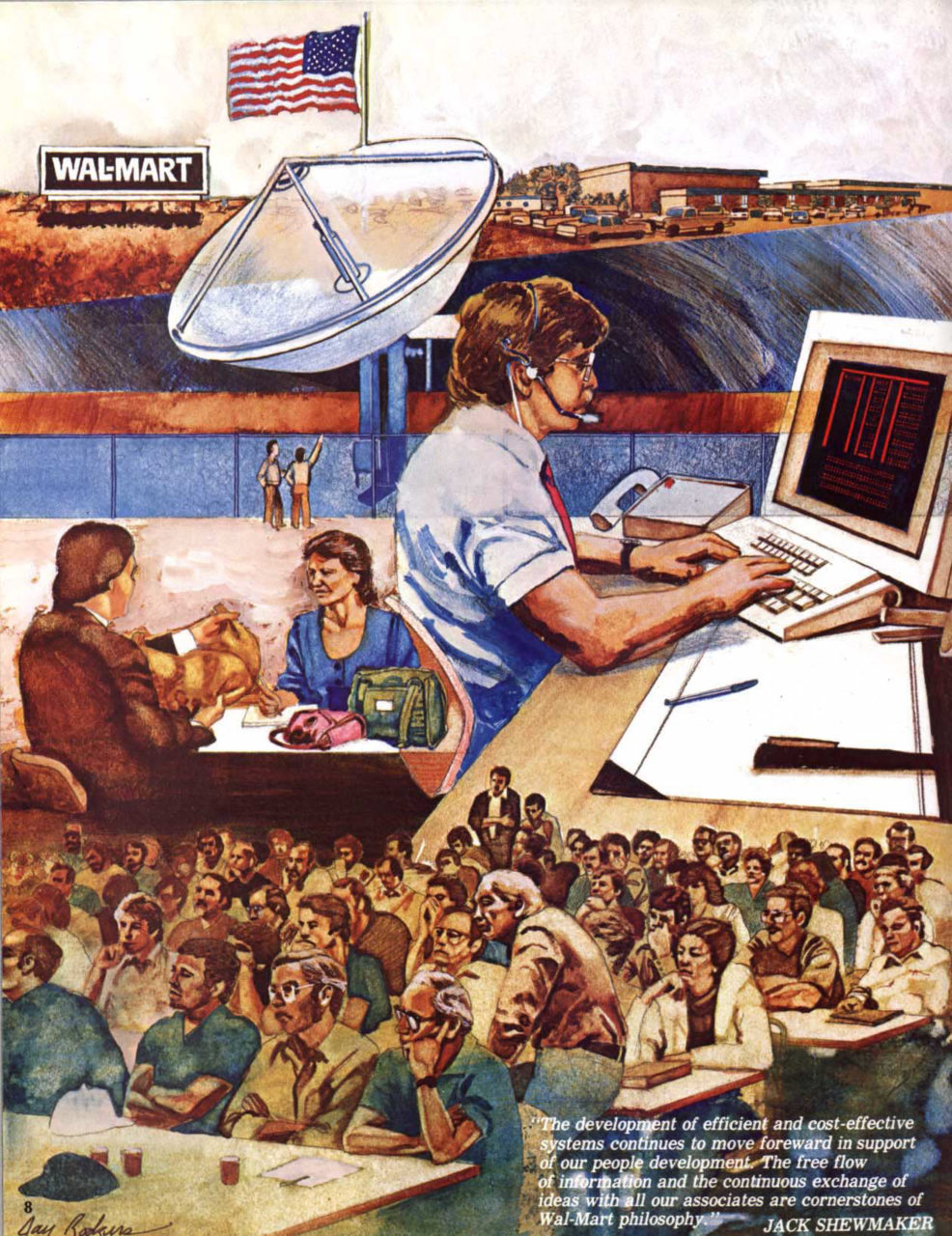 Walmart Stores, Inc. is a discount retailer based in Bentonville, Arkansas. In 2010 it earned 408 billion dollars and had a combined floor area larger than the island of Manhattan. Walmart is also the largest private employer in the United States, with a domestic workforce of over 1.4 million, second only to the United States government. It is the company's specialization in logistics — borne out through obsessions with efficiency, information and distribution — that has made it one of the world's largest corporations and one with a particular bearing on architecture, urbanism, and infrastructure.
Logistics is a way of thinking, not just a discipline of management, and it permeates all aspects of Walmart's operations. The company, though a retailer in name, refers to itself as being in the business of distribution. It is preoccupied with moving its merchandise through its networks of transmission — from supplier to consumer — as quickly and cheaply as possible. This includes the ways in which the retailer designs its buildings, draws the maps to locate those buildings, and establishes control over those who work inside them.
Walmart's repeatable and nimble retail structures are the building blocks of the company's ever-expanding empire but are modeled after only a limited set of prototypes. These elements are increasingly automated and so connected to the retailer's logistics networks that they cannot be treated as separate entities. Moreover, Walmart has nearly saturated its rural and suburban markets and is now focusing on cities. Yet so far the retailer has struggled to successfully build in urban areas. The company's buildings acquire political functions as they are used to override constraining legislative conditions and suggest ways of understanding territory as elastic and regional. Similarly, the relationship of the corporation's employees to the technology they wield serves to embed them in its extensive information network. We can refer to this entanglement of scales and technological artifacts as a «techno-spatial apparatus» in which architecture and urbanism are implicated in questions of logistics and infrastructure.
Walmart is becoming a global company but its control center remains in a relatively remote corner of the country. Though not apparent at first, Bentonville is a global city and its diffuse metropolitan conditions reflect a form of logistical urbanism in its adolescence. Examining the effects of logistics from an architectural, urban, and spatial point of view highlights possible linkages to design by prying open new points of access within contemporary mechanisms of territorial production.
The preceding text is an overview of some of the themes addressed in the recently completed dissertation Empire of Efficiency: The Urban Impact of Retail Logistics Using Walmart Stores, Inc. as a Case Study u
nder the supervision of Prof. Dr. Marc Angélil (Dissertation No. 19689). The research is connected to the Future Cities Laboratory in Singapore and was supported in part by a grant from the Swiss National Science Foundation (100013_122404 / 1).