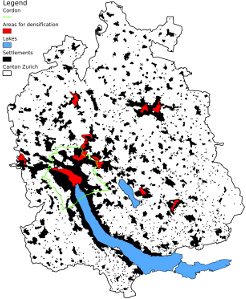 In April the final conference of the SustainCity project was held at ETH Zurich. The project investigated the possibilities and limitations of microsimulation land use transportation models for more sustainable cities in Europe. The work is motivated by the ongoing population growth and its tendency to concentrate in cities. Learning about how to manage this densification process is crucial for professionals concerned with planning of urban regions.
The conference brought together international experts from research, politics, public authorities and other stakeholders. There was a broad accordance on the importance of looking at urban development in an integrated way. The tools and concepts presented showed the capability to capture an important part of the urban development and densification process which is the interaction of land use and transportation. Beyond that the strength of the presented tools is the capability to assess a bundle of proposed measures.
One key finding when applying the tools to panning problems is that density is helpful in achieving sustainability goals. This is due to the generally high efficiency of measures in dense areas. Using microsimulation to assess the planning problems further allows us to consider the heterogeneity of actors in a given region. Looking at the heterogeneity of actors is important in terms of equity and segregation issues. A sustainable urban region should not only be dense in terms of persons per square kilometer but also in term of differences because diversity is an important characteristic of urban regions regarding innovation and robustness.
The remaining challenges in microsimulation of urban regions are manifold. Extensive data collection and preparation, long computation times and the need of detailed result analysis require substantial resources. To balance these with the expected benefits is challenging and depends largely on the planning problem at hand. Therefore we need to advance the models towards modularity and scalability.
Ansprechpartner: Christof Zöllig