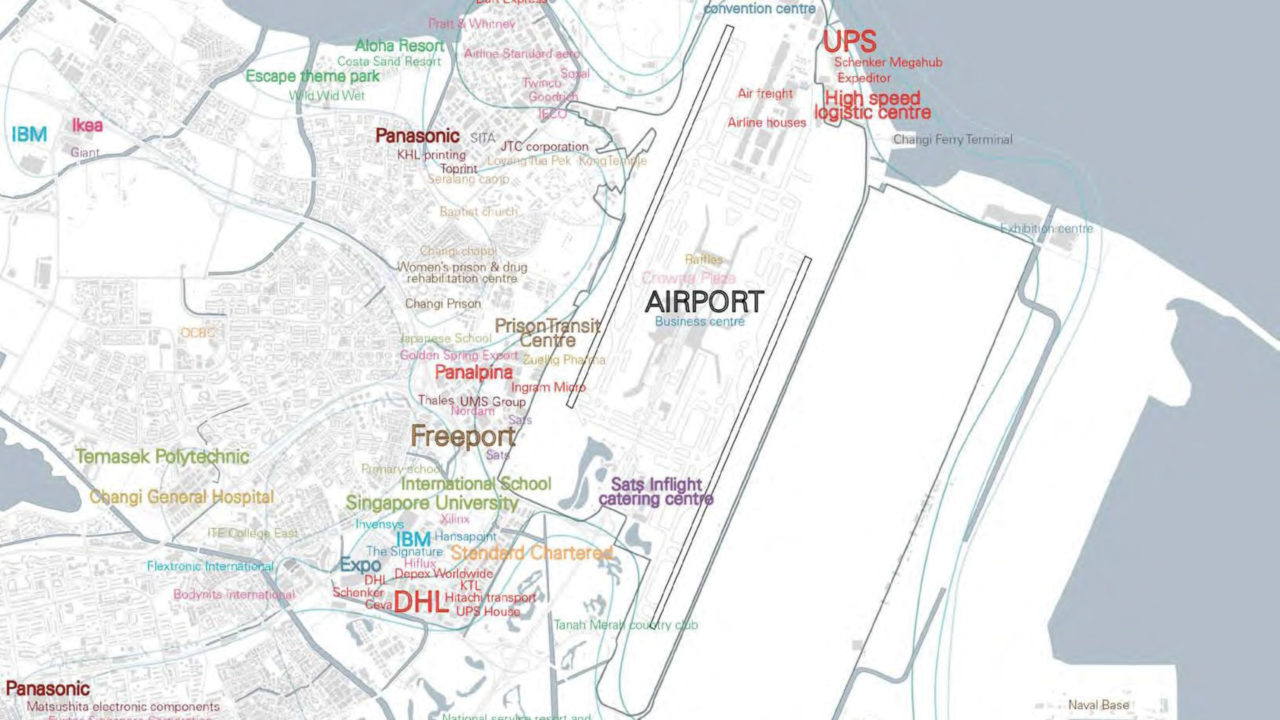 Module IV concentrates on two research topics: 1) Diverse Neighbourhoods: Studying diverse inner city neighbourhoods during their social, economic, cultural and spatial transformation in order to develop policy recommendations and design guidelines. The research focused on case studies in Singapore, Bangkok, Shenzhen and Shanghai. 2) Airport Regions: Investigating the reciprocal urbanization impact of airports and their cities and urban regions. The FCL studies concentrated on Singapore's Changi Airport and Hong Kong's Airport.
As in the West, diverse neighbourhoods in Asia are of vital significance for a city's social, economic and cultural life, serving as incubators for innovative thinking, entrepreneurial action, and cultural production, as well as hubs between the global and local levels.
In a typical scale-chain, hardware comes from global firms, applications from start-ups, cutter templates from local designers and clothes from migrant sewing workshops. Smaller agents in this chain prefer to be located in neighbourhoods with a large interaction potential.
The research neighbourhoods in Shanghai, Shenzhen, Bangkok and Singapore share many common characteristics. However, their specific properties are completely different. The importance of airports as hubs for their cities is evident. There is, however, not much research on the urbanization impact in their region. In Europe, we investigated airports close to the city that form urban nodes with extensive urban amenities, becoming destinations in themselves.
In Asia, where we researched the role of Changi in the SiJoRi region and Hong Kong in the Pearl River Delta, we found a radically different situation. Asian cities are larger and farther apart than European cities. Land transport serves local networks and offers no alternatives for air transport. What the train used to be for Europe, the airplane became for Asia, propelling aviation networks and airport development.
Other than European airports, which are like spiders in a public transport web, Asian airports at first glance appear to be ‹dead ends›, located at the end of an island, like the Changi and Hong Kong airports.
Limited land resources and the economic gradient between the island states and the surrounding regions in SiJoRi and PRD, have pushed airport-related urbanization into the hinterlands, triggering new forms of transnational interaction. The same is happening to passenger flows due to the growth of low-cost carriers that enable a ‹new flying class› to transfer in Changi or Hong Kong.
These specific mobility flows, their infrastructures and the urbanization patterns caused by their geographic conditions have helped us to better understand the airport region in the Southeast Asian context.
Researchers for Module IV are Prof. Ir. Kees Christiaanse, Sonja Berthold, Dr. Ting Chen, Anna Gasco, Asst. Prof. Dr. Max Hirsh, Edda Ostertag, and Ying Zhou.
Image: The Changi Airport Area, Singapore by Anna Gasco