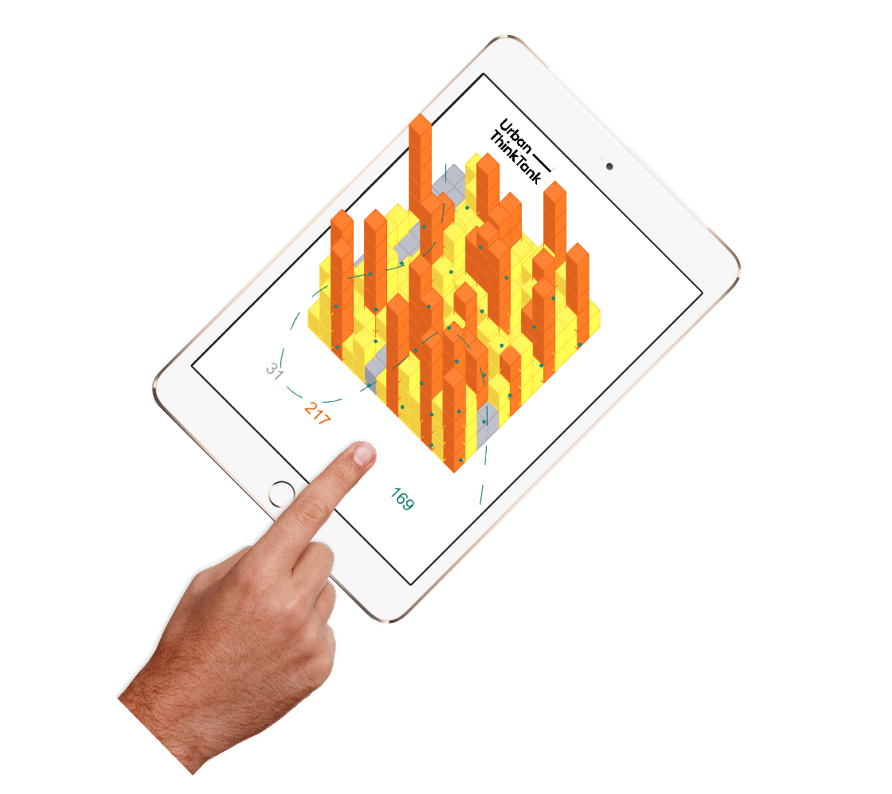 Initiated in 2014, the Urban-Think Tank Chair is developing an urban game that aims to facilitate decision-making and design processes to understand complex, real-life urban transformations in cities worldwide. Part educational tool, part platform for scenario planning, the ongoing project supports a sustainable approach to urban development while incorporating principles of social design. 
The interest of the Urban-Think Tank Chair of Architecture and Urban Design in gaming arose out of our commitment to exploring new forms of participatory planning. We were inspired, for instance, by the work of Lucien Kroll, where an evolving physical model became a record of the design process. The first version of our urban game, a board game, was conceived around the idea that there should be no winners or losers. The game was developed as a basis for discussion and negotiation between different players adopting the roles of various stakeholders in the process of urban development. Participants learnt how to define common visions and justify urban planning decisions in an integrated, trans-disciplinary framework free from competitive dynamics.
The environment of the first prototype was a simplified tabula rasa grid that included a limited selection of urban elements: building blocks (commercial, residential, and productive), roads, and public infrastructure. In the period since, the game has been updated through an ongoing iterative process connected to a series of workshops and elective classes with students. The second prototype increased the complexity by shifting the baseline scenario to a pre-existing context and distributing specific stakeholder roles with clear individual objectives that were linked by a common focus on improving the overall «urban quality». As a result, moves within the game evolved from isolated decisions to more cooperative consensus-generating proposals.
The Ultimate Vision: A Gaming Tool for All Kinds of Urban Planning
The third and fourth game prototypes are attempting to make the jump to digitalization, as a means to improve elements of scenario projection and agent-based modeling. This will allow the better incorporation of factors like time, land value, service delivery, and social cohesion. The main challenges encountered to date include: identification of relevant parameters constituting the urban environment, simplification of real case studies, and the creation of a coherent and transferable «urban quality index». Our ultimate vision is to establish a suite of physical and digital gaming tools that can be employed to support real-world planning processes at different scales – from the reorganization of community housing in a South African township, to simulations that project future scenarios across an entire urban territory.
Michael Walczak is scientific collaborator at the Institute of Science, Technology and Policy (ISTP). Author: Alexis Kalagas.