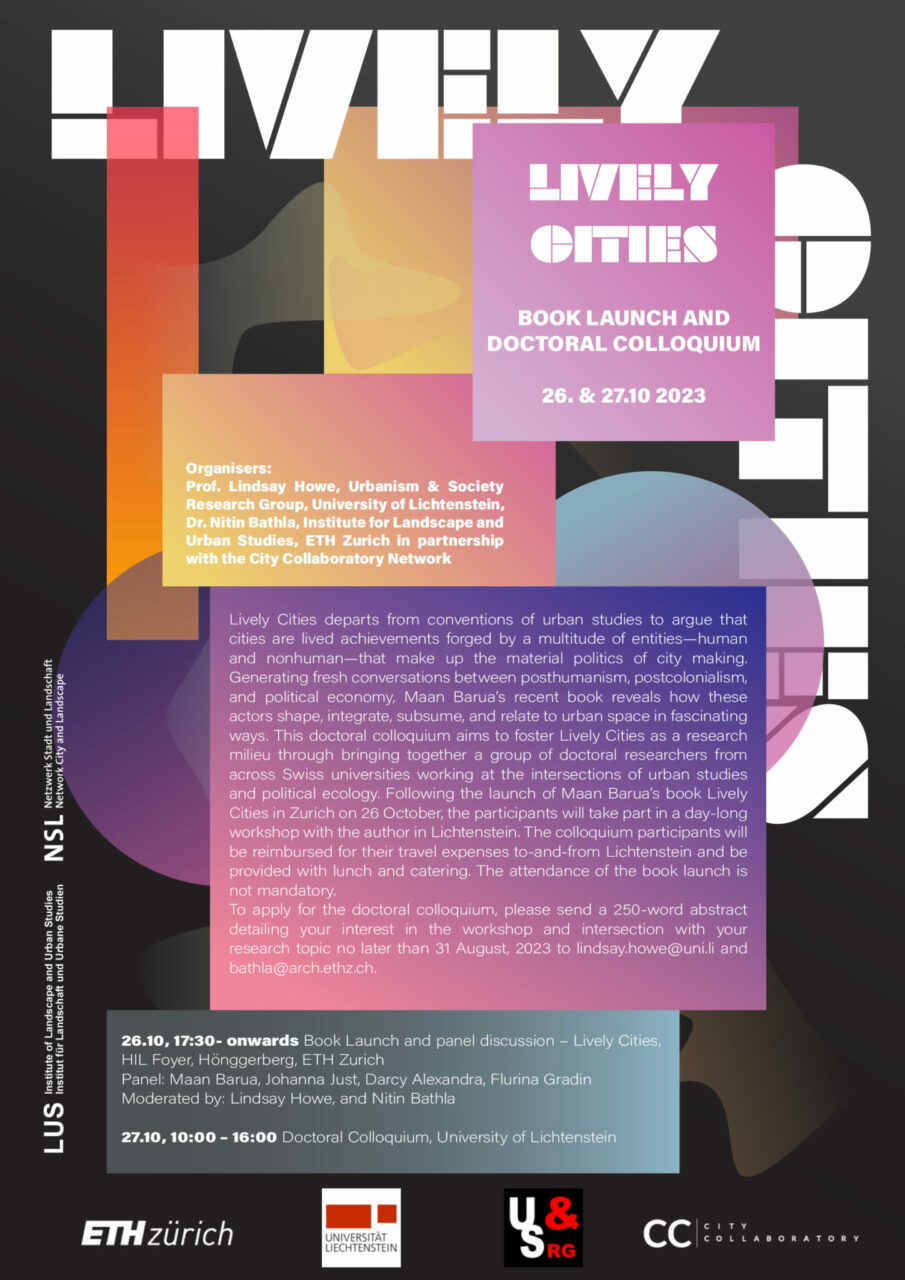 Maan Barua
2023

Book Launch and Doctoral Colloquium, 26. & 27.10 2023 |
Lively Cities departs from conventions of urban studies to argue that cities are lived achievements forged by a multitude of entities – human and nonhuman – that make up the material politics of city making.
Generating fresh conversations between posthumanism, postcolonialism, and political economy, Maan Barua's recent book reveals how these actors shape, integrate, subsume, and relate to urban space in fascinating ways. This doctoral colloquium aims to foster Lively Cities as a research milieu through bringing together a group of doctoral researchers from across Swiss universities working at the intersections of urban studies and political ecology.
Following the launch of Maan Barua's book Lively Cities in Zurich on 26 October, the participants will take part in a day-long workshop with the author in Lichtenstein. The colloquium participants will be reimbursed for their travel expenses to-and-from Lichtenstein and be provided with lunch and catering. The attendance of the book launch is not mandatory.
To apply for the doctoral colloquium, please send a 250-word abstract detailing your interest in the workshop and intersection with your research topic no later than 31 August, 2023, and register for the colloquium by September 30, 2023 to Lindsay Howe and Nitin Bathla.
Programme
26.10, 17:30-onwards: book launch and panel discussion – Lively Cities, HIL Foyer, Hönggerberg, ETH Zurich
Panel: Maan Barua, Johanna Just, Darcy Alexandra, Flurina Gradin
Moderated by: Lindsay Howe, and Nitin Bathla
27.10, 10:00 – 16:00 Doctoral Colloquium, University of Lichtenstein
Organisation
Prof. Lindsay Howe, Urbanism & Society Research Group, University of Lichtenstein, Dr. Nitin Bathla, Institute for Landscape and Urban Studies, ETH Zurich in partnership with the City Collaboratory Network.