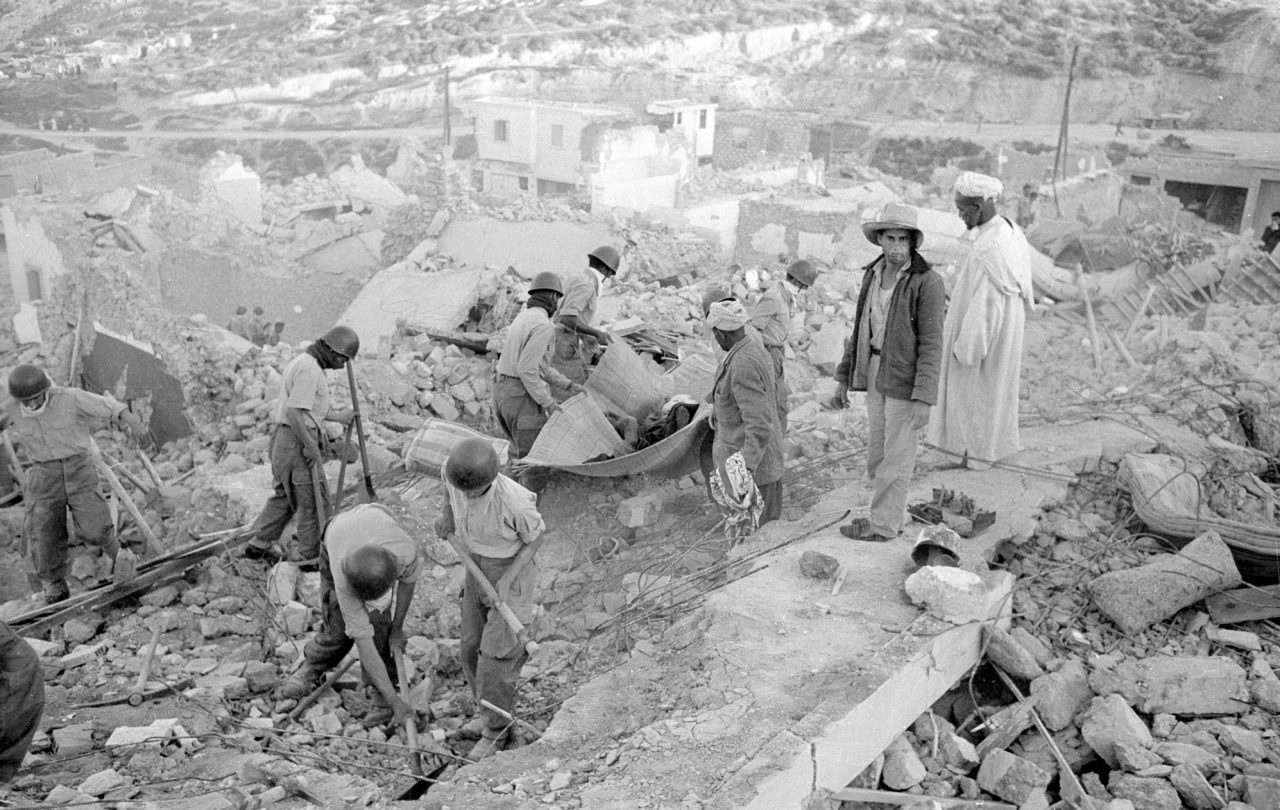 The reconstruction of the Moroccan city of Agadir in the immediate aftermath of the devastating 1960 earthquake is an exemplary yet much overlooked cross-cultural «contact zone» between local and international rescuers, experts, citizens, organizations, and governments. Studying why the development aid Morocco received was not unconditionally accepted, but rather turned into an «encounter» between different agents negotiating, contradicting but also merging their knowledge, elucidates the production of a hybrid form of architectural knowledge that lies at the heart of the character of the rebuilt city of Agadir.
For only seconds in the middle of the third night of Ramadan on February 29th, 1960, the earth underneath Agadir city trembled at a «modest» 5.7 on the Richer scale, yet with disastrous consequences. The exceptionally violent earthquake, followed by a second shock and a fire, devastated the city in minutes, killing 15,000 people, injuring another 25,000 and leaving most survivors homeless. Soldiers and sailors stationed in the vicinity of Agadir were quick to bring help and start rescue operations, liberating as many injured people as possible from the ruins and treating them. The following day, King Mohammed V placed his son, Prince Moulay Hassan, in charge of the rescue operations who, thereupon, started to organize a massive rescue effort by ordering Moroccan troops from all parts of the country to come to Agadir and search for survivors.
Humanitarian Solidarity
Worldwide media coverage of the catastrophic event set in motion an international humanitarian aid programme of unprecedented scale. Just a few years free of the colonial rule of France, the Moroccan government did not patiently wait for help but got active and sent out an urgent appeal for international assistance. The International Federation of Red Cross and Red Crescent Societies (IFRC) in Geneva took a pivotal part in co-ordinating the international aid campaign. The Federation called on the national Red Cross and Red Crescent Societies worldwide to send doctors, nurses, medical supplies, and funds. An overwhelming number of 61 sister societies responded to the call, and French, American, and Moroccan aid workers already on site were rapidly joined by those of Germany, England, Netherlands, Spain, Portugal, Italy, and Yugoslavia, bringing food, medicines, vaccines, blood plasma, surgeons, and nurses in their wake.
Rebuilding Agadir
The large amount of humanitarian help from across the world triggered long-term reconstruction aid, too. Soon after the quake, Crown Prince Hassan launched an International Reconstruction Programme that, within six months, was well underway. The costs of rebuilding were to be partly covered by a newly implemented «national solidary tax» charged on everyday items and, indirectly, made every Moroccan a financial contributor to the reconstruction project. These national revenues were complemented by international aid moneys from countries that had also supported the immediate humanitarian aid. Take the case of Switzerland; besides being a generous donor of emergency aid, Switzerland also provided extensive reconstruction aid and initiated the idea of constructing a new neighbourhood in Agadir, the so-called Cité Suisse. Another key project in this long-term international aid campaign was the building of a new hospital. No less than 53 national Red Cross organizations contributed – either through monetary means or equipment or technical know-how – to a vast new complex, which set an example of international collaborative development aid.
This research project on Agadir's emergency aid programme operating as a cross-cultural «contact zone» is part of Agadir – Building the Modern Afropolis (Zurich: Park Books, November 2021), a joint book project by the Chair of the History and Theory of Urban Design at ETH Zurich. This publication is the first exploratory study that aims to comprehend how Agadir, after the 1960 earthquake, developed according to a different genetic code than a modern city in the West. By exploring this different approach to urban design, the book aims to provide a better understanding of how architects and urban designers can devise alternative ways to analyze, conceive, and project urban development which, in turn, generates entirely different urban experiences.
Cathelijne Nuijsink is a Postdoctoral Researcher and Lecturer at the Institute for the History and Theory of Architecture at ETH Zurich. Her research focuses on a cross-cultural, interdisciplinary exchange of knowledge in architectural culture and aims to contribute to a more dynamic and inclusive history of architecture. She is currently completing the book manuscript 'Another Historiography: the Shinkenchiku Residential Design Competition, 1965-2020' (Jap Sam Books, 2022) that will be accompanied by a travelling exhibition and website funded by the European Union's Horizon 2020 research and innovation programme under the Marie Sklodowska-Curie grant agreement No. 797002