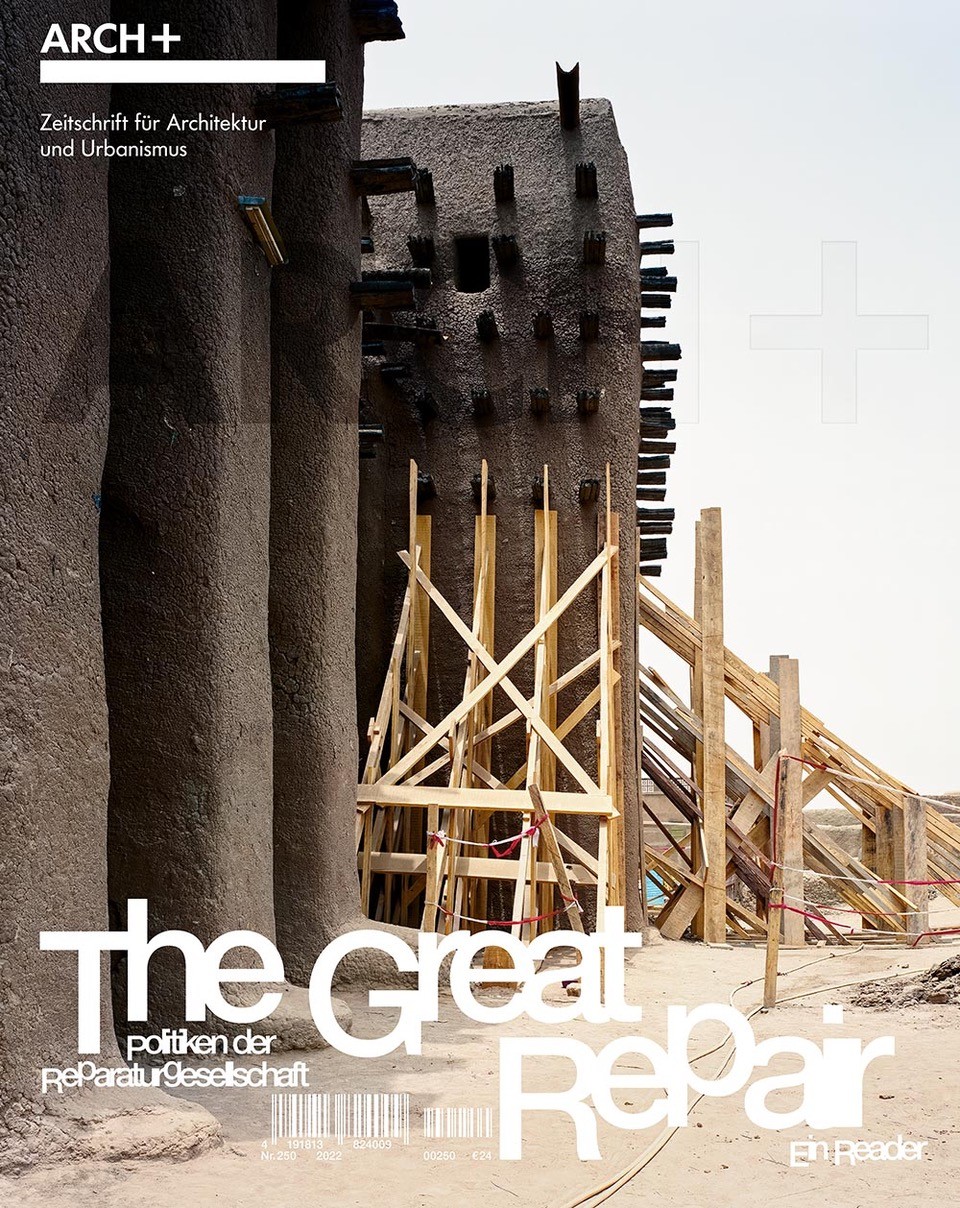 ARCH+ (Christian Hiller, Felix Hofmann, Markus Krieger, Anh-Linh Ngo), Florian Hertweck, Milica Topalović, and Nazlı Tümerdem in conversation with Marc Angélil, Silke Langenberg, Momoyo Kaijima, and Bas Princen
2023


Capitalist modernity, with its emphasis on innovation, growth, and progress, its economic system based on consumerism, wasteful use, and profligacy, has led to a ruthless exploitation of humans and nature.
Architecture has played no small part in this, as the statistics on greenhouse gas emissions and construction and demolition waste prove. As a counterstrategy to capitalism's creative destruction, The Great Repair advocates a focus on repair, in which nurturing, maintenance and repair become the key strategies for action. The project aims to reorient the foundations of our systems of thought and economy toward economies of repair and care, in order for the economy to be re embedded in society, and the latter for its part in the natural environment.
Read the editorial of ARCH+ #250 The Great Repair: Politiken der Reparaturgesellschaft here. By Florian Hertweck, Christian Hiller, Markus Krieger, Alex Nehmer, Anh-Linh Ngo and Milica Topalović.
The issue The Great Repair: Politics for a Society of Repair serves as a theoretical introduction to the project which is being developed by ARCH+ gGmbH in cooperation with the Akademie der Künste, Berlin, the University of Luxembourg's Department of Geography and Spatial Planning, and the Department of Architecture at ETH Zurich. The issue ARCH+ #250 is published first in German and in English translation later in 2023. It will be followed by an exhibition and event programme at the Akademie der Künste in the autumn 2023, and a second ARCH+ edition published as an exhibition catalogue.
The Great Repair launch event opens the latest iteration of the SESSIONS ON TERRITORY – Urbanism in a Broken World, which will continue to present and debate politics and practices of repair throughout the spring.
The invited speakers in the Sessions program are contributors to THE GREAT REPAIR. They will present their reparative practices, ranging from «repair of architectural pedagogies» by Ana Miljački, Head of Architecture and Urbanism at MIT, via «repair of objects» by Silke Langeberg, to a «self-repair for a broken discipline» by Charlotte Malterre Barthes, professor of architectural and urban design at EPFL.
Please find further information on the series on our website.
Launch: 27 February 2023, 16:00-18:00 | Live session at ETH ONA Fokushalle (E7) & on Zoom (recurring): https://ethz.zoom.us/j/66752510171 with editors and guests.
Find out more