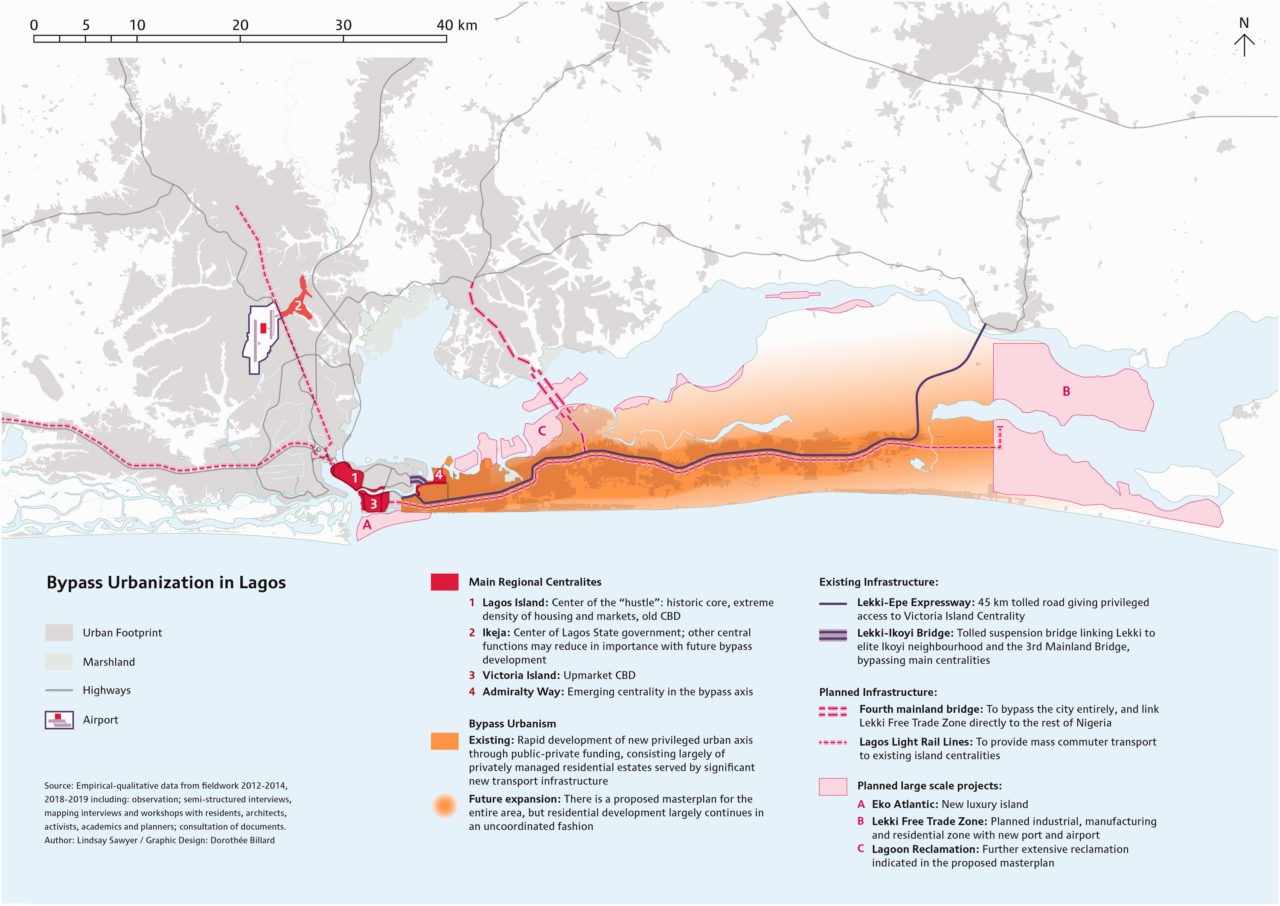 Lindsay Sawyer, Christian Schmid, Monika Streule, Pascal Kallenberger
2021

This paper introduces the concept of «bypass urbanism» to account for a process of urbanization that is reordering center-periphery relations of urban regions into new hierarchies.
Bypass urbanism became visible through a comparison of large-scale urban transformations at the peripheries of Kolkata, Lagos, and Mexico City by zooming out and considering their impacts on the socio-spatial structure of the extended urban regions. Bypass urbanism is not emerging from the construction of a singular new town or real estate project, but is the result of the simultaneous development of an ensemble of various independent but related projects. Therefore, bypass urbanism usually does not emanate from a coherent planning initiative, even less so from a hidden «master plan» at the hands of any single developer or state agency, but it emerges through a convergence of interests over large areas of land at the geographical periphery of urban regions that have been made available for new urban developments by various measures. We understand bypass urbanism as a multidimensional process that includes material-geographical bypassing, the bypassing of regulatory frameworks, and socio-economic bypassing in everyday life. It results in the creation of exclusive and excluding spaces that enable middle and upper-class lifestyles, at the same time leading to the peripheralization of extant urban areas that are bypassed and neglected. The massive scale of bypass urbanism that we have observed represents a new quality of urban development resulting not in isolated urban enclaves or archipelagos, but in the fundamental restructuring of the extended urban region with far reaching and incalculable repercussions.
In: Environment and Planning A: Economy and Space 53.4, 675–703. DOI: 10.1177/0308518X20983818