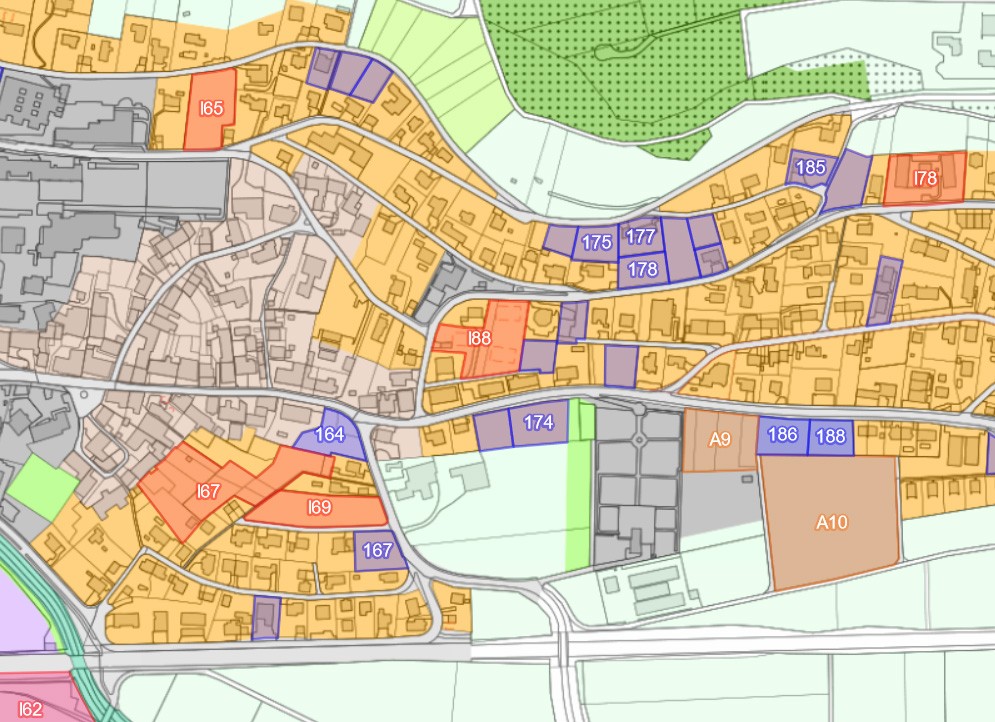 Die Methodik Raum+ leistet seit über 15 Jahren einen Beitrag zur Erhebung von Bauzonenreserven in der Schweiz. Regelmässige Nachführungen sorgen für die Vergleichbarkeit der Daten über die Zeit, womit die Methodik transformative Aspekte abzubilden vermag. Mithilfe der Einschätzung von lokalen Vertreter*innen werden die Daten zusätzlich kontextualisiert. Zwei Studierende haben kürzlich diese Aspekte in ihre Masterarbeiten einfliessen lassen.
Um die in der Schweiz gemäss RPG geforderte Siedlungsentwicklung nach Innen umsetzen zu können sind Übersichten über die vorhandenen Reserven nötig. Bei der Methode Raum+ werden in einem analytisch-partizipativen Prozess Übersichten über Bauzonenreserven geschaffen. Neben raumplanerischen Grundlagen spielt das Wissen der lokalen Vertreter*innen eine wichtige Rolle und wird bei der Schaffung der Übersichten einbezogen. Die Einschätzungen ermöglichen es, die Daten in einen Kontext zu setzen und neben rein deskriptiven Aussagen auch erweiterte Kausalzusammenhänge zu untersuchen.
Hitzeinseleffekt in der Stadt Sion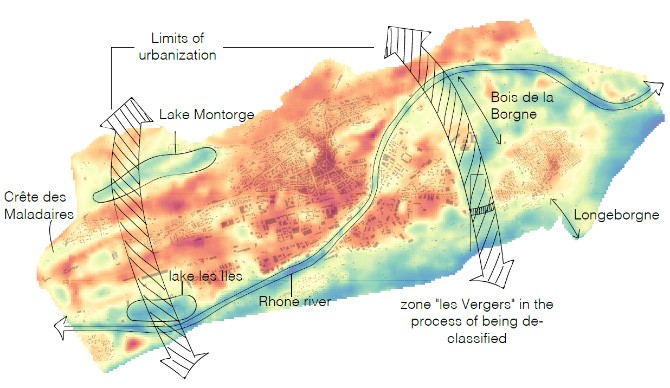 Sarah Mettan (2021) thematisiert in ihrer Arbeit die zunehmenden Herausforderungen rund um den «urban heat island effect» (Wärmeinseleffekt). Anhand des Beispiels der Stadt Sion klassifiziert sie Siedlungsstrukturen und untersucht diese Typologien hinsichtlich ihrer mikroklimatischen Auswirkungen. In ihrer Synthese zieht sie Raum+ Daten hinzu, um Empfehlungen bezüglich der Bebauung oder Auszonung von Potentialen aus einer mikroklimatischen Perspektive auszusprechen.
Mobilisierungsfaktoren im Kanton St. Gallen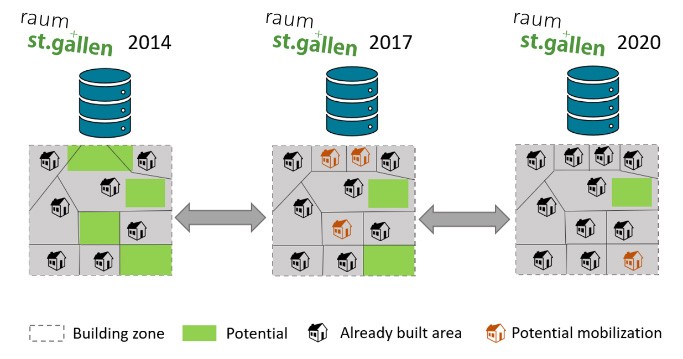 Einen zusätzlichen Mehrwert für die Strategiebildung und Forschung eröffnet der Vergleich von konsekutiven Nachführungsständen. Der Kanton St. Gallen wurde bereits 2011 erstmals nach der Raum+ Methodik erhoben und verwendet die Daten heute unter anderem für die Bauzonendimensionierung und die Raumbeobachtung. Xavier Brunner (2021) untersucht anhand der diskreten Nachführungsstände seit 2014 den Einfluss von drei Faktoren auf die Mobilisierung von Reserven. Neben dem Eigentümertyp und dem qualitativen Potential einer Reservefläche (Eignung) betrachtet er auch die Proaktivität der Gemeinde in deren Nutzung von Instrumenten für die Mobilisierung.
Die beiden Masterarbeiten nutzen verschiedene Aspekte von Raum+, um transformative Vorgänge abzubilden. Bereits in der Vergangenheit konnten Daten und Erkenntnisse aus Raum+ Projekten für wissenschaftliche Arbeiten an der ETH Zürich genutzt werden. Die Methodik Raum+ wird dabei in Kooperation mit Praxispartner*innen laufend weiterentwickelt. Aus Raum+ hervorgegangen und kürzlich gestartet ist auch das Projekt «Interkantonal harmonisiertes Monitoring Bauen ausserhalb Bauzonen», das zusammen mit den Bundesämtern ARE, BFE und BAFU sowie den Kantonen Bern, Waadt, St.Gallen, Appenzell Innerrhoden, Appenzell Ausserrhoden und Glarus durchgeführt wird. Mit der bevorstehenden Ersterhebung des Fürstentum Liechtensteins kommen auch grenzübergreifende Synergien zustande, die beispielsweise für die Neuauflage des Agglomerationsprogramms Werdenberg-Liechtenstein genutzt werden können.
Andreas Farner ist wissenschaftlicher Mitarbeiter bei der Fachstelle Raum+. Die Fachstelle ist Teil der Professur PLUS am Institut für Raum- und Landschaftsentwicklung und kümmert sich in enger Kooperation mit den beteiligten Kantonen um die Weiterentwicklung der Methodik und der Plattform Raum+.
Sarah Mettan hat ihr Masterstudium in Raumentwicklung und Infrastruktursysteme mit der Arbeit «Activating the potential of urban structures to reduce urban heat – Sion as a case study» abgeschlossen.
Xavier Brunner hat sein Masterstudium in Geomatik mit der Arbeit «Mobilization of Inward Development Potentials in Swiss Municipalities» abgeschlossen.