Could we imagine extending the concept of participation beyond the social and civic aspects of a community? Could we go far enough to include non-humans, landscapes, histories, ecologies and the environment in which a community is rooted? What kind of new constellations would this imply and what possibilities would this allow?
«The first thing we noticed at the abandoned industrial site of Acetati in Verbania were voices from a nearby rugby field, an unemployment office of the neighbour community, garbage collection and a metal recycling plant, traces of an industrial past, a forgotten river.» Hidden behind the scenic lakefront of Lago Maggiore, the place gave us the feeling of a territorial backyard: a heterogeneous and invisible landscape absent from the everyday life of the city, hosting metabolic processes, maintenance activities, forgotten social groups, traces of broken ecologies, and histories. Dealing with residual landscapes, a window to broader territory opens up and a series of unexpected latent actors reveal: marginal communities of production, a forgotten riverbed, leftover materials and resources, a territory of quarries, and a dying tradition of stone-craft, a decaying industrial legacy, and practices of gardening.
How to work with these elements? How to possibly bring them in the forefront, empower latent knowledge and voices, celebrate their presence and potential? (diagram)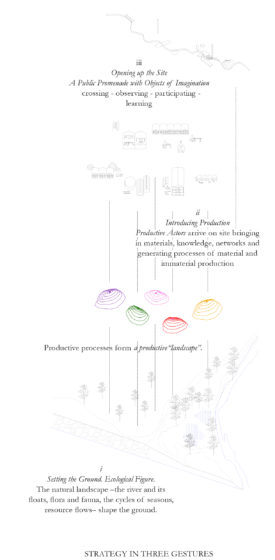 More than designing an actual space, the project orchestrates a process, shaping an infrastructure of encounters. Carefully collecting and radically exposing and recomposing hidden layers and residual elements, it suggests a composition of actors and agencies that will inhabit the place, triggering associations between people, institutions, different scales, and landscapes. It generates a new ecology where participation is perceived in an extended sense, provoking relations between communal, ecological, and productive actors (diagram).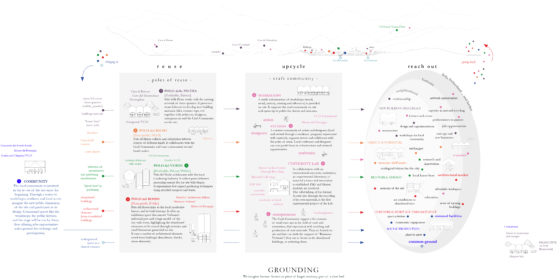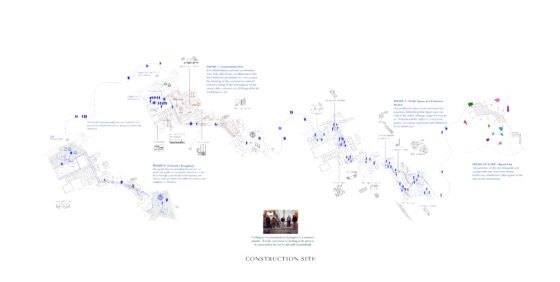 Local community, residents and local institutions, are introduced as communal actors who are invited to experience the abandoned site, negotiate future visions and participate to its formation (diagram). The river landscape and its floats, the flora and fauna, the cycles of seasons are introduced as ecological actors. They extend into the site and shape its ground. In addition, productive actors engaging with the latent flow of local resources initiate their activities. They bring in knowledge and networks and are responsible for the reuse of existing local materials, techniques and ecologies (i.e stone left-overs, industrial derelicts, craftmanship, know-how in gardening). Additionally, a craft community of artists, designers and a University lab are involved to «upcycle» the materials.
As the enclosure opens up, the participation and coexistence of multiple agencies gives birth to a different kind of public sphere. A public space emerges as a promenade through the landscapes of the «backyard», through the metabolic process of a city. It is local, but also enables a territorial gaze. It constantly reframes and re-narrates the city and its contours. This shared space is a stage for Verbania, where one can act or observe the action; a place of random encounters where relations and experiences are possible. More than a designed articulated space, it is rather a composition of gatherings and eventualities in a larger deployment of environmental sensing.
Landscape In-Between is the winning proposal for Europan 15 for the former industrial area of Acetati in Verbania (IT) by Metaxia Markaki & Simona Ferrari. The workshops with the community are starting in October 2020.
Metaxia Markaki and Simona Ferrari share a friendship and collaboration. The two met at ETH Zurich where they teach and research at the chairs of Architecture of Territory and Architectural Behaviorology respectively. They currently live and work in Zurich developing their practices.
Metaxia Markaki studied architecture at NTU-Athens and ENSAPLV-Paris and specialized in urban and territorial design at ETH Zurich. She is currently pursuing a PhD at the ETH Doctoral School for Landscape and Urban Studies. Previously, she has taught at ETH Studio Basel and Harvard GSD with the Professors Herzog & de Meuron.
Simona Ferrari studied architecture at the Politecnico di Milano, TU Vienna and the Tokyo Institute of Technology. She is currently pursuing a MA in Fine Arts at the Zurich University of the Arts. Previously, she has worked as an architect with Atelier Bow-Wow in Tokyo, completing several international projects and exhibitions.