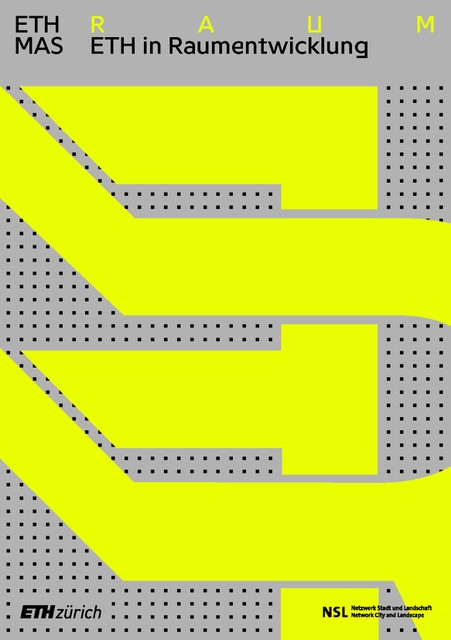 ETH RAUM | Bewerbung bis 30. Juni 2023 (2. Runde).
Der MAS in Raumentwicklung befasst sich mit der Gestaltung und der Nutzung unseres Lebensraums und den sich darin abspielenden gesellschaftlichen, politischen, ökonomischen und ökologischen Prozessen.
Dabei steht der Mensch im Zentrum: Eine designorientierte Haltung, agile Vorgehensweisen und kollaborative Methoden bilden die Grundlage, um räumliche Veränderungsprozesse anzugehen. Anhand von drei thematischen Bausteinen wird das umfassende und übergreifende Verständnis von Raumentwicklung vertieft. Dieses bezieht sich auf alle räumlichen Ebenen – vom Quartier über die Stadt und die Region bis hin zur europäischen Ebene und darüber hinaus. Die Teilnehmenden setzen sich im Bereich der räumlichen Entwicklung intensiv mit der Planung als Methode antizipierender Problemlösung, vielfältigen Theorien und Modellen aus relevanten wissenschaftlichen Disziplinen auseinander. Ein weiterer Fokus liegt auf Aspekten der Prozessinnovation und des agilen Leaderships. Die Absolvierenden verfügen im Kontext zunehmend voranschreitender urbaner und räumlicher Transformation über das nötige Know-how, um die Perspektiven aller beteiligten Akteurinnen und Akteure zu verstehen, zukunftsfähige Visionen zu entwickeln und die Entwicklung unserer gebauten Umwelt wirkungsvoll steuern zu können.
Der Master of Advanced Studies (MAS) in Raumentwicklung ist ein modulares, berufsbegleitendes Weiterbildungsprogramm und wird mit dem «Master of Advanced Studies ETH (MAS ETH)» abgeschlossen. Der modulare Weiterbildungsstudiengang besteht aus drei nicht-konsekutiven CAS-Programmen und einem Mastermodul.
Bewerbung: 1. Januar – 30. Juni 2023 (2. Runde) | Programminformation | Kontakt
Find out more