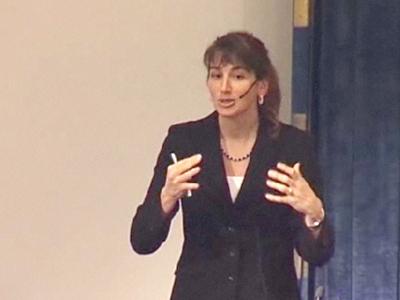 Landschaft und Umwelt – Unser Kapital für die Raumentwicklung. Am 9.12.2009 hielt Prof. Dr. Adrienne Grêt-Regamey ihre Antrittsvorlesung an der ETH Zürich. Wir haben sie zu ihrer Arbeit befragt.
Wie ist der thematische Fokus deiner Arbeit?
Unser Fachbereich PLUS, Planning of Landscape and Urban Systems arbeitet an der Entwicklung neuer Ansätze für eine nachhaltige Raumentwicklung. Das gesetzte Ziel ist erstens, die Mechanismen der Raumentwicklung und ihre Interaktion mit unseren Lebensräumen zu verstehen. Dazu stützen wir uns auf das Konzept der Ökosystemleistungen, die wir einbinden um Planungsprobleme verschiedener Grössenordnung zu analysieren und zu bewerten – von der Stadtplanung bis zur interkommunalen Nutzungsplanung.
Zweitens entwickeln wir neue Herangehensweisen für die Planung. Diese erlauben uns Rückschlüsse darauf, wie heutige Rahmenbedingungen verändert werden sollten, um einen gewünschten zukünftigen Raumzustand zu erhalten. Dazu entwickeln wir neue partizipative Verfahren, in denen 3D Landschaftsvisualisierungen eingesetzt werden, um Präferenzen für zukünftige Raumentwicklungen zu bewerten. Zur Bestimmung der heutigen Rahmenbedingungen benutzen wir inverse Modellierungstechniken aus der Mathematik.
Was bedeutet für dich die interdisziplinäre Einbettung von PLUS im NSL, was erhoffst du dir davon?
Wissenschaftliche Kontakte und Zusammenarbeit sind – vor allem in einem so interdisziplinären Gebiet wie der Umwelt- und Landschaftsplanung – zentral für den Erfolg. Mit dem Institut für Landschaftsarchitektur starten wir im nächsten Jahr eine erste intensive Phase des Austausches: Wir bauen ein neues 3D Visualisierung- und Modellierungslab für die Landschaftsarchitektur und -planung auf. Auch mit dem IVT arbeiten wir zusammen in gemeinsamen, interdisziplinären Projekten, die uns erlauben aus den Erfahrungen anderer Forschungsbereiche zu lernen und neue innovative Ansätze für die Raumplanung zu entwickeln.
Wie ist es für dich, etliche Jahre nach deinem Studium wieder an die ETH zurück zu kehren?
Herausfordernd und spannend. Man sucht die guten Momente der Studienzeit, sitzt aber in der Vorzeigerolle – ein Spagat.
Prof. Dr. Adrienne Grêt-Regamey ist seit Oktober 2008 ausserordentliche Professorin für Landschaft- und Umweltplanung an der ETH Zürich.
Podcast der Antrittsvorlesung
Professur PLUS
Persönliche Webseite von Prof. Dr. Adrienne Grêt-Regamey