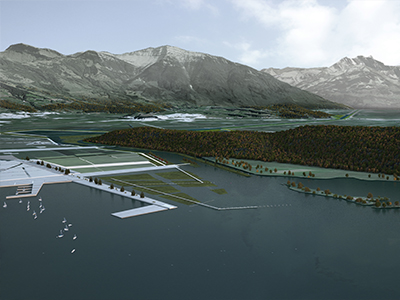 The Linth valley is characterized by the strong infrastructural elements of the Linth channel and a complex drainage system for maintaining the agricultural usage. The task for the students of the MAS Landscape Architecture (MAS LA) 2013-14 final synthesis was to generate a large-scale vision for the Linth valley and to explain their individual methodology of integrating the CAD/CAM tools within the design process.
Historically, the area of the Linth Plain (in the second half of the 18th century), faced many flooding problems due to the deforestation of the Glarus valley during early industrialization. The construction of the Linth channel (finished in 1866) dried the swamps and provided around 20 km2 of usable land. Although, as years passed by, the agriculture fields needed to be sustained through intensive drainage – due to the fact that the water table was getting close or sometimes above the ground level, depending on the period of the year.
Taking all these facts into consideration the MAS LA students were challenged to provide solutions how the area could be used without the expensive drainage system. The proposed designs for the area should combine park elements with student projects, one of which we herewith introduce:
Fragmented Landscapes (by Jacqueline Frizi & Sofia Prifti)
The project deals with a hybrid landscape of fragmented rural and urban characteristics. The starting point of the approach was the dominant infrastructural water network, which divides the valley in two, as well as the parallel urban spines lacking perpendicular connections to the Linth channel. The main goal was to propose a new adaptive system that would solve the specific problems of each area and would in a larger scale connect the existing cities through a new network of pathways to the «new Linth», unifying the design. Read more about the project here.
Image (above): Student project by Jacqueline Frizi & Sofia Prifti. Areal overview introducing the vegetation types that form three microenvironments and the system of pathways for walking and biking, with their variations according to the spot on site. 
More MAS LA projects
Lakescapes – Preserving Agriculture (by Alexandre Roulin & Georgios Sarmaniotis)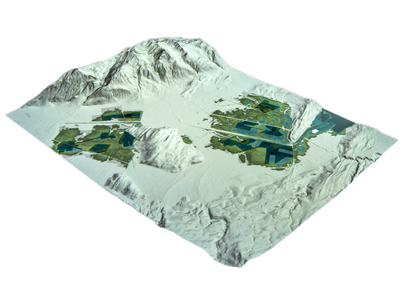 Linth Waterpark (by Angelos Komninos & Argyro Theodoropoulous)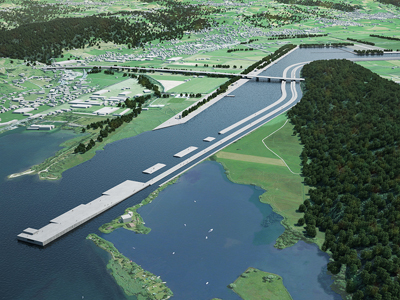 MAS LA students 2013-14: Wahab Mohamed Abdel, Zaklin Frizi, Maki Hasegawa, Angelos Komninos, Gebhard Merk, Sofia Prifti, Alexandre Roulin, Georgios Sarmaniotis, Gaganjit Singh, Argyro Theodoropoulous
MAS LA teaching team: Prof. Christophe Girot, Pia Fricker, Susanne Hofer, Ilmar Hurkxkens, Georg Munkel, James Melsom, Fédéric Rossano
MAS LA 2013-14 student blog