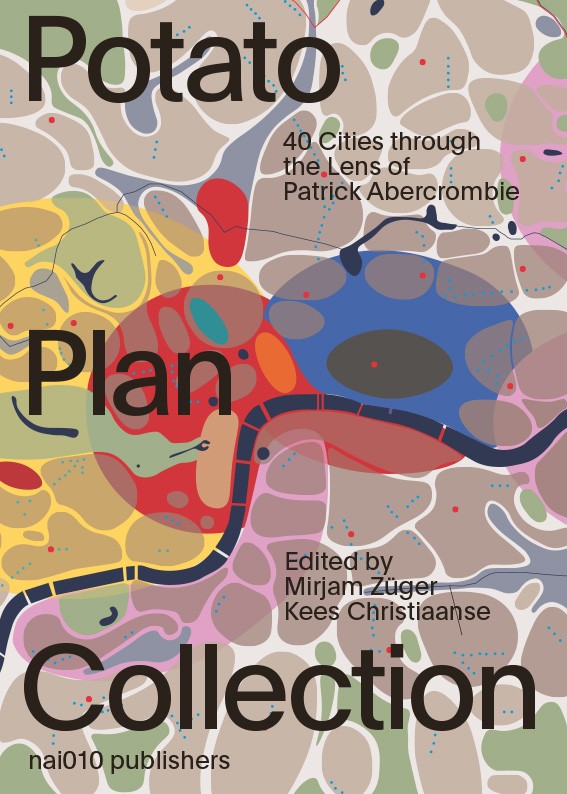 Mirjam Züger, Kees Christiaanse (editors)
2018
Buch beim Verlag einsehen/bestellen

This book celebrates Patrick Abercrombie and J. H. Forshaw's renowned 'Potato Plan' and assesses its potential as an analytical tool for contemporary metropolitan territories. Originally drawn in 1943 as part of the County of London Plan, Abercrombie's 'Social and Functional Analysis' poetically illustrates the city as an agglomeration of distinct communities, clusters, and centralities. The Potato Plan Collection comprises 40 Potato Plans from all around the globe, each being a reinterpretation of the original by local architects, urban designers and scholars. As a whole, the collection offers a new perspective on the structure of regional configurations in the urban age.
Book Design: Studio Joost Grootens
Publisher: nai010 publishers
Rotterdam, 2018
ISBN: 978-94-6208-433-9
English | Swiss binding | 20 x 28 cm | 208 pages | full color illustrations
Full List of Authors
Felix Heisel and Raphael Disler (Addis Ababa), Bart Reuser and Mark Jongerius (Amsterdam), Eirini Kasioumi and Eleni Papadaki (Athens), Sonja Berthold and Apiradee Kaseemsook (Bangkok), Melisa Pesoa, Joaquín Sabaté and Jordi Franquesa (Barcelona), Zhu Wenyi and Liu Pinghao (Beijing), Philipp Misselwitz and Iman Charara (Beirut), David Burbano and Natalia Ramírez (Bogota), Domonkos Wettstein (Budapest), Julián Varas and Sofía Moneta (Buenos Aires), Charlotte Malterre-Barthes and Roxanne De Raeymaecker (Cairo), Heinrich Wolff and Temba Jauch (Cape Town), Vedran Mimica, Jorge Serra and Agata Siemionow (Chicago), Deane Simpson and Cecilie Overgaard Rasmussen (Copenhagen), Gunter Klix and Mariam Abbas (Dar es Salaam), Michael McGarry and MArch Students at Queen's University Belfast (Dublin, Belfast), Martina Baum, Diana Böhm, Anna Kübler and Thorsten Stelter (Frankfurt), Francesca Frassoldati and Anqi Ni (Guangzhou), Sarah Whiting and Sara Jacinto (Houston), Alp Arisoy (Istanbul), Devisari Tunas, Miya Irawati and Stephen Cairns (Greater Jakarta), Nilly R. Harag, Asaf Bivas and Amnon Direktor (Jerusalem), Fabienne Hoelzel and Aro Ismaila (Lagos), Tadej Glažar, Marijana Krizmanić, Manca Košir and Jan Kozinc (Ljubljana), Peter Bishop (London),
Jose Castillo Olea, Saidee Springall, Monica Arzoz and Annika Ussel (Mexico City), Cino Zucchi and Giulia Novati (Milan), Roman Leonhartsberger and Mark Michaeli (Munich), Georgeen Theodore and Thomas Dores (New York), Jan Polívka
and Svenja Krings (Osaka Metropolitan Area), Marianne Skjulhaug and Miles Hamaker (Oslo), Sandra Treija and Hilda Treija (Riga), Stefano de Martino and Alexander Gogl (Rome), Anne Söfker-Rieniets (Ruhr Region), Georgi Stanishev, Greta Dimitrova-Mandova, Atanas Kovachev and Igor Yankulov (Sofia), Els Verbakel and Adva Matar (Tel Aviv-Yafo), Mark Sterling and Sabrina Yuen (Toronto), Daniel Bläser (West Midlands), Mirjam Züger (Zurich)