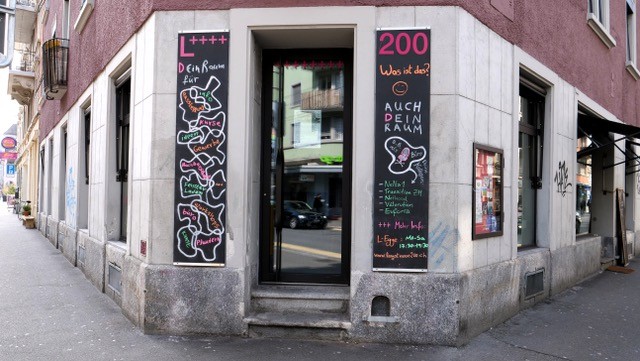 A centrally located hybrid community space in Zurich, at Langstrasse 200, by the name L200, is being shaped since 2018 through a co-creation process, a series of self-organization experiments with an action-oriented participatory design process. By bridging a multitude of social worlds in a small lively place, L200 enables peer-learning and is an ideal laboratory for spatial design students.
L200 is a self-organized hybrid community space in Zurich, which came into being four years ago at the crossing of various needs and many local networks, and is residing among a relatively large ecosystem of initiatives, organizations, businesses, and individuals. It is designed and governed as a common infrastructure that facilitates exchanges, cooperation, and synergies between initiatives. Through its central location, moreover, it has the potential to provide high visibility to a wider audience at a very low cost.
To become a member of the L200 association, there is almost no restriction, and a strategic choice is making it easy for anyone to use and contribute to its operation. This choice is actually part of an ongoing action-research process, framing the L200 space as interconnected infrastructures and reducing the overhead for space management. Such an action-oriented participatory design process enables the genuine manifestation of ideas and interventions based on participants needs, without external pressure or imposed expectations. For limited periods of time the L200 members may use the space freely, and upon their use have the responsibility to leave the space as they found it, for others to have similar privileges. A critical principle is to keep the balance between members, noone's presence or power of decision to dominate the space.
«Was ist das?»
L200 is conceived as a hybrid (physical and digital) space, being equipped with a local-only WiFi network and a server hosting small web sites of neighbourhood projects. The Corona crisis created the need for spaces that can provide suitable infrastructure for groups to participate in online meetings or to stream their discussions for online audiences. By using open source conferencing tools and recycled audio-video equipment, the L200 turned into a laboratory for creating such hybrid spaces.
As users transform rhythmically L200's appearance and destination, a measure of its success is keeping alive the motto «Was ist das?» [What is it?] that new visitors are often inclined to ask. Depending on the particular activities, the space is redefined with every use, whether it is a popup shop, a venue for events or neighborhood networking, a co-working space, or a common hybrid space laboratory. Most importantly, L200 functions as a boundary object between its diverse social worlds, facilitating common group learning, and so it is very suitable and attractive to students of spatial design.
Real Life Lab
L200 has been an ideal living lab for research work on self-organisation tools and place-making methodologies, given its centrality and visibility in the city, due to its flexibility in allowing an unlimited type of uses, and because a large diversity of perspectives is already part of its community. More specifically, the ongoing research on urbanity and neighbourhood life, included in Ileana Apostol's lectures at the chair of Sociology, is developed in parallel with her engagement in the co-creation of L200. Panayotis Antoniadis' contribution to the Opening Up ONA vision by the NEWROPE chair, is also based on his experience setting up and refining the L200's governance model and hybrid space design interventions. Other ETH Zurich activities take already place at L200, like the More than Human film series (next screening on 11 April 2022, at 19:00), and discussions are under way to transform L200 to an informal venue of the ETH Zurich community to showcase their work to the wider public.
Ileana Apostol (PhD Planning, University of Southern California, Los Angeles) is a researcher of spatial production in the information age, a lecturer in urban sociology at ETH Zurich, co-founder of Zurich-based NetHood association, and co-initiator of the L200 space.
Dr. Panayotis Antoniadis is co-founder of NetHood.org, a Zurich-based non-profit association that combines research and action in the development of tools for self-organization at the neighbourhood level, like the organic Internet, hybrid spaces, complementary currencies, cooperative housing, and community supported agriculture. Panayotis is also Ecosystem facilitator at ETH Zurich's Chair of Architecture and Urban Transformation (programme «Open Public Structures»), vice-chair of the Internet Society Switzerland Chapter (event series 7at7.ch), and coordinator of the hybrid urban space L200.