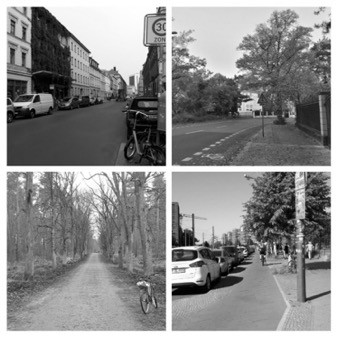 As interest in cycling as a mode of transport rises concurrently with a rise in bicycle traffic volumes in Germany, modeling cyclists' decisions gains importance. A recently completed online survey shows that in addition to commonly considered attributes like pavement type, the urban design characteristics «complexity» and «streetscape design» also have an effect on cyclists' decisions to choose one route over another.
The aim of this research was to quantify how cyclists are influenced by various features of the street environment they encounter while cycling.
The stated preference survey investigated the effect of eleven street environment attributes on cyclists' route choice, including typically considered attributes such as pavement type and travel time, as well as more unconventional attributes, such as the «street surroundings» the level of «complexity», and the presence of «streetscape design».
Operationalizing Urban Design Characteristics
The idea of complexity was conceptualized and presented to the survey participants by contrasting the historical Berlin neighborhoods built during the industrial revolution (colloquially known as «Altbaugebiete») and Berlin neighborhoods built in the decades following World War II. This simplification had a useful side effect: «Streetscape Design» could be defined during the analysis as a composite attribute, being present when both «Complexity» was high/historical buildings were present and when the «street surroundings» included «actively used» buildings. «Actively used» buildings were defined as those whose ground floor activities are recognizable from the street and generally accessible to the public, such as shops, childcare, and libraries. Although the definition by Ewing, et al. (2014)is more complex, in Berlin, streetscape design is (in the simplest terms) present when historical buildings are actively used.
Results
The analysis of the data using discrete choice modeling showed that the presence of a high level of complexity, when represented by historical buildings, and the presence of streetscape design both have a small, but significant impact on the probability of a cyclist choosing a particular route. A high level of complexity/presence historical buildings increases the probability of choosing a route, whereas the presence of streetscape design decreases it. The negative effect of streetscape design, although unexpected, could be explained by the fact that streetscape design can be used as a predictor of high pedestrian counts and that interviews conducted with cyclists by Beyer Bartana (not yet published) indicated that cyclists might avoid high pedestrian traffic.
These results show that these two urban design characteristics have a statistically significant effect on cyclists' route choice. How a city looks and feels has a small but measurable effect on travel behavior: a useful fact for cities looking to encourage and/or accommodate an increase in bicycle and pedestrian traffic.
Clarissa Livingston is a PhD student at the Institute of Transport Planning and Systems (IVT), where she works on combining agent based transport models with discrete choice modeling. Prior to joining the institute, she obtained her master's degree in transport planning and operations at the Technische Universität Berlin. This study was conducted as part of her master's thesis at the TU Berlin and in cooperation with Ilil Beyer Bartana at the German Aerospace Center, Dominik Ziemke from the TU Berlin, and Dr. Francisco Bahamonde-Birke at the Universiteit Utrecht.