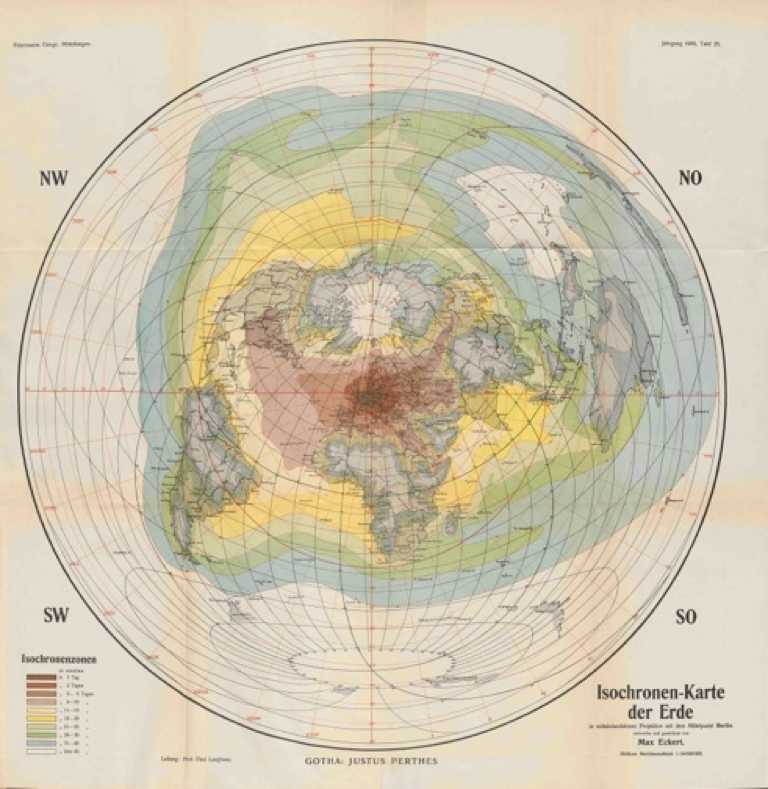 Die Frage, wie sich besser ausgebaute, weiter verzweigte und schnellere Verkehrswege auf den Raum, die Gesellschaft und die Wirtschaft auswirken, stellt sich in regelmässigen Abständen ganz konkret. Immer dann, wenn wieder grössere Investitionen in unser Verkehrssystem anstehen. Doch was für Auswirkungen sind zu erwarten? Können wir aus der Geschichte lernen? 
Seit Jahrhunderten wird an Europas Verkehrssystem gebaut. Die Erreichbarkeit verschiedener Gegenden und Landstriche hat sich dadurch immer wieder verändert – gewisse Regionen rückten näher zu einander, andere von einander weg. In dem Zusammenhang rekonstruiert Raphael Fuhrer, Doktorand am IVT, das Verkehrsangebot Westeuropas von 1500 bis heute, um diese Entwicklung in Zahlen fassen zu können. Rückgrat dabei ist ein historisches geographisches Informationssystem (hGIS).
Wer mit historischem Material arbeitet, merkt schnell: man muss flexibel sein. Mit Das ist der Rom-Weg von meylen zu meylen mit puncten verzeychnet von eyner stat zu der andern durch deutzsche lantt schuf um 1500 Erhard Etzlaub in Nürnberg eine Reisehilfe für alle, die von Nordeuropa nach Rom wollten. Der Reiserichtung entsprechend, steht die Karte auf dem Kopf und erschwerend kommt hinzu, dass eine akkurate Projektion fehlt. Eine solche etablierte sich erst knapp 100 Jahre später mit Mercator. So entstanden erst ab dem 17. Jahrhundert Karten, die mit unseren heutigen vergleichbar sind. Damals war der Erwerb einer Karte eine Investition und die Karte sollte eine Weile ihren Dienst erfüllen. Änderungen in Gebietsansprüchen machten jedoch neue Auflagen notwendig.
Netze folgen Netzen
A new map of the seat of war in the Netherlands vom 12. Mai 1794, vertrieben durch Robert Laurie & John Wittle in 53 Fleet Street in London, ist so ein Beispiel. Was damals Niederlande hiess, ist zu grossen Teilen das heutige Belgien. Die feinsäuberlich eingezeichneten Wege zeigen eine wichtige historische Konstante auf: Netze folgen Netzen. Viele damalige Wege folgten früheren Wegen oder bereits zuvor schiffbaren Flüssen und Kanälen. Auch wird sichtbar, dass im damaligen Europa jedes Land seine eigenen Längen- und Zeitmasse verwendete. Die Reisezeit ist aus verkehrshistorischer Sicht eine der wichtigen Kenngrössen. Es ist klar, dass damals Reisen sehr viel Zeit in Anspruch nahm. Die Schätzungen stützen sich neben der Streckenlänge auch auf die Verfügbarkeit von Verkehrsmitteln.
Die Postkutsche war vor der Eisenbahn das Verkehrsmittel schlechthin. Die Veränderungen im Streckennetz über die Jahrhunderte lassen sich recht gut nachvollziehen. Die Routes des postes d'Italie, 1705 zusammengestellt von Nicolas de Fer, zeigen exemplarisch das Netzt im damaligen Italien. Die Schweiz war von Genf via Savoyen, von Brig über den Simplon und von Bellinzona über Lugano nach Como mit Norditalien verbunden. Mit Hilfe von damaligen Aufstellungen zu Tarif, Etappen – so genannte Posten – und Kutschenart lassen sich historische Reisezeiten des öffentlichen Verkehrs ausmachen. Max Eckert verdichtete 1909 solche Angaben in seinem Aufsatz zu seiner «Isochronen-Karte der Erde in mittabstandstreuer Projektion mit dem Mittelpunkt Berlin». Unter den verfügbaren Verkehrsmitteln wählte er jeweils das schnellste aus und konnte zeigen, dass vor hundert Jahren praktisch ganz Europa binnen fünf Tage von Berlin aus erreichbar war.
Raphaël Fuhrer ist Doktorand am IVT und beschäftigt sich mit den Auswirkungen von Verkehr auf den Raum in Bezug auf Gesellschaft, Wirtschaft und Umwelt. Er arbeitet dazu häufig mit historischen Daten.