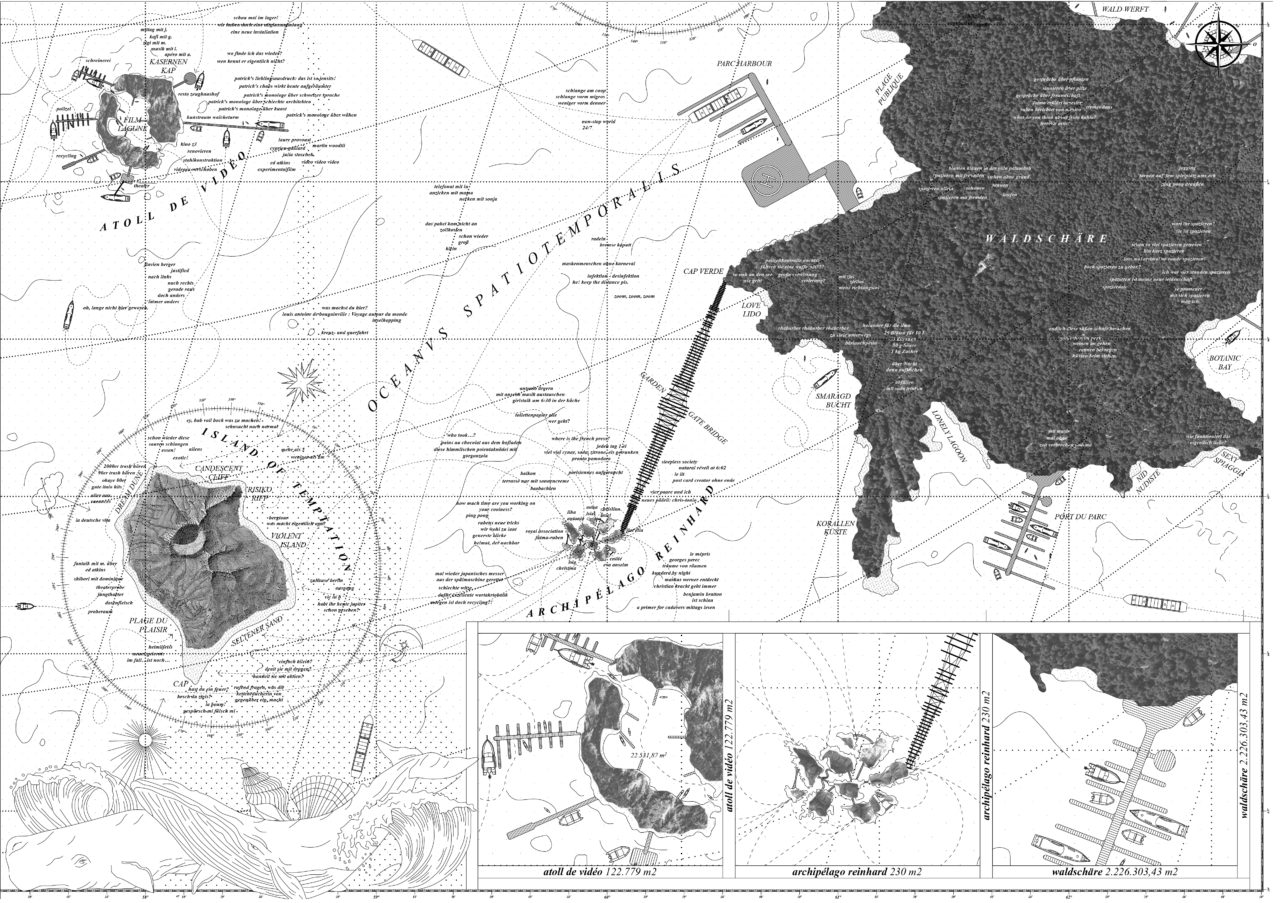 How do you teach students during a lockdown, when they are supposed to map a city, meet Albanian students in Tirana, or even interview passersby in Zurich? Easy! They map their quarantines instead, meet online (which interestingly intensified the exchange even more), or simply create an ethnographic documentation of the pandemic.
«Draw your Quarantine»
Since long maps have influenced our perception and the way we move through territories. In our elective course draw a map to get lost – a title inspired by a quotation by the artist Yoko Ono – we investigated the interplay between orientation and disorientation in a landscape. How much information is needed (not) to get lost? In the first, theoretical part of the course we discussed a selection of texts related to our subject.
Just with the arrival of Covid-19 the students were ready to become the authors of their own maps: They would first analyze and then translate a specific location in Zurich into a «map to get lost», shaped by the highly subjective perception of a place.
The lockdown, however, encouraged people to stay at home as much as possible. Having students wandering around in the city was not an option anymore. So, we asked them to map their quarantines instead. The result was a broad spectrum of drawings which reflected not only the respective spatial conditions, but also the temporally strange character of the situation. Above all the individual experience of discovering the own, limited territory led to an involuntary benefit within extraordinary circumstances.
Isabelle Fehlmann and Myriam Uzor are scientific assistants at the chair of Professor Christophe Girot, Landscape Architecture.
Involuntary Benefits of Studio Teaching with Albania
«Our group dynamic was very clear. Vasi was our foot in the Drino Valley. Being a Greek Albanian and having family in the region, she would always bring us back to the ground. Lena, originally from Kosovo, would often make some comparisons with her home country. This always brought us to interesting discussions about the Albanian culture, sharpening our attitude towards the territory. And I was there, lying above all the comments, imagining what Vasi and Lena were talking about, relating it to similar experiences I might have had. Together, behind our screens, we were remotely understanding Drino Valley's communities.» Anna 
COVID-19 inevitably had serious repercussions for our studio Albania—Project on the Countryside. The chair of Architecture of Territory of Prof. Milica Topalović has so far run studios that heavily rely on ethnographic field research and in-situ experience. Moreover, this studio was envisioned as a joint effort with the Albanian National Territorial Planning Agency and the Polytechnic University of Tirana. Students from Tirana and Zurich were originally supposed to work in parallel, coming together for the seminar week in Albania and a common final review in Zurich. One of the major challenges we encountered on the eve of the switch to online studio was the urge to revisit our collaboration modalities—we decided to set-up joint groups composed of both Swiss and Albanian students. This led to a very intensive online communication and brought all of us closer together. With the enthusiasm of a strong cooperation between ETH and Albanian counterparts, the studio has reinvented itself collectively. During this extraordinary semester, students managed to produce projects with in-depth insights and manifold sensibilities. Ultimately, despite the negative effects that we all faced, a novel model for the studio has emerged.
Gyler Mydyti, Nazli Tümerdem, and Jan Westerheide are scientific assistants at the chair of Architecture of Territory, Prof. Milica Topalović.
This studio was made possible also through a teaching team and core experts from both of the collaborating institutions in Albania: Adelina Greca and Mikel Tanini from the Albanian National Territorial Planning Agency; Dr. Denada Veizaj, Dr. Gjergji Islami, Edmond Pergega and Adonel Myzyri from the Faculty of Architecture and Urbanism, Polythecnic University of Tirana.

From the Analysis of Urban Development to the Ethnographic Documentation of a Pandemic: Adapting a research course in times of COVID-19
A sociology course on qualitative methods planning to use Zurich West as a case study became an ethnographic exercise for Master's students in architecture to capture their experiences and relationships to space in COVID-19 times through photography.
When the COVID-19 pandemic hit Europe in March 2020 and remote teaching was announced at the ETH Zurich, our course on utilizing qualitative methods in Zurich West (instructors: Sandra Guinand and Christian Schmid) needed a complete reframing. Under lockdown and physical distancing measures, with some students having returned to their hometowns and others abroad, it was no longer possible to do interviews and participant observation in Zurich. Instead, we decided that the lockdown itself would become our subject of investigation. Retaining the course's focus on the connection between memory and space, we asked the students to explore the impacts of COVID-19 on their everyday lives and their immediate urban surroundings, by applying the methodological tools they were just beginning to learn. In remote sessions, we taught the students different ways of using photography as a means to gather information or to shed light on a specific phenomenon by documenting a place, creating a photo series on a specific theme, or presenting a photographic ethnographic journey. In the specific context of last spring, these photographs documented the personal relationships of the students to their spatial and social environment, as well as the changes in uses and practices they observed within their surroundings. They completed their investigations with photo interviews as an attempt to confront their own impressions, feelings, and analyses with others. Here are some excerpts from these student works:
Staying at home in Zurich, Qianner Zhu conducted observations from her bedroom window: «During most of the day, the only communication with the outside I had was through the window near my working table. Through this window, I could have an overview of the inner courtyard of my residence. This is also one of the most important public spaces for the community. After watching through the window for many days, I found it interesting to see how the neighbours used this public space differently during the quarantine time.» Photographs by Qianner Zhu
Jingfan Xue observed how social behavior of people from her neighborhood on the northeast periphery of Beijing had been impacted by the different measures that prevailed during the lockdown: «Although the peak of the epidemic is already gone, life of people has still not been back to normal, not only physically, but also psychologically.» Photographs by Jingfan Xue
Silvan Muff used his visual journal to give us an account of his personal perception of different public places around his hometown, Sempach, and the particular atmosphere these places conveyed: «I see my analysis of the current situation as a personal journey of discovery through my town and photographed places where I most felt the surrealism of emptiness.» Photographs by Silvan Muff
Simon Balmer documented the spatial and social transformation of his community housing in Zurich: «On different levels, the inhabitants are appropriating the available space and shaping it to their benefit. The settlement is transforming from sleepy homes to a lively community.» Photographs by Simon Balmer
Sandra Guinand is an urban planner and urban geographer, lecturer at the Institute of Geography and Regional Research at the University of Vienna and associate researcher at Eirest (Interdisciplinary Research Group on Tourism) Paris 1 Panthéon-Sorbonne University. She was a lecturer at ETH Zurich for the Spring Semester 2020. Her research interests focus on urban regeneration projects and socio-economic transformations of urban landscapes, with a specific focus on heritage processes, public-private partnerships, and tourism. More Details on the teachings of the Sociology chair, Prof. Dr. Christian Schmid
24/7/365 Endless Studio
In the Transition from Physical to Virtual Learning Environments
Design studio teaching relies on a community that shares spaces, shares thoughts, shares materials, shares expertise. In the mid-semester transition from the Design Studio physical environment, the Klumpner Chair moved to the 24/7/365 'Endless Studio' virtual space. With this new learning experience, all exchange was negotiated on online meeting platforms and whiteboard software to share ideas and content between students, assistants, professors, and guests. The never-ending online platform enabled the participants with unlimited options to mirror the design studio environment in a restricted COVID-19 setting. It also created a studio output for the topic of 'Re-Activating Rijeka' that critically considered many of the uncertainties brought forward at this time. New forms of alternative pedagogies have led to an extraordinary production of innovative and sensible ideas for the 'Liquid Rijeka Urban Prototype Studio'. This experience ultimately defines a new path towards teaching and learning architecture and urban design in the future.
Melanie Fessel and Diogo Rabaca Figueiredo are scientific assistants at the chair of Architecture and Urban Design, Prof. Hubert Klumpner.