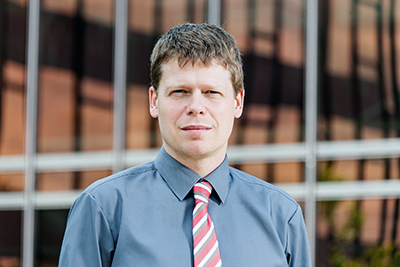 His research mission is to improve the construction and management of infrastructure with special attention focused on the improvement of decision making from general planning for entire networks to detailed planning for specific projects. This mission is being achieved through teaching the fundamentals of infrastructure management, and pushing the forefronts of knowledge in the field of infrastructure management through research.
What is infrastructure management?
Infrastructure management is all of the processes used to ensure that existing infrastructure provide adequate levels of service. It requires taking into consideration the benefits and costs of infrastructure to all members of society, including economic, ecological and social benefits and costs. It also requires balancing the need for prediction accuracy with analysis effort.
Where is your research focused?
All of my work is focused on helping infrastructure managers obtain the maximum net benefit from their infrastructure. My work is focused on the development of frameworks, methodologies, and tools, to help infrastructure managers through the infrastructure management process, including
establishing goals and constraints,
determining structures, processes, models and strategies,
to determine monitoring and intervention programs,
executing projects, and
evaluating the infrastructure management process.
Some example research topics are the development of a process to evaluate infrastructure related risk, a process to develop plan maintenance interventions within a city taking into consideration all overlapping networks, and a process to evaluate the infrastructure management process of road managers.
What do you expect from participation in the NSL?
Infrastructure management is an interdisciplinary field which includes consideration of
transport planning and operations,
building, city and landscape architecture,
landscape planning,
urban system planning,
urban and regional planning, and
sociology
I hope that by joining the NSL the new collaborations with other members will help develop research projects that will ensure that infrastructure is better adapted to potential changes in our environment, such as changes in city architecture, changes in transportation patterns of people and goods, and changes in desired landscapes.
What does the future look like?
I see a future where the processes used to make decisions of what to do with our space and infrastructure are compatible and self-reinforcing in all areas from rural to metropolitan and from growing to shrinking. I believe that the NSL provides a platform to enable the interaction to move infrastructure management in this direction.
Prof. Dr. Bryan T. Adey, chair of Infrastructure Management, Institute of Construction and Infrastructure Management at the Department of Civil, Environmental and Geomatic Engineering (D-BAUG), ETH Zürich.