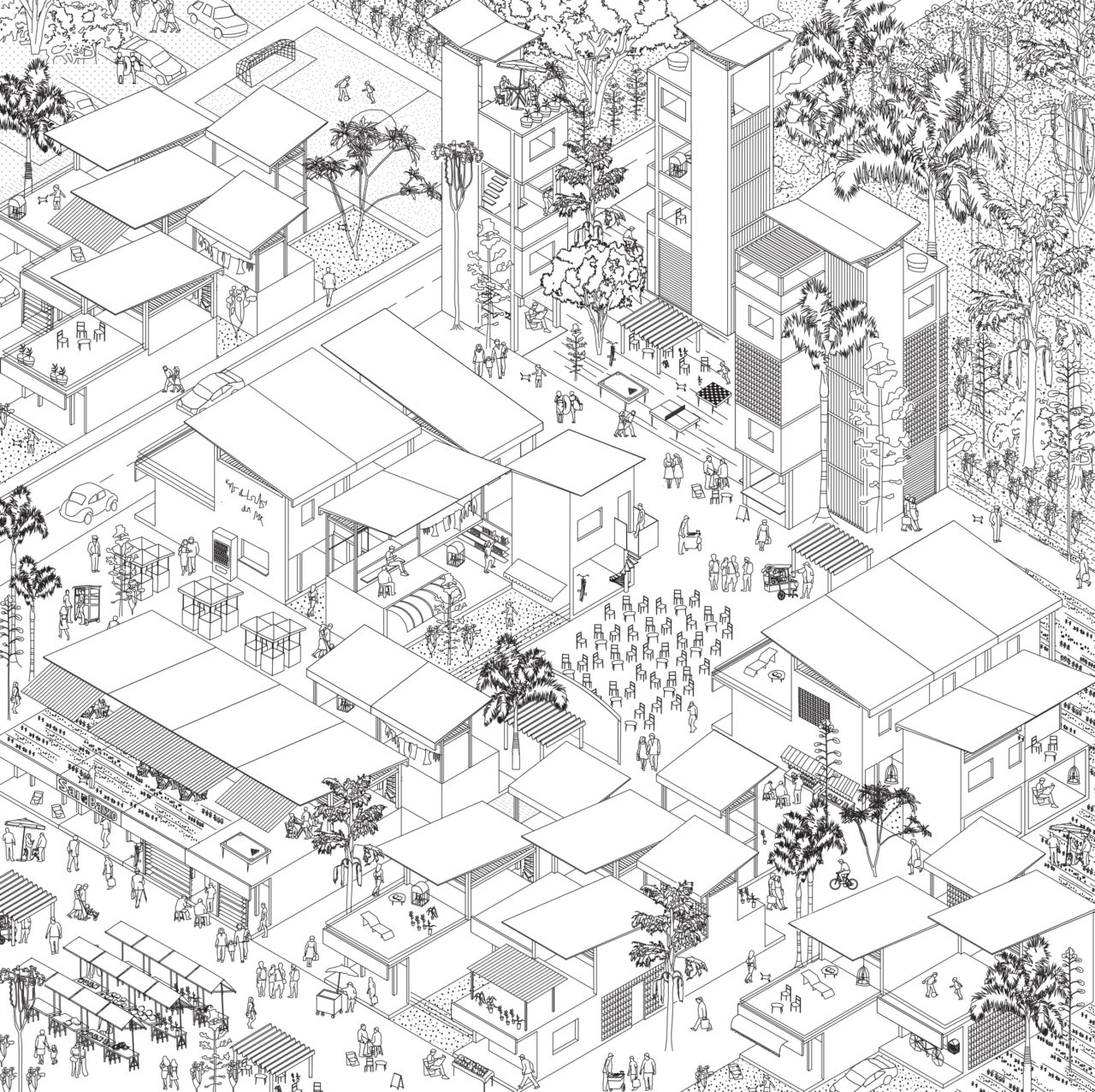 Under the title «Minha Casa, Nossa Cidade» (My House—Our City), the 2012/13 MAS Urban Design (MAS UD) program focused on developing a new perspective on the ambitious Brazilian Federal Housing Program «Minha Casa, Minha Vida» (My House—My Life) MCMV, that has been launched in 2009 with the mission to provide 3,4 million housing units by 2014. 
The standardized solutions of the existing government's housing schemes are rather conceived as economic models than designs for neighborhoods. By replacing the second part of the name, «Minha Vida», with «Nossa Cidade», the MAS moves the emphasis on the production of the city as a collective project and an inclusive livelihood rather than on the privatization of the city in individual units.
How can we envision and plan the city starting from economic and cost-efficient models? How can we innovate low-cost building practice in a more sustainable way, socially and economically? What do we have to consider in order to provide high quality habitats for future generations?
With the selection of four exemplary sites in different urban or rural contexts (Rio de Janeiro, São Paulo, Brasília, Parauapebas) a range of conditions have been investigated: While some of the resulting schemes reflect the situation in the periphery of the city or within an urban edge condition, others develop strategies how to conceive these settlements as "new centralities" as satellite towns or in close relationship to existing urban centers. By combining research on popular Brazilian architecture with ideas of how to improve the Federal housing program, «Minha Casa, Nossa Cidade» aimed not only towards turning the highly monotonous MCMV settlements into a city but also to stimulate a broad, productive discussion on the future of popular housing in Brazil.
The program outcome was presented in an exhibition on the occasion of the São Paulo Biennale, and published in the book «Minha Casa, Nossa Cidade—Innovating Mass Housing for Social Change in Brazil.» (Ruby Press 2014)
The guidelines for mass housing in Brazil that have been developed as a result of the MAS research will be presented on the opening of the swissnex office in Rio and on the World Urban Forum 2014 that will be held from April 6th – 11th 2014 in Medellin.
Contact: Elena Schütz, chair of Marc Angélil, Urban Design