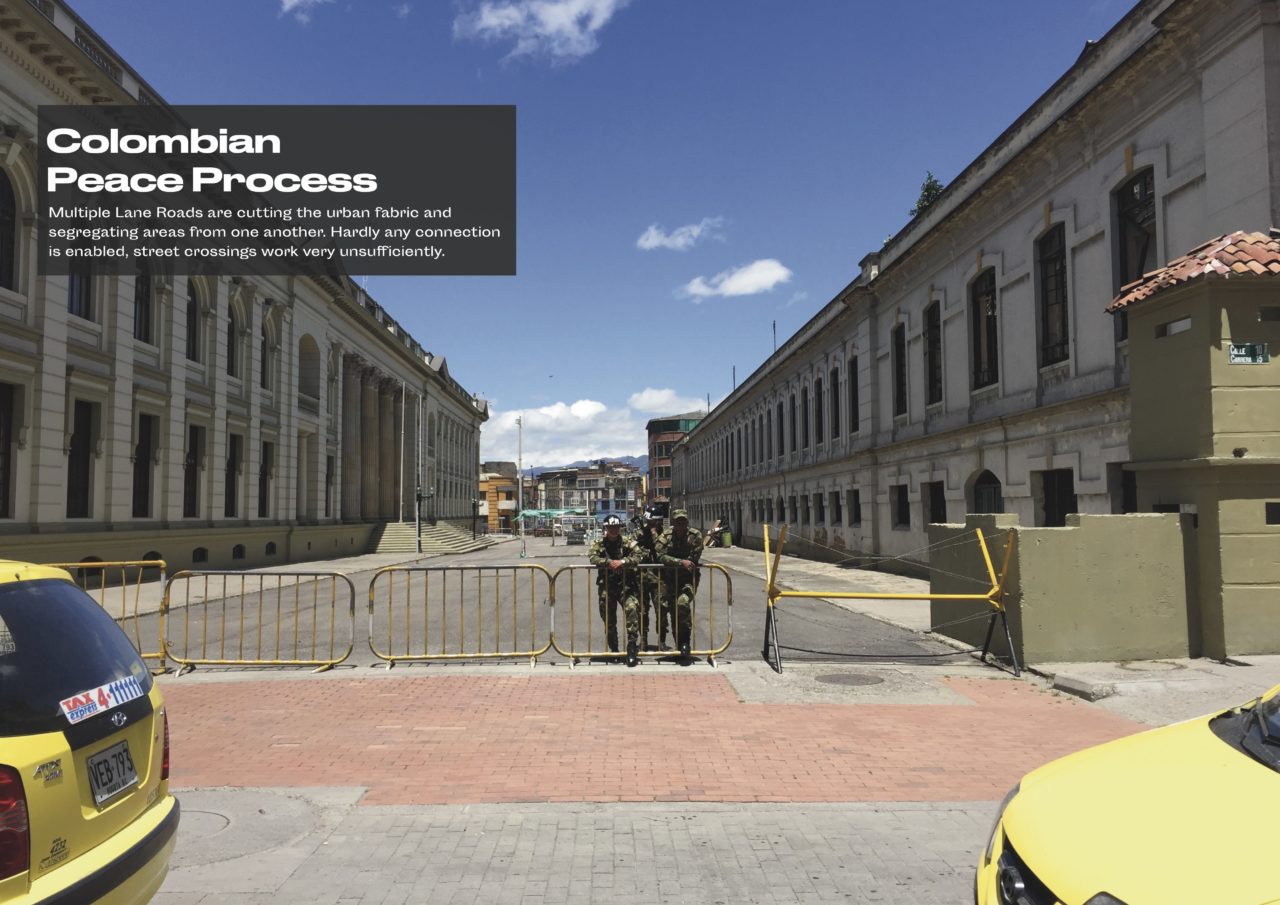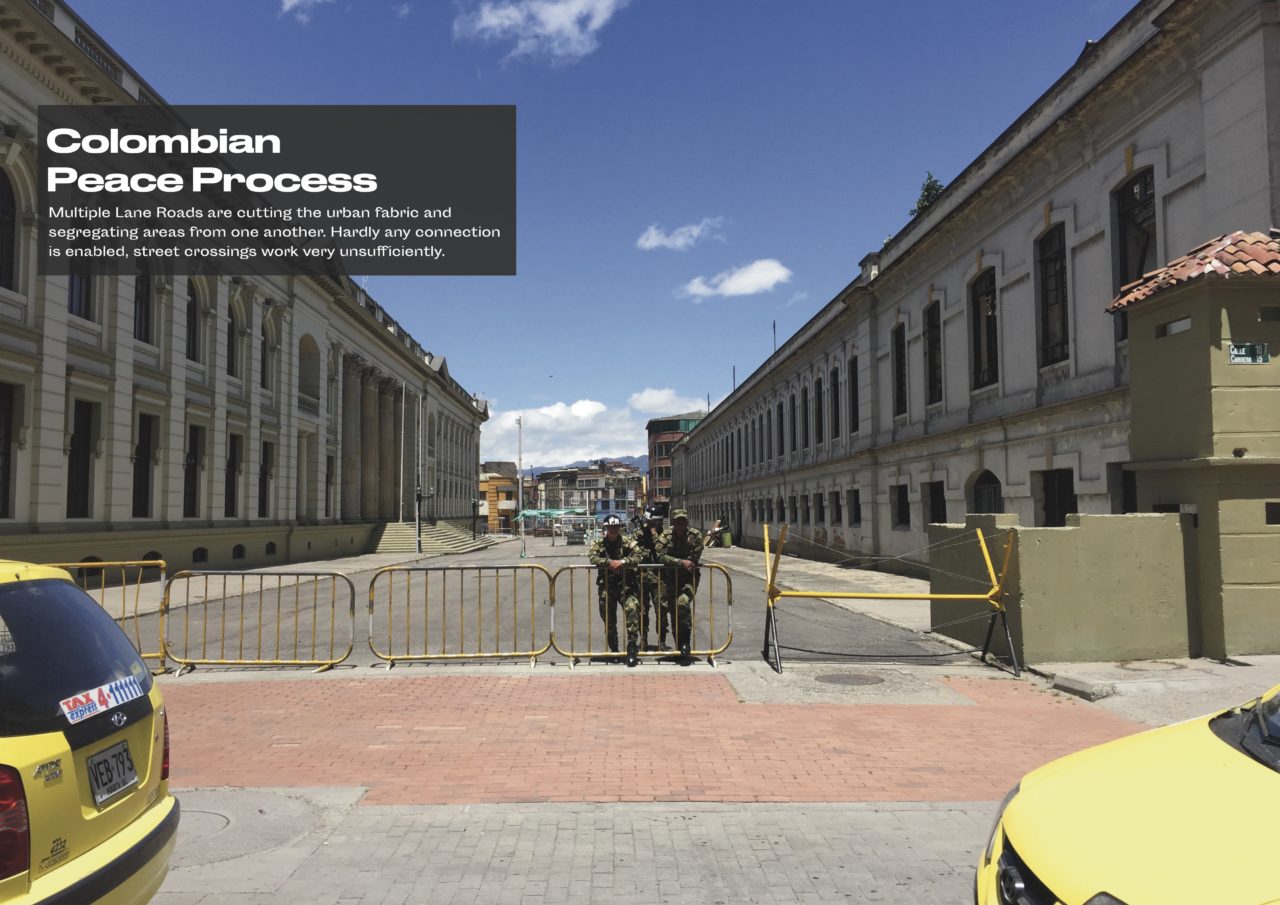 Daily news headlines inform us about crises situations due to conflict and economic issues leading to soaring hunger and mass emigrations in various parts of the world. The ongoing research efforts at our chair in post-conflict Colombia, post-apartheid South Africa, and Ex-Yugoslavia focuses on creating synergies between city, research and integrative design strategies in the built environment.
Urban Prototype in Bogotá, Colombia
In Autumn 2018 students from the ETH Zurich traveled to Bogotá, Colombia, an emerging city that, after more than 50 years of civil war, is seeking a new identity during an ongoing peace process. The public space in Bogotá is fragmented and was lost decades ago to social and political turmoil. Working within this complex setting, the students of the studio as well as research efforts at our chair, developed ideas for urban transformations for Bogotá's public spaces. The results of the design studio were published in the 'Urban Prototype Toolbox', a dynamic representation that shows the myriad ways in which the design ideas can be integrated in the city. Topics of investigation that were addressed are ideas of prototyping, bottom-up construction, metro station as an adaptive composition, embracing hybridity, overlapping programs, day and night activity cycles, connecting diversity, and infrastructure as urban developer. The research and design proposals concluded in an exhibition at the Centre Pompidou, Paris as part of the Places En Relation Network, Integral.
Urban Prototype in Sarajevo, Bosnia-Herzegovina
Strategies for this semester's design studio will be developed that address the century of destruction, de-construction, re-construction, and re-urbanization in Sarajevo, Bosnia-Herzegovina. Students will focus on identifying an underlying logic that connects the valley's fragmented neighborhoods, its topographical symmetries and asymmetries, and its natural and human-made divisions that simultaneously splinter and unify Sarajevo.
How can the existing infrastructure and the lack thereof, deficits and limited mobility, climate issues and scarcity be used as design material to create an integrative urban vision that could regenerate, revitalize and reconcile the city? By tackling real-world urban challenges, this studio looks to build qualities through urban and architectural projects that transcend the commercial plane. The Bi-City Workshop «Urban Transformation Sarajevo» in Nov./Dec. 2018 at the ETH Zurich, between representatives from the city of Zurich and the city of Sarajevo, was the first in a series of events, to identify a dialogue of urban transformation ideas between Zurich and Sarajevo. Addressing urban transformation processes in post-conflict areas, and in particular, for this semester in Sarajevo, is our continued effort to formulate design solutions based on the collaboration between various stakeholders.
Melanie Fessel is scientific collaborator at the Urban-Think Tank, Chair of Architecture and Urban Design of Alfredo Brillembourg & Hubert Klumpner.
Collaborators
SECO State Secretariat for Economic Affairs
City of Zurich
University of Sarajevo
City of Sarajevo
Diaspora Zurich
ETHZ, Chair of Landscape Architecture, Prof. Christophe Girot
Integral, Rudi and Vera Baur/ Places en Relation
Planning Department, City of Bogotá
Universidad Nacional in Bogotá